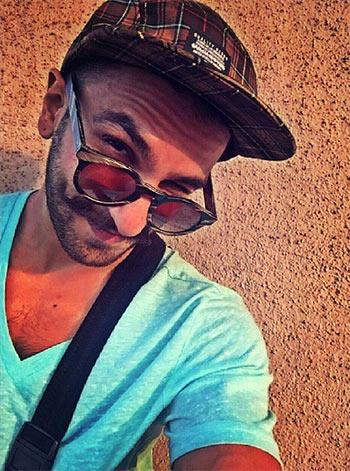 Happy birthday, Ranveer!
If there's one thing Ranveer Singh is not, it's calm.
In an industry where most leading men are eager to project themselves as a picture of virtue or machismo, the Dil Dhadakne Do star is refreshingly candid and casual about his wild guts and madcap sensibilities.
Be it using condoms "at the age of 12" to his spontaneous displays of affection towards costars and random folk, this Yash Raj discovery's motto is simple -- I don't live my life for the sake of it. I have to do something with everything.
The one-of-a-kind Ranveer Singh turns 30 on July 6.
We celebrate this milestone by showcasing ten of his maddest moments.
Ultimate Krrish fanboy!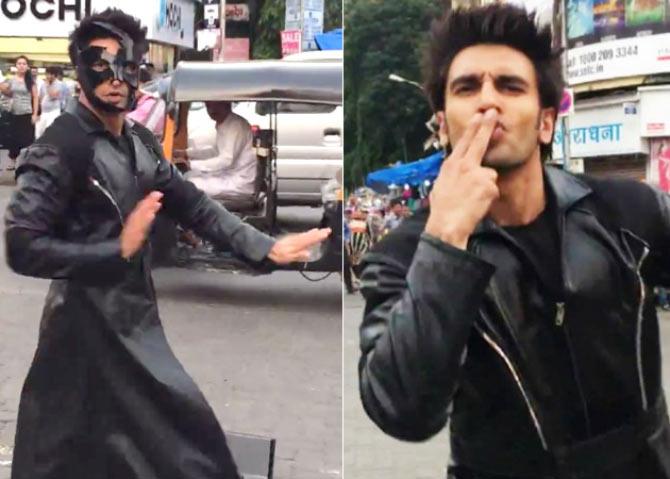 Image: Ranveer Singh takes up Hrithik Roshan's Bang Bang Dare
When Hrithik Roshan threw a Bang Bang challenge at Ranveer to get in the middle of Mumbai's busy streets and strike a pose for his fans, he not only concurred but got creative too.
Wearing a Krrish costume, no less, the actor stepped out of his Jaguar and broke into a Main Aisa Kyon Hoon (from Lakshya) dance much to the amusement of the dumbfounded onlookers, including a police constable.
Understandbly, Ranveer's lively antics had both the Internet and Duggu gushing over the man.


The offscreen Amar and Prem!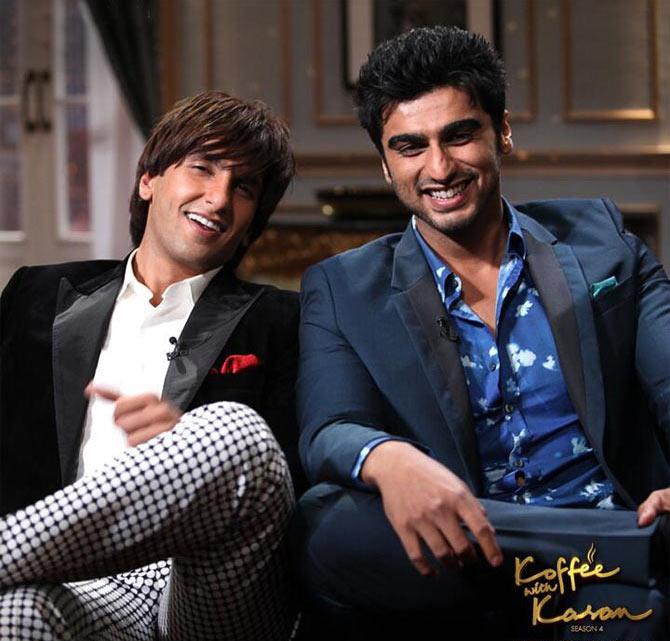 Image: Ranveer Singh and Arjun Kapoor on Koffee with Karan
Remember the best ever episode of Koffee With Karan?
Remember Ranveer and Arjun's impromptu performance of Andaz Apna Apna's ditzy ditty, Do mastane chale zindagi banane?
Remember Ranveer's raita playlist, impersonating phirang accents, gushing over My Name is Lakhan, etcetera etcetera?
The future belongs to the mad, you bet!


Main Bhi Molaram!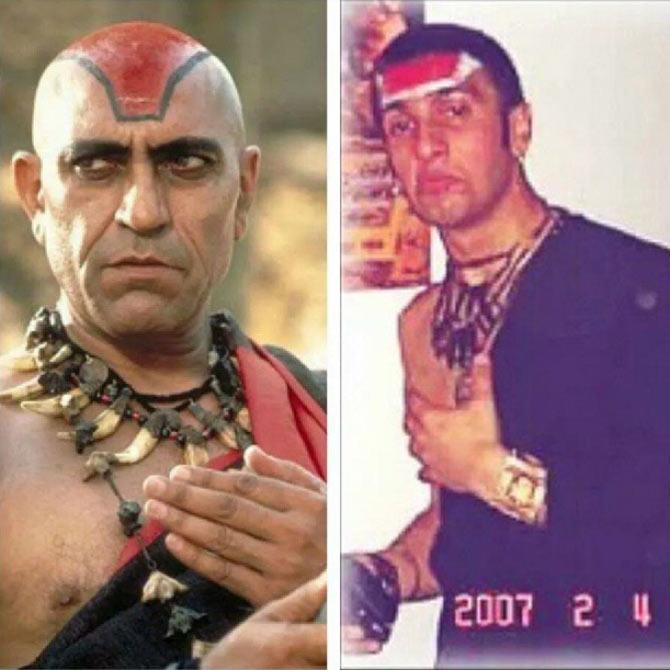 Image: Ranveer Singh imitates Amrish Puri. Photograph: Ranveer Singh/Instagram
Ranveer has paid ample star-struck tributes to his heroes Anil Kapoor and Govinda. Here he shows some love for Bollywood's ultimate villain too.
How badass is the star sporting Amrish Puri's getup from Steven Spielberg's Indiana Jones and the Temple of Doom?


Getting dotty with it!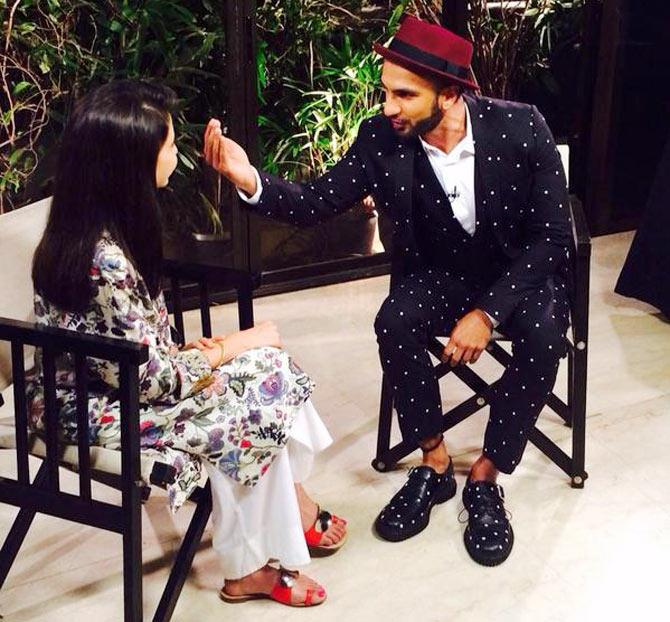 Image: Anupama Chopra interviews Ranveer Singh. Photograph: Anupama Chopra/Twitter
Imagine the interviewer's plight in making serious conversation about cinema when a star shows up looking like that.
Ranveer Singh, in a fully polka-dotted suit and shoes combo, take it or leave it, that's Mr Quirky Fashion Sense for you.



Looney Tunes!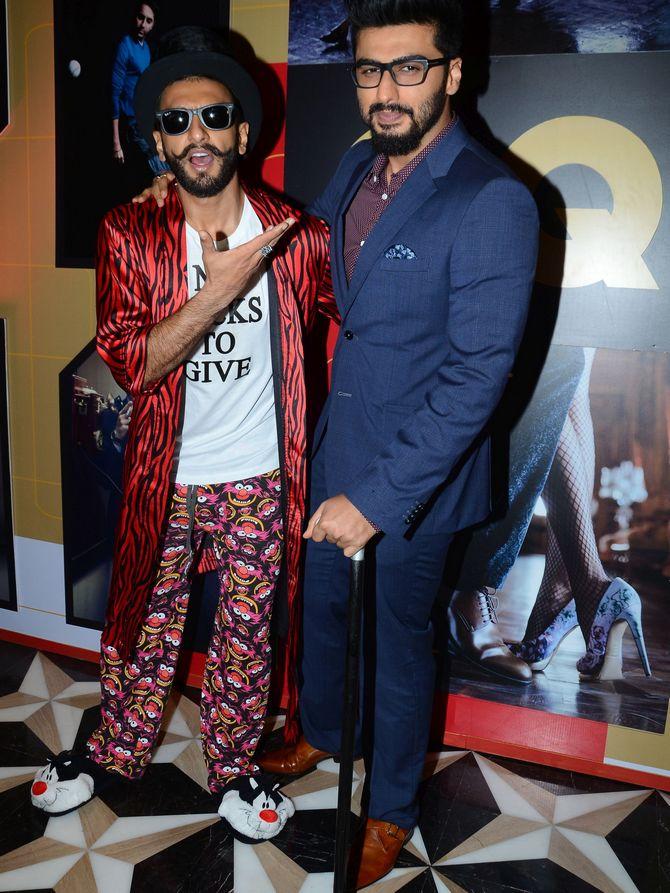 Image: Ranveer Singh with Arjun Kapoor. Photograph: Pradeep Bandekar
Those dots are pretty conservative in comparison to this crazy pairing up of a bright striped robe, Sylvester cat plush shoes, cartoon print pajamas, top hat and a suggestive slogan t-shirt.
What's crazier is he wore this to a red carpet event meant to celebrate GQ magazine's Best Dressed of 2015.


The Kissa of Kissing KJo!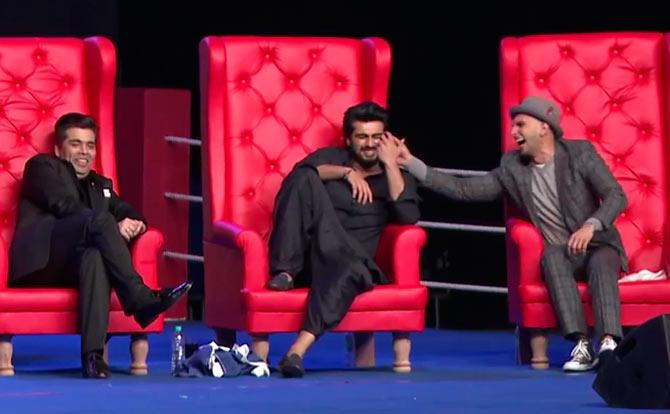 Image: Karan Johar, Arjun Kapoor and Ranveer Singh at AIB Knockout
Impulsive is Ranveer's middle name and he lives up to it every now and then.
The unplanned kiss he planted on filmmaker Karan Johar during the contentious AIB Knockout Roast, among many other audacities, left both the recipient and spectators initially a tad shocked.
But knowing the Kill Dil star's personality, it was taken in a fun spirit.


Drama King!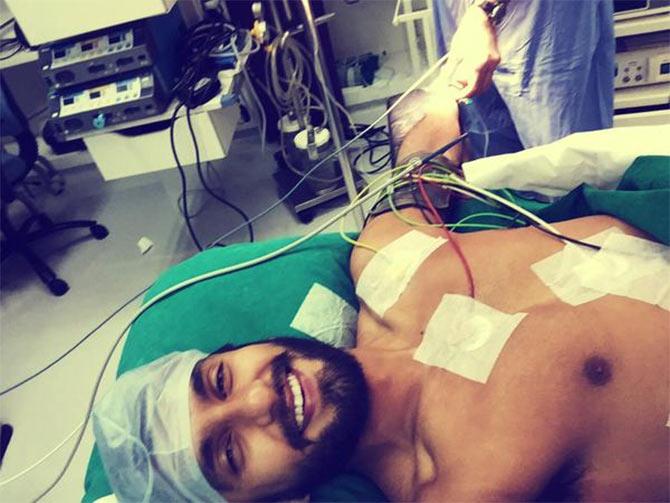 Image: Ranveer Singh. Photograph: Ranveer Singh/Twitter
Ranveer fell from a horse while filming Sanjay Leela Bhansali's costume drama Bajirao Mastani and injured his shoulder.
While most people would be in too much pain to even talk, the maverick hero tweeted a picture of him in the hospital right before the operation.
One-man reality show, good friend Arjun Kapoor sums it best.


The Madhatter desi!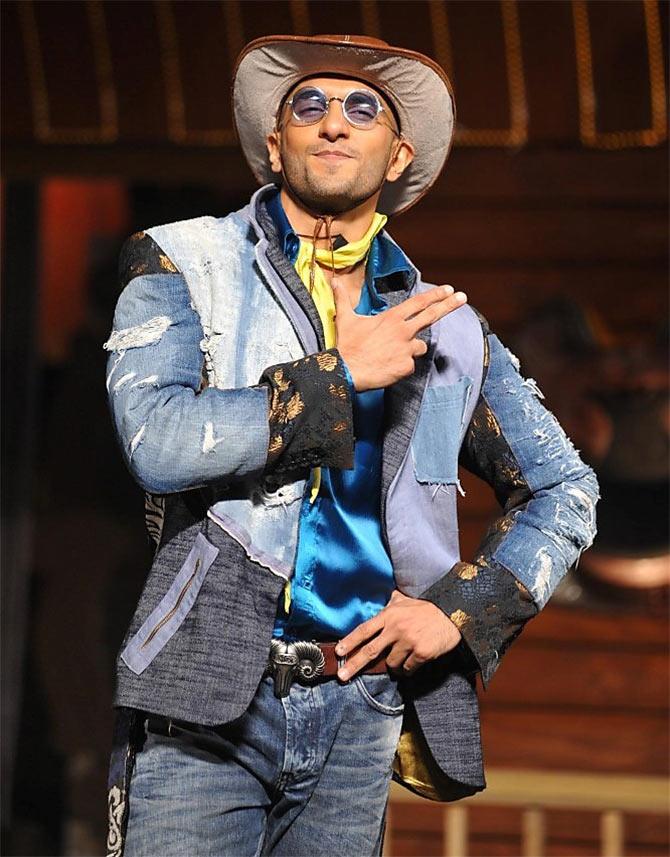 Image: Ranveer Singh. Photograph: Pradeep Bandekar
Ranveer's fetish for flamboyant headgear is well documented. From Fedoras to aviator hats, berets to the cowboy, the Ram Leela man owns them all.
What's particularly amusing is how it's not the fashion but his sense of humour they seem to suggest.


Yeh Gundagiri Hum Nahin Chodenge!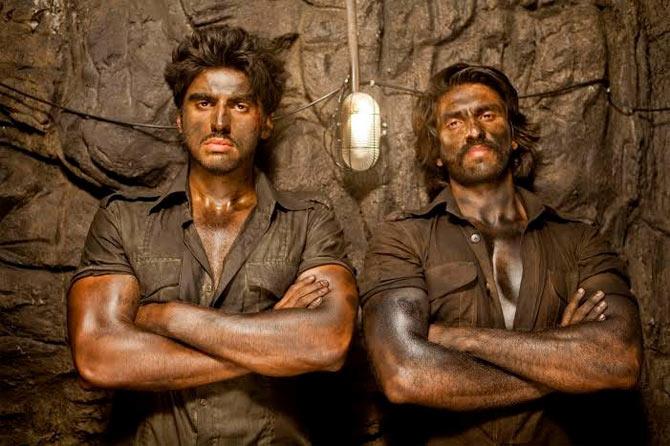 Image Arjun Kapoor and Ranveer Singh in Gunday
Ranveer's crackling chemistry around chum and co-star Arjun Kapoor beats the one he shares with the hottest of heroines.
Always up to some pranks, the wacky duo while shooting for Gunday once targeted Shahid Kapoor in the vicinity of the same studio.
Almost unrecognisable in all the dirt and soot, they jumped across the Haider star behaving like unruly, shabby fans leaving the latter completely aghast till he knew better.


Fully filmi!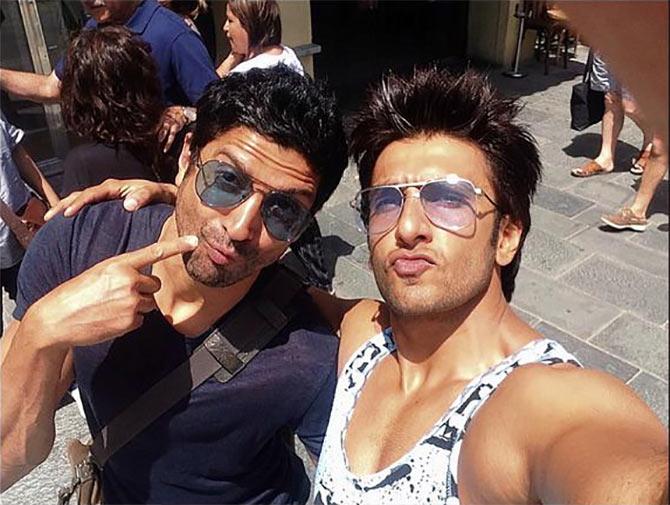 Image: Farhan Akhtar and Ranveer Singh. Photograph: Ranveer Singh/Twitter
Ranveer's enthusiasm for mainstream Hindi movies is not just infectious but consistent too. Bollywood is deeply entrenched in his DNA and a non-fan wouldn't get half his references.
He finds an equal in director turned actor Farhan Akhtar as the twain call out a certain 'Ratan,' alluding to Kulbhushan Kharbanda's character in Jo Jeeta Wohi Sikandar, taking on the veteran's Shaakal face in this super filmi selfie.