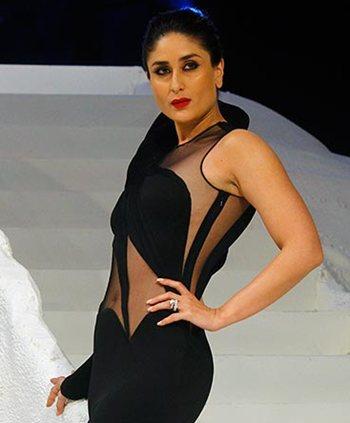 Happy 35th, Bebo!

Even when she hadn't turned into a star officially, Kareena Kapoor had the bearings of one.
Born in Bollywood's most famous film family, her first brush with designer clothes was courtesy indulgent big sister, Karisma.

"It was this gorgeous Jean Paul Gaultier newspaper print see-through top. Any special occasion and I would wear my Gaultier top and feel like an absolute star," she reveals in her book, The Style Diary of a Bollywood Diva.
Today, the A-list heroine of money-spinners like 3 Idiots, Bodyguard, Bajrangi Bhaijaan, has all the haute couture she wants and, boy, can she make a style statement?
A hot favourite in the desi designer circles as well, Bebo's obliged as showstopper for many a fashion shows.

On the stunner's 35th birthday, we look at all the times she left us speechless with her spectacular turn on the ramp.

Have a favourite? VOTE at the end!


Black beauty!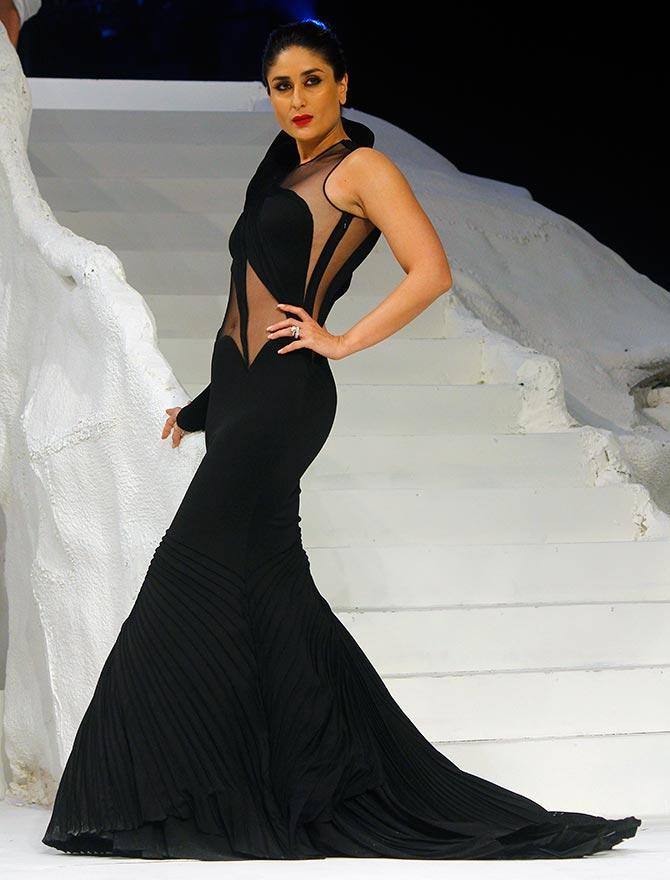 Va Va Voom! Kareena Kapoor is a picture of intense glamour while closing Lakme's recently held fashion week in Gaurav Gupta's black sculpted gown.
This is why, ladies and gentlemen, it's called a grand finale.
The Fringe Connection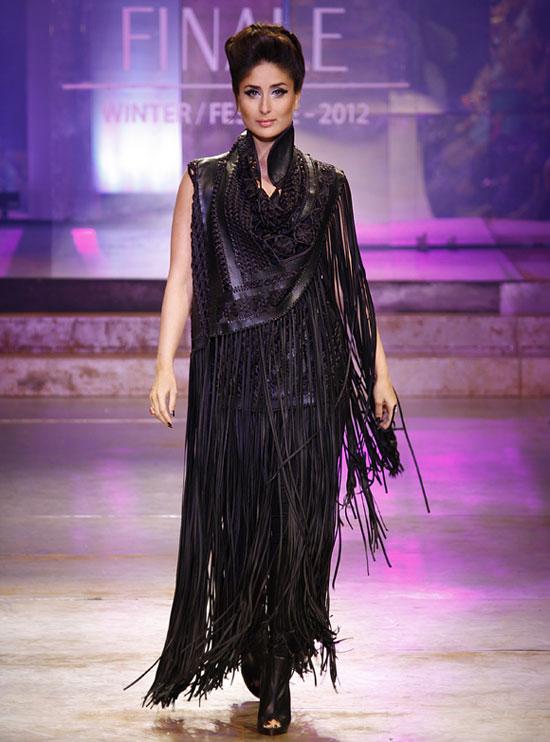 Not just upcoming filmmakers, even fashion designers get Kareena's wholehearted support. Delhi-based duo Pankaj and Nidhi acknowledge the exposure their brand got after she agreed to endorse their collection.
Just how fierce and fabulous is the Jab We Met beauty in this fringed number?
Sparkling glory!
"
It looks dramatic but it's extremely wearable."
A visibly chuffed Kareena could barely contain her excitement around the media while discussing her striking, show-stopping Rajesh Pratap Singh gown.
Shine on crazy diamond!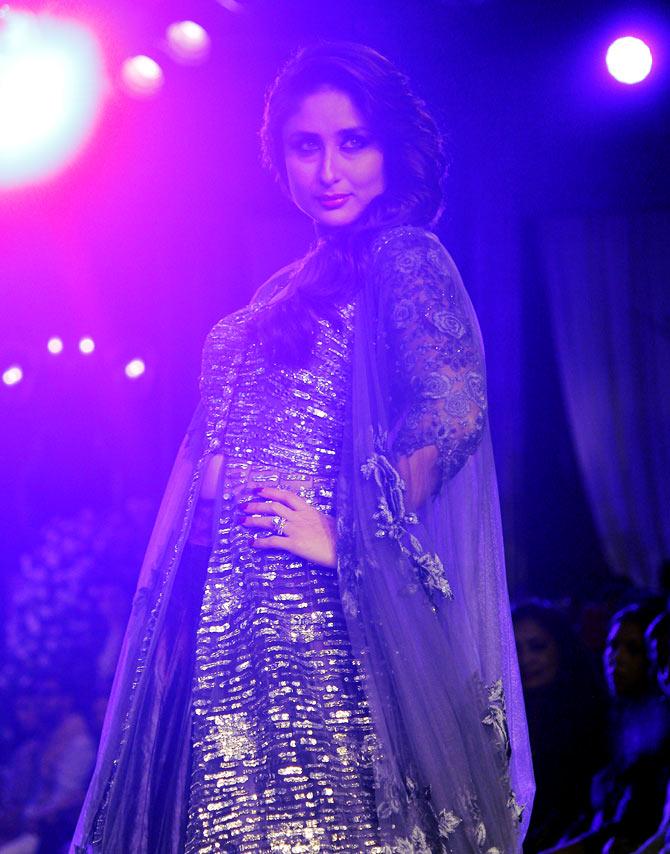 Bollywood's go-to guy for all things fashion enjoys a loyal following among the Kapoor sisters too. Manish Malhotra understands Kareena's magnetism inside out and dresses her accordingly.
And there she is –playing the gorgeous muse to perfection in an elaborate, glittering purple dress from his stable.
Class act!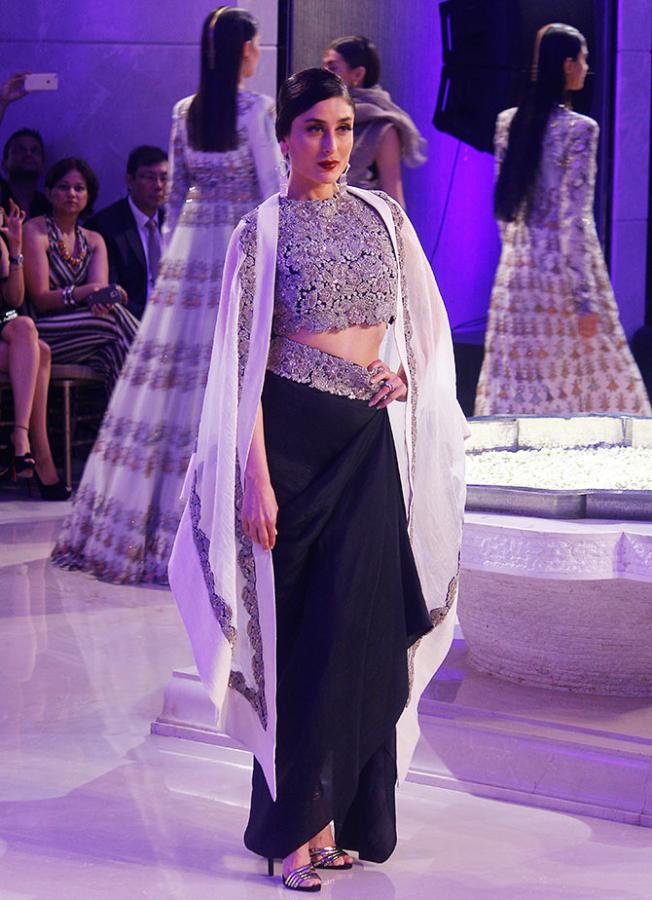 Sonam Kapoor isn't the only fashionista going gaga over Anamika Khanna's exclusive, elegant designs. Any sighting of Kareena sporting the leading designer's works is always a pleasure.
She's simply flawless in a signature style embellished monochrome ensemble.
Orange is the new black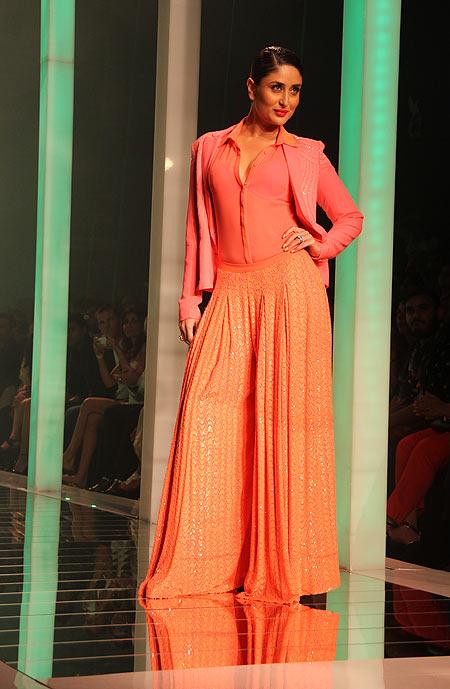 Clad in orange from head to toe, Kareena looks rather delectable flaunting Namrata Joshipura's vibrant creation.
Although it's not a silhouette everybody can carry off easily, the actress loves how perfectly tailored Joshipura's clothes are.
Winning combo!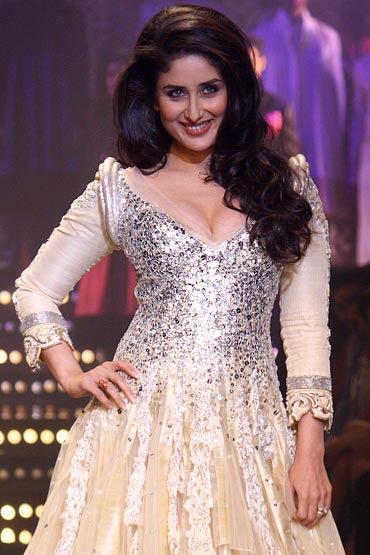 Manish Malhotra's shimmering designs and Kareena's star power are an unbeatable combination.
Be it on reel, red carpet or ramp.
Ramp romance!
Who cares about clothes when you've got a Nawab as arm candy?
Nevertheless, the (then) newly dating couple -- Saif Ali Khan and Kareena effortlessly slip into the role of celebrity showstoppers for Manish Malhotra's glitzy style.
Jab they catwalked!
Both Kareena and Shahid Kapoor are happily married to someone else now but there was a time when they worked up their adorable chemistry for the ramp too. Namely Bebo's frequent fashion collaborator, you got it, Manish Malhotra.
What do you think? Yay or nay?
Monochromatic delight!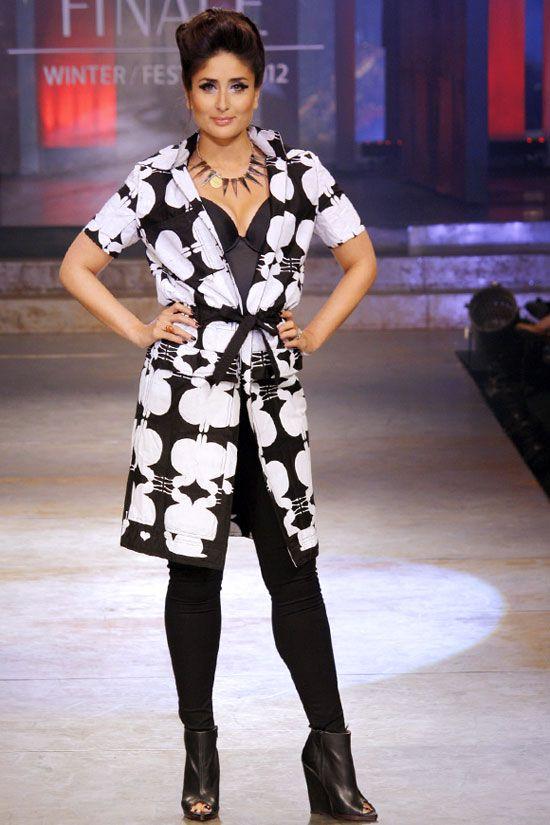 Ever willing to experiment and amaze us, Kareena tries out a brand new avatar cat walking in Kallol Datta's bold and black and white vision.
Alright, wipe off that drool and vote for your favourite look.

Photographs: Rediff Archives

VOTE!