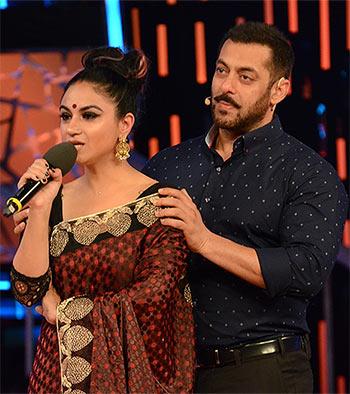 'I am here to stay!' Priya Malik tells Rajul Hegde.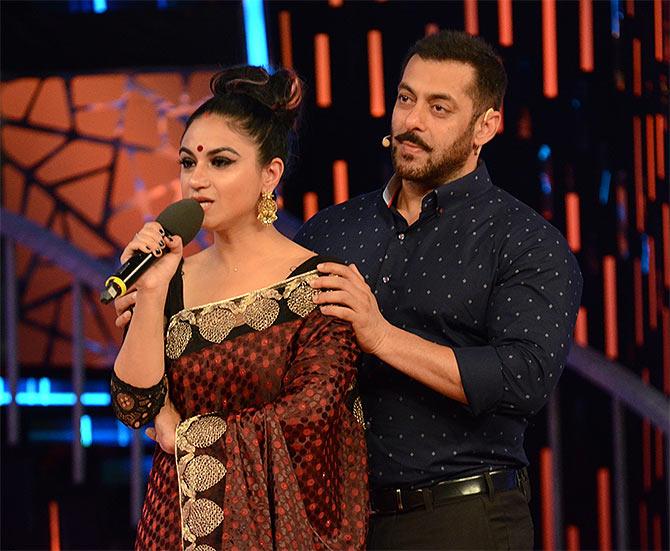 When former Bigg Boss contestant Imam Siddique entered the house as a guest, he declared wild card entry Priya Malik as a finalist. However, the teacher from Australia was voted out over the weekend.
She discusses her stint with Rediff.com contributor Rajul Hegde.
What was your husband's reaction when you got evicted?
It was 5 am in Australia when I called him.
The first thing he said was, 'Happy belated birthday, baby' and I thought that was really sweet. He said he is married to the strongest woman in the world and is really proud of me.
Your eviction came as a surprise to the viewers. Did you see it coming?
Definitely not. It was disappointing.
I was expecting it in the finale week. A lot of viewers, my fans and even my family members thought I was safe, and would become a finalist, so there was a shortage of votes.
Secondly, I haven't done anything in India as compared to the other housemates, so that could have played a part in my eviction.
How different was Bigg Boss compared to Big Brother Australia?
Big Brother was a milder version of Bigg Boss. This was mentally, physically and emotionally more draining, compared to Big Brother.
Bigg Boss is a great mix of the good, the bad and the ugly. It wasn't easy; it's been a roller coaster ride, and an amazing journey.
You came across as stubborn and opinionated. Is that one of the reasons why people in the house did not like you initially?
I guess my straightforwardness has always backfired on me. That's why I am not instantly liked by people. I would rather be who I am and don't want to change myself in order to be loved. I guess I started growing on the housemates and by the time I left, we became friends.
But you did not get along with Prince Narula.
Prince is a leader by nature and wants people to follow him. I am not born a follower. I am bold and opinionated, and not afraid to speak my mind.
Can you tell us about the contestants left behind in the house?
Keith (Sequeira) is a great guy. He is mature and kind-hearted. I wish he spoke his mind more often.
Rochelle (Rao) is cute and bubbly but she hides her strategies. I wish she was more open about that; it would have worked in her favour.
Mandana (Karimi) did a lot for the camera. She comes across as fake sometimes. I didn't like her cold-heartedness; a bit of warmth is necessary as a human being.
Rishabh (Sinha) is a friend, entertainer and we bonded well.
What did you think about Imam Siddique?
I actually liked Imam.
He has grown as a person, changed a lot in the last three years. We are all human and have made mistakes. He has learnt from his mistakes. We are on friendly terms now, and looking forward to meeting in Mumbai.
Host Salman Khan always says good things about you.
I am a huge fan of Salman Khan and have been following him since his first hit, Maine Pyar Kiya. I have been love with his films forever. If there was a man I had to choose to have an extra-martial affair, it would be him (laughs). I even said that to him on his birthday. I am happy and humbled that he supported me throughout my journey on the show.
You gelled with Kishwer Merchant in the house.
As an audience, I didn't like her at all but when I went inside, I got along very well. She is a nice person. We are going to catch up for a drink.
You had a different style of dressing on the show.
I am edgy in real life too. I have always followed alternative fashion. I'll be shopping with Kishwer; people have said Colaba (in South Mumbai) has good street stuff.
What next?
I am here to stay! I'm going to explore the television industry.
I am a stand-up comedian for the last one and a half years, and want to explore that side as well. Let me see how it goes. My husband will be traveling back and forth.