Tuesday's episode is high on emotion as the contestants get to meet their loved ones.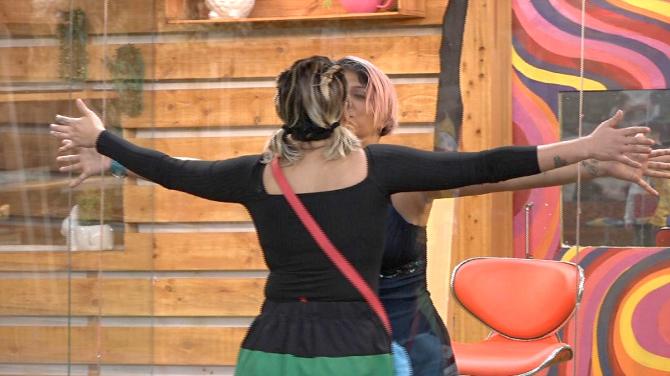 Bigg Boss announces a new task called Freeze and Release wherein the housemates have to stay frozen until asked otherwise whenever someone enters the house.
Just when Neha Bhasin and Pratik Sehajpal share a hug, Bigg Boss orders everyone to freeze. That's when Neha's sister Rashi Bhasin arrives.
The talented singer gets emotional seeing her and they start talking through the glass wall.
Rashi tells Neha that she is doing well on the show and everyone misses her at home.
She also tells Neha that her husband Sameer loves her and isn't angry with her.
Rashi greets other housemates as well, and thanks Shamita Shetty and Pratik for always having Neha's back.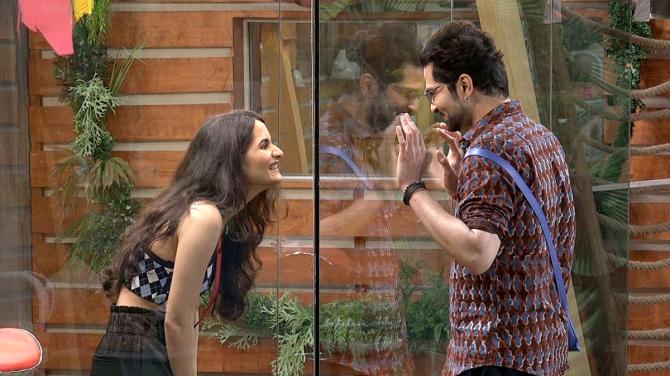 Next, when Bigg Boss asks the contestants to freeze, Raqesh Bapat's niece Eesha enters the house.
Eesha reassures Raqesh that he is doing well on the show and nobody is misunderstanding him.
She thanks Divya and Shamita for taking care of Raqesh.
Eesha motivates Raqesh to continue playing the game and tells him that silence speaks louder than words.
She exits the house, leaving Raqesh emotional.
In the evening, Pratik's sister Prerna enters the house.
Pratik starts crying as soon as he sees her.
Prerna tells her brother that he is looking good on the show but should maintain certain boundaries, hinting at his friendship with Neha.
She tells Pratik that it's the last week and so he should focus on his own game and his friendships can continue outside.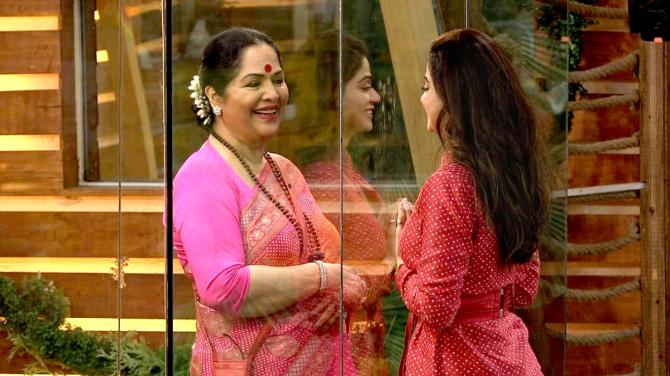 Next, Shamita's mother Sunanda Shetty enters the house.
She greets her daughter and says that everyone is very proud of her.
Shamita's mum also says elder sister Shilpa Shetty misses her sister a lot and watches the show for her.
Sunanda Shetty greets the housemates and thanks Neha for always being there for Shamita.
She's impressed with Raqesh and calls him sweet and a gentleman.
Shamita cries as her mother is asked to leave, but mummy tells her that there's something special for her in the store room.
Shamita gets modaks later and thanks her mum for giving it to her.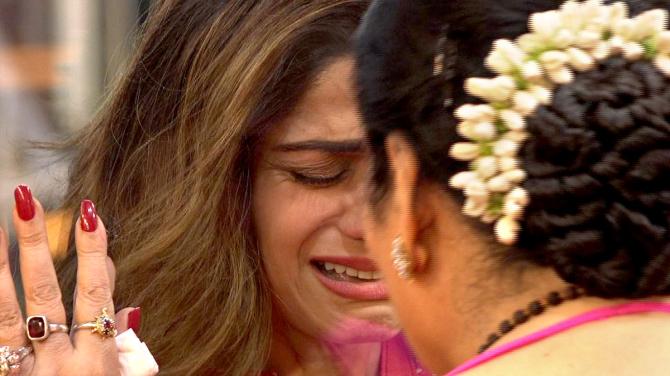 The last guest to arrive is Puneet Pathak and he is in the house to meet Nishant.
They chat about the game and how well Nishant is doing.
Once Puneet leaves, Bigg Boss announces that their report card is here and the audience is happy with their performance.