Vikas Gupta and Arshi Khan certainly think so.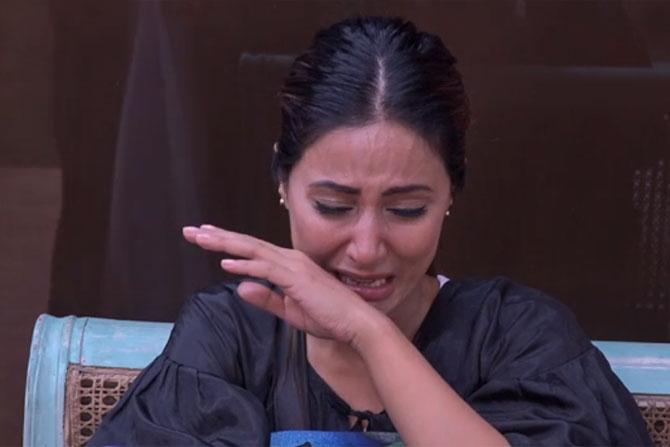 IMAGE: A fight at the beginning of the episode reduces Hina Khan to tears. Photograph: Kind courtesy Colors TV
Hina Khan cries.
Arshi Khan shouts.
Hina cries.
Priyank shouts.
Hina cries.
An egg becomes a source of dispute.
Hina cries.
Day 52 is just another normal day in the Bigg Boss house.
IMAGE: Arshi Khan shouts at Hina.
The Big Clash
There's more than one actually.
Hina and Arshi clash over Arshi's statements, as do Priyank and Arshi.
The reverberations of the latest task – the Hiten Tejwani-Arshi Khan divorce case – clang louder and louder.
Vikas Gupta tries to make peace, but that won't help the TRPs, will it?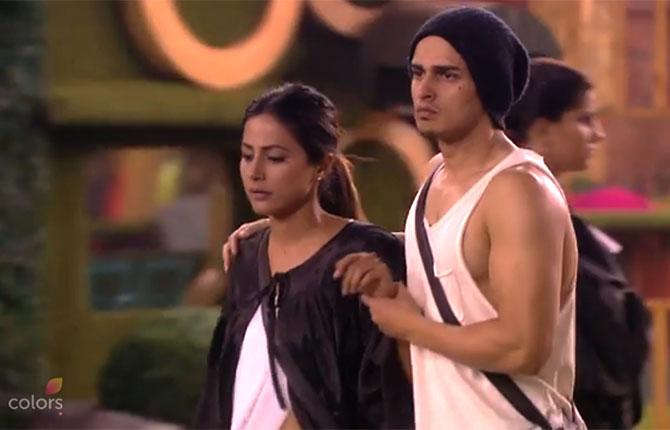 IMAGE: Priyank Sharma consoles Hina.
So Hina cries
A fight at the beginning of the episode reduces Hina to tears.
Later, her tear ducts overflow when she realises Shilpa Shinde, who is part of the kitchen team, has not cooked an egg for her.
Hina walks away with the egg, and sobs bitterly.
'How can they use food as a way to get back? And breakfast? It's the first meal of the day,' she wails.
'Heartless,' she weeps.
'They comment on my age, my looks, my face, my colour, my profession…' she whimpers.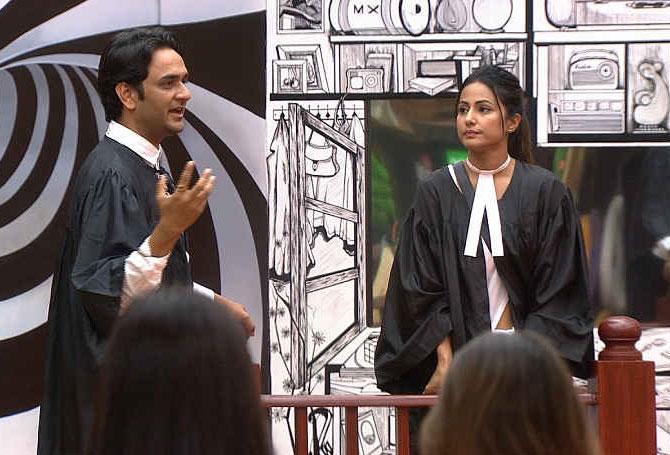 IMAGE: Vikas Gupta and Hina Khan in the courtroom.
And Vikas calls her a vamp
The courtroom session for the day begins.
For not supporting Arshi during her clashes with Zubair, and thus laying the foundation for the enmity between herself and Arshi, Vikas calls Hina a vamp.
Hina's emotions range from quivering lips and tearful eyes to bouts of anger and a pointed finger as she defends herself.
Arshi and Vikas say the former is entitled to dress the way she wants, and even tear her clothes, and no one has the right to comment on it.
Arshi accuses Priyank of roaming around half-nude and hitting on her for footage.
And when she accuses Hina of walking around in a 'bikini', Hina's powerful sense of fashion is offended. 'Monokini, babe, monokini.'
Sigh!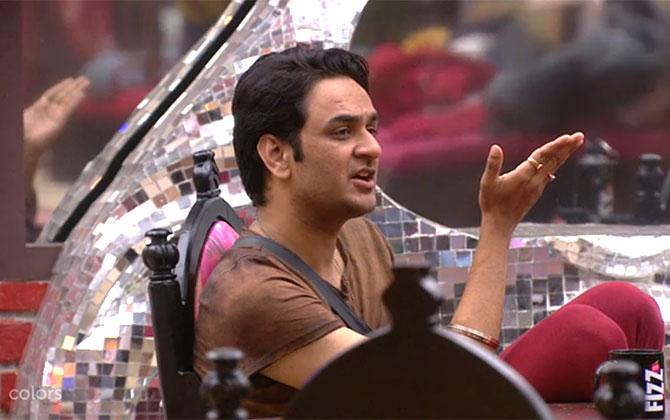 IMAGE: Vikas Gupta supports Arshi against Hina.
The count
As the third session of the Bigg Boss courtroom ends, it's advantage Hiten, as two decisions have gone in favour of his lawyer, Hina, and one in favour of Arshi's lawyer, Vikas.
Contestant(s) of the day
In terms of sheer footage, it's a toss-up between Hina and Arshi.
My take
It's been an exhausting watch.
Hina, please get less dramatic; instead of feeling bad for you, you're making us laugh.
Priyank, why pick a fight where there is none?
Arshi, ditto. And tone down the screeching please.
Puneesh, Hina is 30 and that is NOT old.
Hiten, hang on to your sanity!