Bigg Boss 11 gets grimier on day 38, says Rohan Shinde.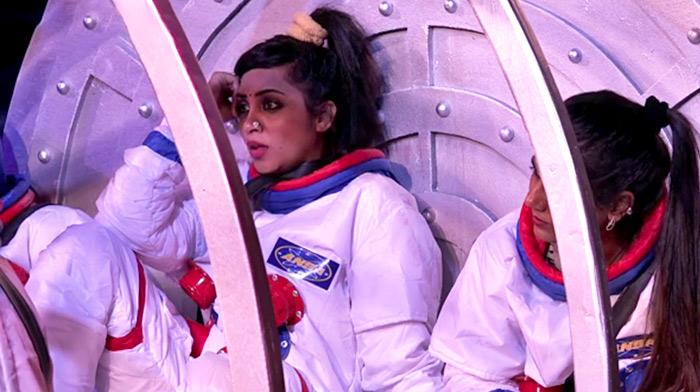 IMAGE: Arshi refuses to rise to Hina's bait. All photographs: Kind courtesy Colors TV
Hina Khan, Priyank Sharma and Benafsha Soonawala don't seem to mind the depths they are sinking into in Bigg Boss.
All of them seem to have adopted Shilpa Shinde's strategy of antagonistic bak-bak (talk) in their effort to stay in the limelight.
Most controversial moments
The Sharmas – Puneesh and Priyank – get into yet another fight. And Puneesh spits on Priyank.
One Khan tells another that the only way the latter will get work outside the house is by tearing off her clothes.
Arshi Khan chooses to be the bigger person and not respond to Hina Khan's taunt.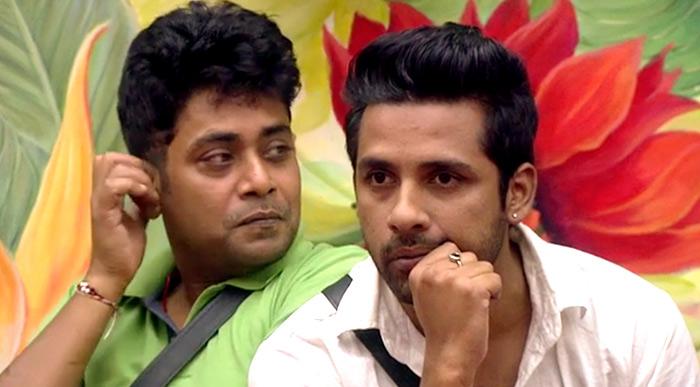 IMAGE: Sabyasachi smartly ensures he is in the race for the next captaincy; present captain Puneet fails in his task.
The luxury budget task
Day 38 is Tricky Task Day.
The housemates, dressed as astronauts, take their places in a rocket built in the garden.
They can only step out when the buzzer sounds.
The first person to do so becomes a davedar (candidate) for the next captaincy.
Except, the task is not so simple.
Bigg Boss has assigned a monetary value to each person and when they step out, which means they are out of the game, that amount gets deducted from the final prize money.
Sabyasachi Satpathy, smartly, is the first one to leave. He knows he's not going to win the show so, without enduring too much discomfort, he's thrown his hat in the captaincy ring.
At the next buzzer, Bangdi Karla leaves; she's interested in both the captaincy and in spending romantic moments with the karya's sanchalak (the supervisor of the task), captain Puneesh.
When Akash Dadlani leaves next, he is followed by Arshi, Shilpa and Mehjabi Siddiqui. Since Akash stepped out first, he too becomes a candidate for the next captaincy.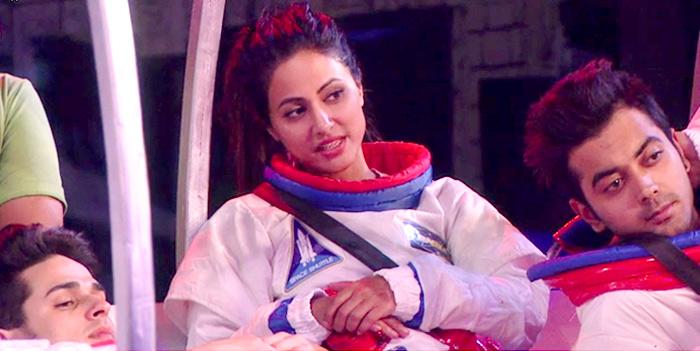 IMAGE: Hina plots and plans with Priyank and Luv.
Hina's big fail
Puneesh is supposed to supervise the task but ends up snoring in the living area after spending some romantic moments with Bandgi.
Hina latches on to his lapse and comes up with a seemingly brilliant plan -- that the remaining contestants sneak out of the rocket for washroom and snack breaks.
Parinamswarup (As a result), the task is nixed by Bigg Boss and the housemates's luxury budget remains a big zero. Besides, Rs 50 lakhs is set to be deducted from the final prize amount.
This loss hits Hina badly and she has a small, quiet meltdown.
Sometimes, Ms Khan, being oversmart doesn't pay.
Hmmm!
Let's take a look at the monetary value assigned by Bigg Boss to the contestants…
Sapna: Rs 11 lakhs
Hiten: Rs 10 lakhs (Arshi, for all her flirting with Hiten, is quite shocked!)
Shilpa: Rs 8 lakhs
Hina: Rs 7 lakhs (Must have raised Ms Khan's hackles that she was considered less worthy than Shilpa Shinde.)
Arshi: Rs 3.10 lakhs
Mehjabi: Rs 2.75 lakhs
Akash: Rs 2.50 lakhs (Akash could not believe Mehjabi was worth more than him!)
Bandgi: Rs 1.75 lakhs
Vikas: Rs 1.50 lakhs
Luv: Rs 1 lakh
Sabyasachi: Rs 70,000
Priyank: Rs 60,000
Benafsha: Rs 10,000
Priyank and Benafsha had to – and I suspect will continue to – endure quite bit of ribbing about this.
But the figures assigned, I must say, is interesting and is going to lead to quite a bit of heartburn.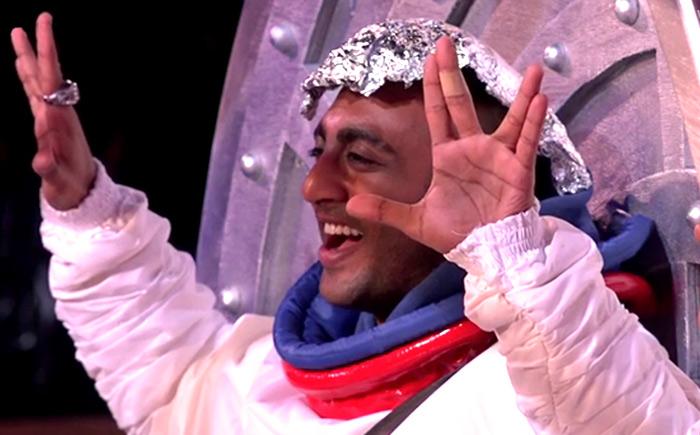 IMAGE: Akash Dadlani is a smart player of the Bigg Boss game.
Contestant of the day
Undoubtedly Aaksh, for standing up to the allegations made against him and for earning his place in this week's race for captaincy.
Well done, Dadlani khandaan ke chirag!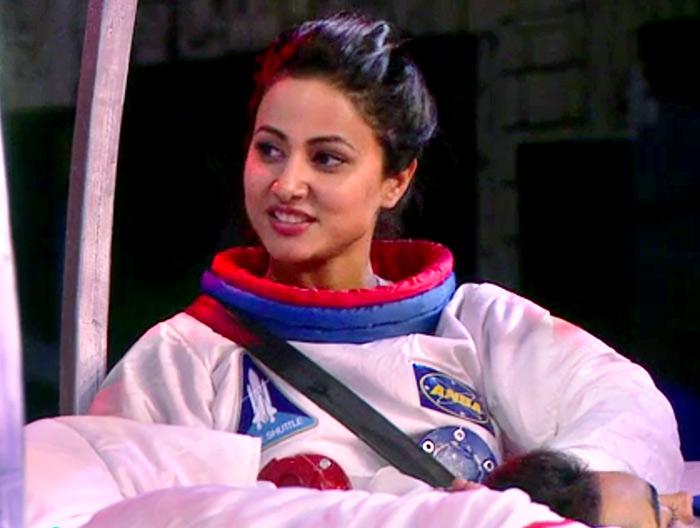 IMAGE: Hina makes nasty comments about Arshi.
My Take
Hina and her group – Priyank, Benafsha and Luv Tyagi -- are unnecessarily trying to instigate others in the house.
Priyank and Ben have lost their individuality.
Luv still can't make anyone take him seriously.
Sabyasachi proved he is smarter then we think.
And Hina proved that being oversmart can be a huge disadvantage. Ms Khan, a bit of advice: Stop commenting on other people's personal lives and stop making lewd statements about others.
I really didn't appreciate the way she told Arshi she would have to tear her nightdress outside the house in order to get work.