If the coolest person in the house is Hiten Tejwani, the smartest is certainly Vikas Gupta.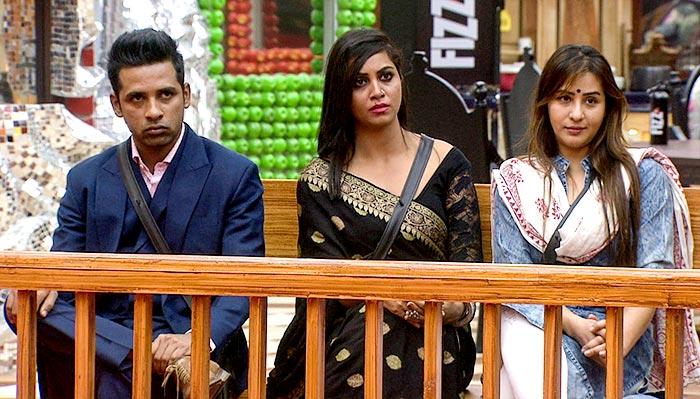 IMAGE: Puneesh Sharma, Arshi Khan and Sapna Shinde
Nobody likes the Bigg Boss house to be calm, certainly not Bigg Boss himself.
And so, on Day 51, Bigg Boss set a lit match to a fuse that was waiting to explode.
He created a divorce scenario between Arshi Khan and Hiten Tejwani as the luxury task of the week.
But did Bigg Boss expect things would get this dirty?
The families
Arshi is supported by her mother, Shilpa Shinde, and brothers Puneesh Sharma and Vikas Gupta; the latter doubles up as her lawyer as well.
Hiten's family comprises his brothers, Luv Tyagi, Priyank Sharma and Akash Dadlani and his sister, Hina Khan, who will represent him in court.
Bandgi Kalra and Sapna Choudhary are the judges.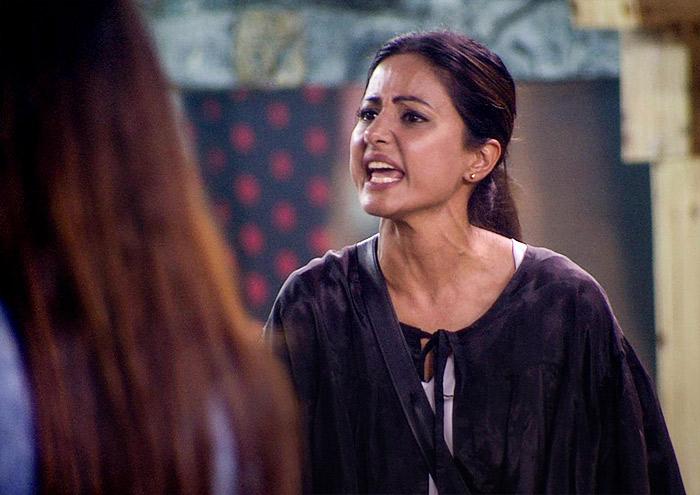 IMAGE: Hina Khan in action.
The first session
Hina wades into the attack, saying that Arshi likes to flirt with all men behaves inappropriately with her brother-in-laws.
Priyank is called in as witness and accuses Arshi of flirting, exercising provocatively and tearing her clothes, a point they could bring in because of Vikas's mistake in mentioning it.
This upsets Arshi to the point of tears.
Vikas admits that Arshi likes to flirt, but is only interested in her husband but Hina accuses her or having a roving eye.
When the first session ends, Arshi's team is declared as the winner.
Hina does not like the way the case is going as she feels Arshi's character is being brought into question.
As expected…
Arshi loses her cool and tells Vikash and Shilpa that if the other team is playing dirty, she's join the mudfest too and talk about how Priyank told Sabyasachi Satpathy that he was setting up his bed next to hers so that he could talk to her all night and, maybe, get some action as well.
The second session
Vikas gets Hiten – who he knows will not lie -- to admit Arshi has been consistent in her behaviour and that his brother Akash's behaviour has reduced Arshi and Sapna to tears.
Hiten gets back by saying he finds Shilpa patting his 'tui (backside)' demeaning and if this is how the mother behaves, why would the daughter be any different?
Bandgi wants to know if this issue is enough for a divorce.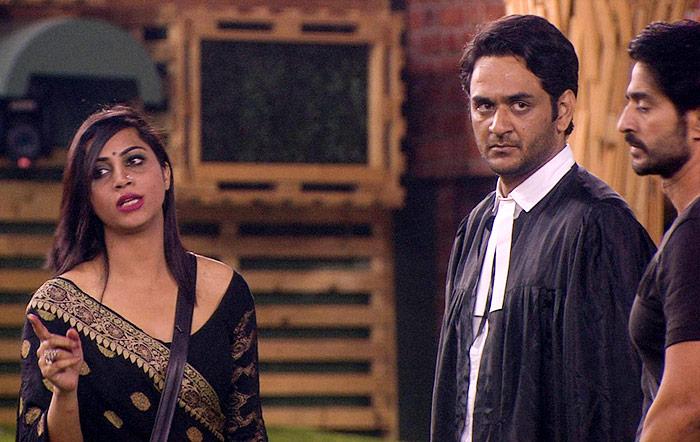 IMAGE: Arshi Khan, Vikas Gupta and Hiten Tejwani.
Dirty, dirtier, dirtiest
Arshi, who wants to get back at Priyank, gets on the stand and puts her plan in action.
Not only does she talk about him planning to set up his bed next to hers, she also questions the 'relationship' between Priyank and Sabyasachi, something she knows will rile Priyank as she has done it earlier on the show as well.
Priyank cannot stand her needling and loses it, warning her against talking about anyone's 'sexual orientation'.
In the end, the second session goes in Hiten's favour.
Contestant of the day
Vikas Khanna, for playing the game smartly.
He used Hiten's honesty to prove that Arshi has been consistent in her behaviour and for presenting valid reasons for a divorce, including the fact that Hiten does not stand up for Arshi.
And though he goofed up when he said Arshi has the right to tear/modify her clothes to suit her taste – this gave Hina and her team the opening to drag it into the case, though they had initially decided not to do so – he didn't play dirty.
My take
For someone who propagates girl power all the time, it was surprising to watch Hina harp on whether Arshi had permission from her husband for whatever she did.
As Vikas pointed out, it was clearly a 'backward' point of view.
Arshi Khan needs to learn to let her words process through her brain before she lets loose. Maybe counting one to 10 before she opens her mouth will help.