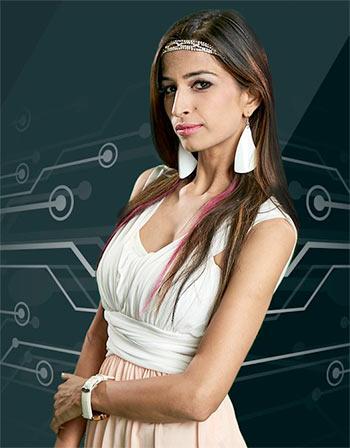 Priyanka says goodbye and romance is finally brewing inside the Bigg Boss 10 house!
So Friday's task was meant to turn the tables around.
Two contestants from each team were supposed to participate in a task, winning which would reverse the roles of maliks and sevaks.
Priyanka Jagga and Navin represent the Indiawalles whereas Bani and Gaurav Chopra participate from the celebrity team.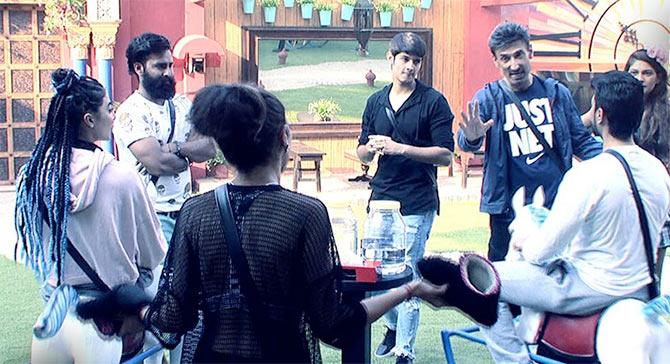 IMAGE: Contestants argue while Bani and Gaurav perform the horse task.
The task required the contestants to sit on a horse and keep rocking it, without letting their feet touch the ground.
Whenever the alarm rang, the four contestants had to drink water and other members had to try and displace them from their respective horses.
The one who stayed till the end would win the task for their team.
While Priyanka puts up a brave fight, Bani refuses to pee on national television and gives up.
Now this is the same reality show where Priya Malik, Bigg Boss 9 contestant, and her fellow inmates peed inside a car, and stayed locked in it for hours together without giving up.
Gaurav and Navin also eventually give up, leaving Priyanka as the winner.
The Indiawalles continue to be the maliks. Well deserved!
In the Weekend Ka War episodes telecast over the weekend, Salman Khan, who was in his element, took each one's case quite humorously.
Priyanka is made to sit on the punishment chair for her loud behaviour throughout the week and Bani is obviously asked to explain why she quit the task.
Bani tries to defend herself and says she didn't want to disappoint her naani. (Well, we know you could have done better than that!)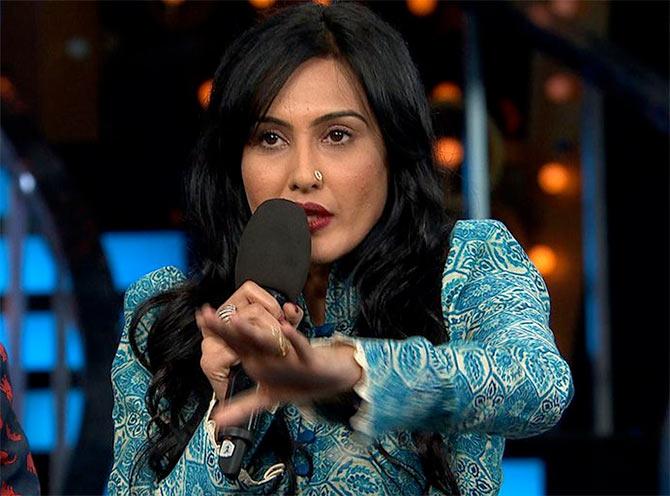 IMAGE: Former Bigg Boss contestant Kamya Punjabi talks to the housemates.
As the episode progresses, Salman points out that the celebrities aren't putting their best foot forward in the task this season.
Mona Lisa is told not to cry foul in front of the camera or else people might take her request seriously and evict her.
Of the four people nominated in the previous week -- Manu, Priyanka, Gaurav and Mona Lisa -- in Saturday's episode Salman declares Manu is safe.
In Sunday's episode, former contestant Kamya Punjabi graces the show along with Khan.
She blasts each and every celebrity contestant, particularly Bani and Rahul, for their poor performances.
She congratulates Lopamudra Rut and Gaurav for speaking their mind and urges everyone to play themselves rather than stick to a format or worry about their image.
Later, Om Swami is ridiculed for his claims of walking on water. Salman even calls him a boat as he can float on water.
Both Salman and Kamya advise Om to think of an alternate career before he steps out of the house.
The week's so-called 'surprise' eviction was quite shocking.
Gaurav and Mona Lisa are declared safe.
Priyanka Jagga, who is wearing a ridiculously horrendous black cutout dress, is asked to pack her bags and leave the house.
There is absolute silence in the house as no one expected the most entertaining (read irritating) member would be evicted after the first week itself.
Everyone watching the show, including yours truly, had made up their mind that Mona Lisa would be the first one to go.
So Priyanka's eviction was quite unexpected.
Having said that, the eviction, I must say, has stirred up equations inside the house.
The promos reveal Manu is getting close to Mona Lisa, while cutesy Lokesh is seen raising her voice and losing her temper.
As the roles get reversed (celebrities become maliks) Om is seen fighting for himself as he no longer has any friends in the house.
Even Karan Mehra seems to be getting bitchier.
Looks like lot more interesting drama will follow this week.
After all, the contestants are finally warming up to the hidden cameras and showing off their true selves.