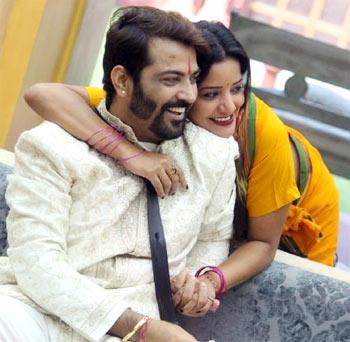 'My heart sank when Lokesh's name was announced. It could well have been Rahul Dev, I thought, but no,' says Divya Nair.
Saturday's Weekend Ka War was perhaps one of the better episodes of the Bigg Boss 10 season.
Salman Khan finally drilled it into Swami Om's skull that he should cease and desist his wagging tongue abuse women in the house.
Another highlight was to see oh-so-boring Karan pack his bags and leave the house, something that should have happened at least two weeks ago.
On Sunday's episode, the commoners were reminded that they were now in a minority.
Lopa's fickle nature showed up as well. After siding with Manu and Manveer against Rohan, she was shown warming up to the latter in the Mud Hustle task.
Both Rahul and Lopa showed their solidarity with the celeb team by supporting Rohan's choices. Lopa probably realises that her chances of staying in the game will be stronger if she stays friends with the majority.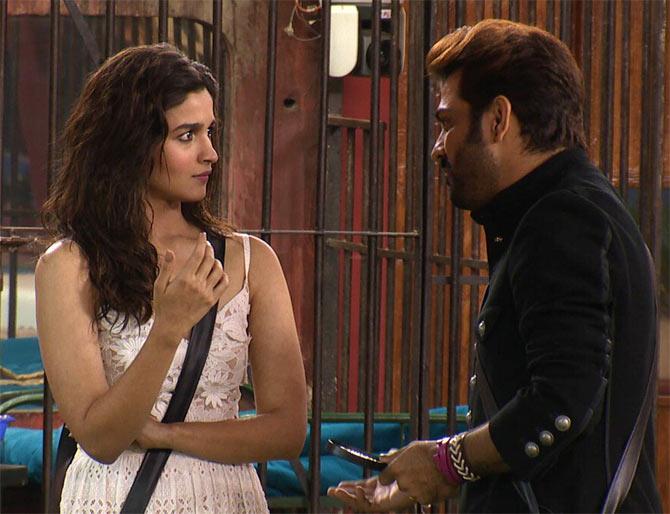 IMAGE: Alia Bhatt with Manu in Bigg Boss 10.
It was pleasant to see Alia Bhatt interact with the contestants inside the house.
Manu, she said, was her favourite, sending him over the moon. She also surprised Manu and Rohan with audio clip messages from their families.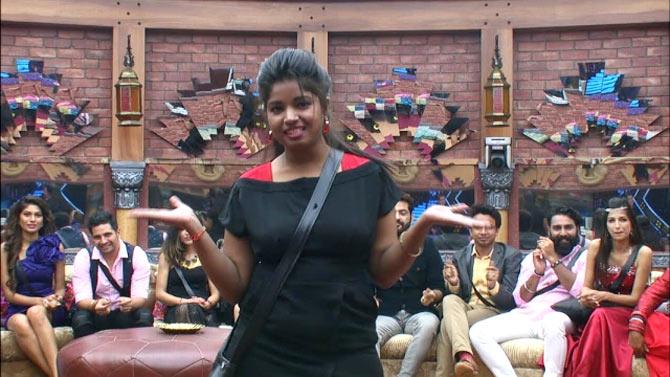 IMAGE: Lokesh gets evicted.
The worst part was the double nomination.
My heart sank when Lokesh's name was announced. It could well have been Rahul Dev, I thought, but no.
I'm sure Salman was equally disapppointed to see her evicted, but apparently, she got lesser votes.
Lesser votes than Rahul Dev?
Naahhhhhhhhhhhhhh!
Who are these people voting for Rahul?
What has he even done to stay in the game?
Lokesh has been a soft target for everyone in the house and her eviction could have been avoided.
If there was anyone who deserved to stay in the game, it was Lokesh.
Manveer's selfish, egotist, decision made him nominate Lokesh last week.
Had it been between him and Rahul this week, maybe Rahul would have been evicted.
We'll really miss your spunk, girl.
With yet another commoner out of the house, the chances are that Nitibha could be next.
Monday's episode will see the housemates create viral content to please Sunny Leone, for whom Bigg Boss was the perfect launch pad for her subsequent Bollywood career.