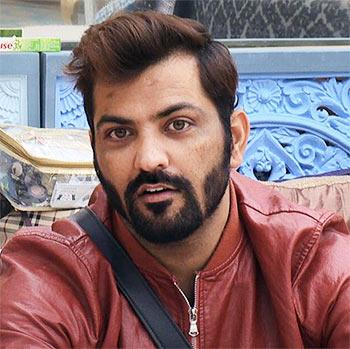 Manu reveals his backstory, Lokesh and Navin battle it out for immunity.
Divya Nair reviews Thursday's Bigg Boss episode.
Three dialogues from Thursday's episode defined the game strategy to win the show:
'Na tu mere maa ke godh se aaya hai, na woh (Both of you weren't born from my mother's womb),' Manveer tells Naveen when asked whether he supports him or Lokesh.
'Na main tere saath hoon, na main khilaaf hoon (I am neither with you nor against you),' Manveer tells Navin that he doesn't support anyone.
'Yeh ghar mein kabhi bhi kuch bhi ho sakta hai (Anything can happen inside the house),' Lokesh tells Navin why it is wrong to assume that she will be safe from eviction.
After blockbuster baba (Om Swami), it was Manu's turn to hog the limelight.
Most of us don't know his past so it was interesting to see him narrate his rags-to-riches story of how he left home after his father died, struggled, slept with a 'maila hua' bed sheet on a charpoy and then in two years, managed to earn Rs 1 crore. (WTF!)
Who earns Rs 1 crore just like that? Which product did he sell?
This must have been the collective thought of most Indians watching the show: Aisa kaunsa product hai Manuji, zara humein bhi batana... hum bhi crorepati banna chahte hai.
Income tax officials, you can please thank Bigg Boss later for helping you find your new bakra who confessed ;on national television.
As for the punishment task, Mona, why so much rona?
Sweetheart, you did not perform the task, you were busy flirting and clarifying your stand with Manu when Bani and others were fighting it out.
You also chose to wear a bindi just like Lokesh.
You should stop taking Manu's songs and shayris seriously. The song Jaha paon me payal, hath me kangan, ho maathe pe bindiya is from a film, and the lyrics weren't a hint.
You should stop being so emotional and think more like Om Swami. Like he said, you get more footage in the jail than inside the house; so be happy.
I like the way Om Swami doesn't leave a single opportunity to grab attention. Ghooru baba (do notice how he stares at the girls during the morning dance ritual) kisses Priyanka Jagga's poster every day, refuses to do any task and wants to irritate contestants with his mere presence. Babaji, jai ho!


Meanwhile, Bani, just like her changing hairstyle, is seen changing her stand everyday.
One day, you see her as a boring player -- not talking or defending her decision -- and the next, she is taking pangas with Nitibha, giving her a lesson in tissue management.
Few minutes later, you see her destroying the domino bricks from Navin's immunity task.
Bani, welcome back!
Navin may be a teacher by profession, but inside the house, he is a cheater.
It was really mean of him to suggest the idea of destroying Lokesh's domino line and making his own in a secret corner of the house.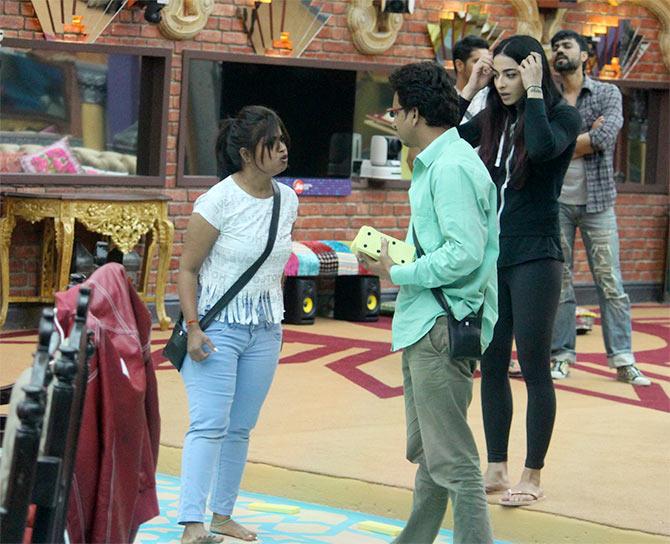 IMAGE: Lokesh and Navin argue while performing the immunity task.
Navin sir, there is an old lesson in success, I am sure you haven't heard it.
To be truly successful, you do not cut short your opponent's line, you make your own longer and stronger.
After your stint inside the house, it is questionable what lessons you will teach IAS aspirants who will lead the country tomorrow.
Maybe your students knew you well, so they put you in the right place -- the Bigg Boss house.
Lokesh, you may have communication issues, but don't give it up girl! You are cute the way you are and already my favourite!