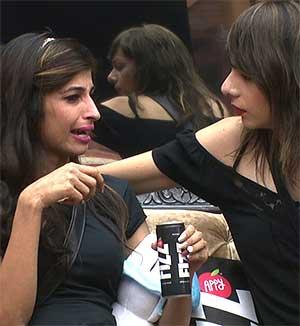 The action unfolds on Bigg Boss 10.
It's been two days since the contestants -- Indiawale and Celebrities -- have been locked up in the Bigg Boss house.
The task for the week is that the celebs will play the role of sevaks and Indiawale contestants will be the maliks.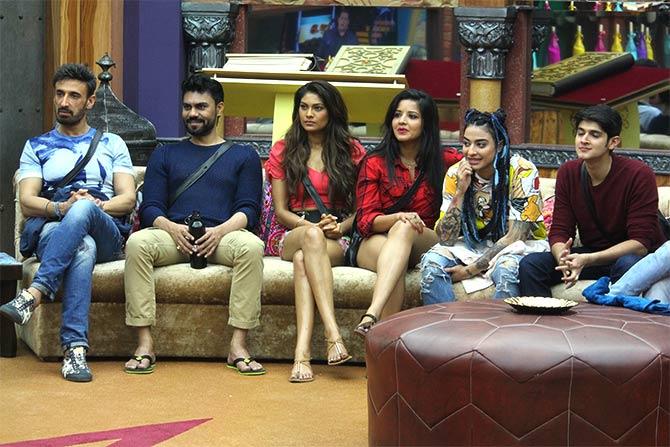 IMAGE: Rahul Dev, Gaurav Chopra, Lopamudra Rau, Mona Lisa, Bani J and Rohan Mehra intently listen to the task.
In Monday's episode, the contestants were asked to nominate for the eliminations. Gaurav Chopra, Mona Lisa, Priyanka Jagga and Manu Punjabi were nominated.
Tuesday's episode gave us an indication that the contestants have the ability to drive TRPs if they showed their true colours.
We have Priyanka, a mother of two, who projects herself as a hot mama, but gets nominated on Monday. Reason: She asked Bani and Gaurav their age. (Haha, how silly!).
In the task, she tries to pick on Bani J and Lopamudra Raut because she does not get an extra Appy Fizz.
Lopa, when she is summoned from the kitchen task, asks her to have an apple instead. That's when Priyanka sheds some crocodile tears and tries to win some camera time. How lame!
Next, there is Om Swamiji, who seems to have a roving eye.
In Monday's episode, he was seen complimenting Priyanka on her figure and in the following episode, he was seen appreciating Mona Lisa, an actor who has worked in over 100 Bhojpuri films.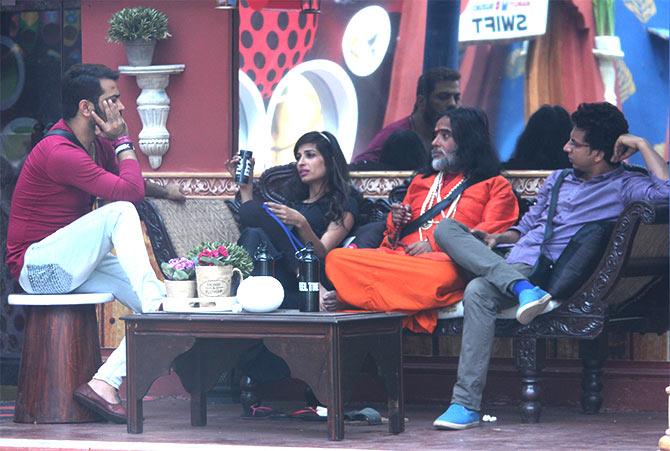 IMAGE: Priyanka Jagga chats with Manu Punjabi as Om Swamiji and Navin Prakash look on.
He also held the door of the storeroom, so he could engage beauty queen Lopamudra in conversation.
It seems they share a secret that is not known to many in the house, and he wanted the model to stay mum about it. But the way in which he confronted her was discomforting and non-chivalrous.
Swamiji later accused Lopamudra of being dishonest and breaking his trust. She objects, with support from actor Gaurav Chopra, and put Swamiji in his place.
Swamiji then apologises and tries to settle the issue.
Manu Punjabi is another loud contestant in the house, who is seen intentionally picking up issues and blowing it up for publicity.
During breakfast, he says the food is vaahiyat which upsets the celebrities, particularly Rohan Mehra.
Video: Watch the action unfold on Bigg Boss.
Salman Khan enters the house on TV and gives the housemates a new task -- before entering the house, each Indiawalle had scribbled a treasured secret on a piece of paper and secured it in a bottle.
This week Bigg Boss will reveal the secret one by one, and the task for the week is for celebrities to guess whose secret it is.
If the celebrity contestants guess correctly, the roles will be reversed and they will end up becoming the maliks.
The first raaz is announced: 'Mummy ki dosti, bhaari padi aisi, zindagi ki ho gayi aisi ki taisi.'
After the first clue, Gaurav has a chat with Akanksha and she reveals details about her broken marriage.
When Bigg Boss asks for the answer, Gaurav names Akanksha and gets it right.
But things turn ugly as Swamiji blames Akanksha for confiding in Gaurav and losing the task.
Akansha gets upset and warns Swamiji to stay away from her.