'The moments of laughter you've gifted us will always remain.'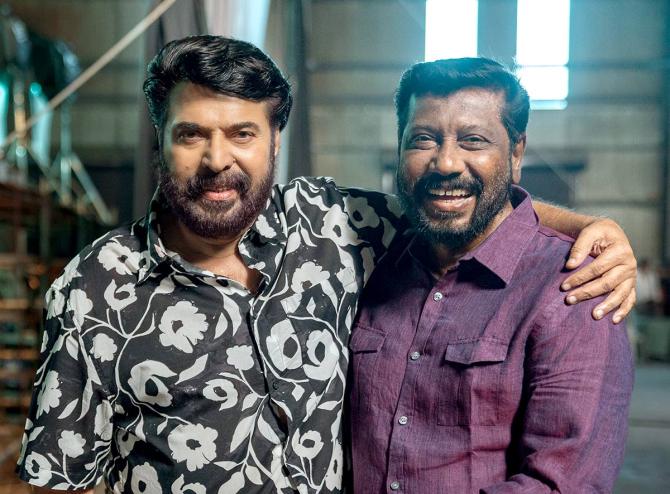 Siddique, who directed numerous superhit Malayalam movies and the Salman Khan-starrer Bodyguard, died at the Amrita hospital in Kochi, his family said on Tuesday.
Siddique, 63, was undergoing treatment at the Amrita hospital for nearly a month for 'chronic liver disease and bronchopneumonia'. He suffered a heart attack on Monday and passed away at 9:10 pm, hospital sources said.
Siddique is survived by wife Sajida and three daughters.
"He was put on ventilator for respiratory failure and his condition improved with medical management. He was taken off ventilator and was on supplemental oxygen therapy. While on treatment, he had a massive heart attack and underwent emergency angioplasty," a hospital source told PTI.
"He was placed on ECMO support due to cardiogenic shock and respiratory failure. He developed multi-organ dysfunction with clinical deterioration and was declared dead on August 8 at 9.10 pm," the hospital source added.
ECMO provides respiratory support when a person's lungs and heart are not performing adequately.
Born in Kochi, Siddique began his film career in the late 1980s.
He delivered several hit movies in the 1990s along with his friend Lal, who is also an actor and played lead roles in various hit films such as Thenkasipattanam, Thommanum Makkalum and Salt and Pepper.
The duo was popularly known as 'Siddique-Lal'.
Siddique-Lal movies such as Ramji Rao Speaking, In Harihar Nagar, Godfather, Vietnam Colony and Kabooliwala were massive hits.
Siddique is also the director of blockbuster movies like Hitler, Friends, Chronic Bachelor and Bodyguard. He directed the remake of Bodyguard, starring Salman Khan in Hindi, which was also a super hit.
In Tamil, it was titled Kavalan, starring Vijay, and did well at the box office.
Film folk paid tribute to him on social media.
Mammootty: 'Continuous departures of very dear ones... By experiencing the unbearable pain it causes.... For own Siddique Homage.'
Dulquer Salmaan: 'The gentlest soul. The kindest human. A gifted writer/director. The most incredible humour hiding behind his soft demeanour. He gave us some of the most iconic films. Part of our pop culture and referred to in our everyday conversations. This is an immeasurable loss. Prayers and strength to Siddique Sirs family and loved ones.'
Manju Warrier: 'The moments of laughter you've gifted us will always remain. Adieu to one of my favourites! #RIP.'
Mohanlal: 'I can't believe the demise of my dear Siddique. Expressing stories through natural humour and common man's life problems, Siddique, who became a favorite among Malayalees all over the world, cannot express the sadness of his untimely departure. Due to the variety of topics and attraction of direction, millions of viewers were waiting for Siddique's every movie.
'Siddique has made us laugh a lot, brought tears to our eyes, reminded us not to lose hope, and set us a role model through his own life to reach the top. Siddique lived as an ordinary man, leaving luxury, being gentle in words and behavior, without showing hostility to anyone.
'I was lucky to act in Big Brother, the first film he acted as an assistant director from Kannumnattu to the final film Big Brother. Siddique was literally a big brother to me in cinema and in life. Condolences with pain.'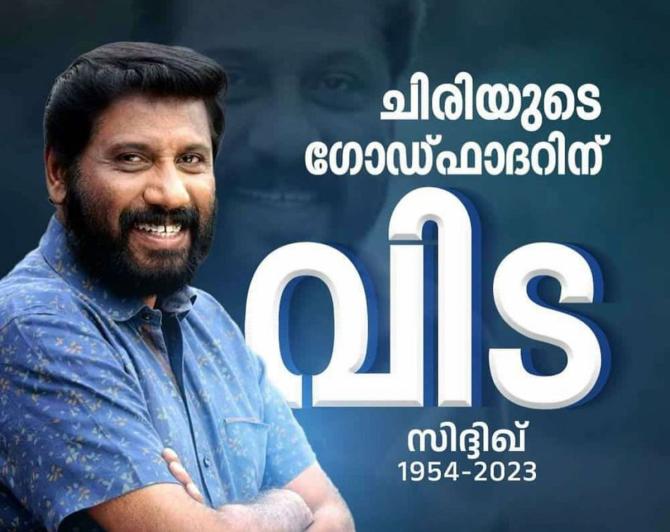 Kunchako Boban: 'Bidding adieu to... The Godfather of Humour!! ... Siddique Ikka.... We lost one of the greatest Hitmakers and moreover a genuine Human being. The love and respect that he has given for my family be cherished forever. Prayers for his soul and joining the family for their loss.'
Basil Joseph: 'Thank you for the endless moments of happiness you've gifted us. Rest in peace sir. #LegendOfLaughter.'
Mukesh: 'Siddique said goodbye. What should I write about you dear friend...? Characters that utilised the talents of the artist in me to the maximum, The characters that I made myself, Actor Mukesh to win Chira prestige in the hearts of Malayalees, One of the two people who created films of a century has passed away.... Personally, this is a loss that I cannot fill... A demise that was never expected.. I am unable to say more in this situation.... Rest in peace my soul mate.'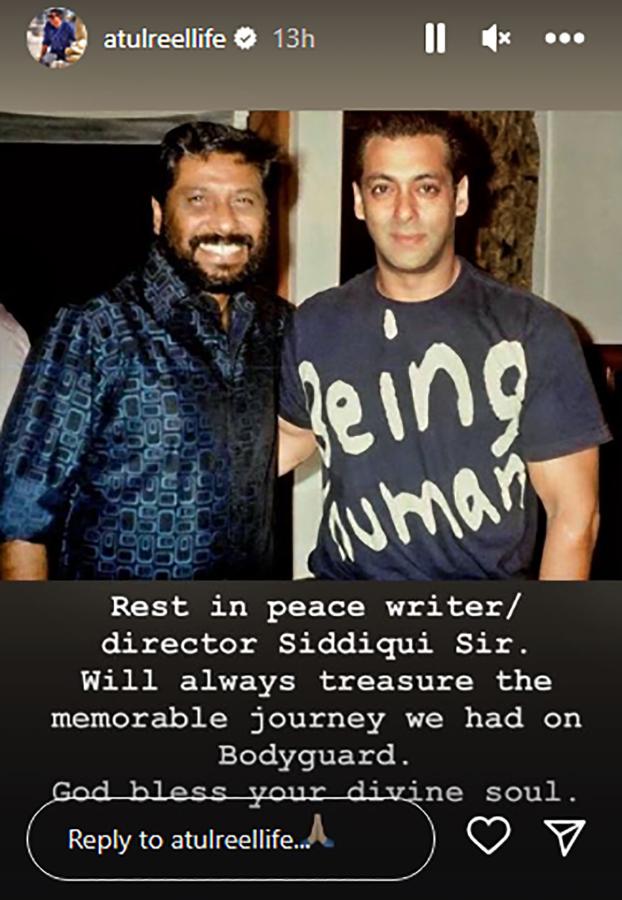 Atul Agnihotri: 'Rest in peace writer/director Siddique Sir. Will always treasure the memorable journey we had on Bodyguard. God bless your divine soul.'
With inputs from PTI