Fear is an overpowering emotion. It not only makes you uneasy, sometimes it even kills.

Recently, a man was found dead at a cinema hall in New Delhi, after watching Ram Gopal Varma's horror thriller Bhoot.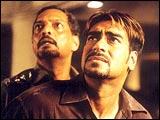 Bhoot, it would seem, has rattled more than a few people, the director included.
Varma recounts the time he was making the film, "I stay alone. One night, after I came home late from the shooting, I thought to myself, 'I am making Bhoot. Why am I not getting scared?' Anyway, I went to sleep. As I closed my eyes, I had the feeling someone was sitting at the edge of my bed. I didn't want to open my eyes. At the same time I felt silly and wanted to laugh at myself. But the fear was there -- what if someone was there?"

In Varma's Bhoot, the spirit of Manjeet (Barkha Madan) and her son casually roam around the spooked house. But it was their unexpected appearance on the scene that startled all and sundry. Adding to the fear factor were elements like doorbells, elevators, doors, mirrors and a rag doll.

Rediff.com spoke to a few people who saw Bhoot and are still haunted by its memories.
Sameer Arshad says. "I was scared the night I saw the film. Despite Ram Gopal Varma's warning in the promos to skip the night show, I did just that -- I watched the night show. I was not expecting to see Manjeet at [my] home but the fear of open doors at night frightened me. I couldn't stare at the wall or at an empty space in the house at night. It was eerie -- the sound of the curtains, the window, the magazine flipping open in the fan's breeze… all these normal day-to-day sounds were suddenly scary."

Patcy Nair was sleepless in Mumbai after watching Bhoot. The administrative executive admits she had to take sleeping pills to go to bed the night after watching the film. Although she doesn't like horror films, she watched this one to check out Urmila Matondkar's acclaimed performance.

Vijay Singh still shudders at the memory of Bhoot: "Picture this, Urmila fetches some water from the fridge and finds a lady standing behind her. That startled the audience and me. When I came to work after seeing the film, a colleague called out from behind me. I was frightened because Manjeet's opening scene was still fresh in my mind."

Walking down corridors in the dark is quite a task for Kulsum Hararwala since she saw Bhoot. What if Manjeet decides to pay her a visit?
Fifty-three-year-old Amitabh Basu saw the film with his sons and admits it was chilling.

Doctor Meenal Sachdev hesitates to stand in front of a mirror, after having watched Urmila's mirrored encounters in Bhoot. The intimidating sound effects of the film were continuously playing in her head. "My husband was tapping the edges of the bed and I got really alarmed," she says.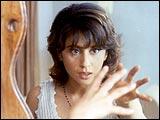 Amit Sharma and Amit Bhalla saw the film together recently and cannot forget the shock of seeing the dead child suddenly materialise out of thin air.

For Ishan Shankar, there will be no more horror films: "Sometimes, it feels like the surroundings of my house and inanimate objects have taken a life of their own. I didn't want to be alone in the room after I saw Bhoot." 

Lynette Menezes, Nikita Jogani, Ashok Motwani didn't experience bouts of fear but admit a few scenes jolted them, "primarily because of the music. The background music was good. It added to the overall effect," says Menezes.

At the June 15 party held in Mumbai's Hyatt Regency to celebrate the success of Bhoot, several clips from the film were played on screen. The lights were turned off to increase their impact.
Lead actor Ajay Devgan tapped a girl on her shoulder. The girl screamed, only to discover it was Devgan.

Bhoot has thrilled many, traumatised a few and killed one.
There's more to come -- July will have more horror tales like Darna Mana Hai, Hawa (Tabu), Sandhya (Jackie Shroff, Raveena Tandon) and Saaya (John Abraham, Tara Sharma).