Yogaraj Bhat is on cloud nine. And he has every reason to feel that way. The initial response to his recent Kannada film Gaalipata has been terrific.Galipata marks the coming together of Yogaraj Bhat and Ganesh after the hugely successful Mungaru Male.
In this exclusive interview to R G Vijayasarathy, Bhat talks more on Galipaata. 
You were a little anxious and panicky before the release of Galipaata. What about now?
Well, I still have some anxious moments. But I was never panicky at all. One thing I was certain; that the film would get a huge opening. But I was not sure how well it would be received by the audience. Expectations were high.  The pre release publicity hype and the media's support  in the last few weeks made me a little tense.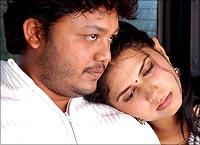 For me Gaalipata was not another film; it was coming after Mungaru Male which gave me the kind of fame that no top director could earn in two decades.The feeling was some thing like this; what happens if I betrayed the great trust of the Kannada audience who had accepted my innovative narration in Mungaru Male?
Now I can confidently say that the Kannada film audience is prepared to accept anything that is fresh. I experimented by mixing comedy and tragedy in every sequence and it worked in Mungaru Male. I increased the percentage of this experiment a little more in Gaalipata.  And   looking at the collections in the theatres, I can say that this experiment too has made people happier. They are backing the film with more vigour.
Were you a little unhappy with some of the reviews for the film?
I would like to reiterate that I value all the reviews. I also accept the opinion of all the reviewers. It is the right of the reviewer to criticise or appreciate any film. In fact, that is his sole prerogative. 
That said, I was unhappy with some of the reviews because I felt my hard work went unnoticed. I should say that majority of the reviews were highly appreciative of the film though a few were little harsh.But I don't want to say anything about the reviews which criticised my film.I feel that they are as honest as those who appreciated my film.
In some of the television interviews you slammed the reviewers...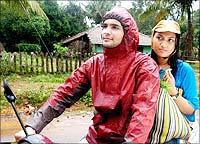 I have not done anything like that. I was critical of those from the industry who were spreading the rumours that the film was a flop. All major films will be received with mixed response and it had happened even to Mungaru Male, Duniya and Milana which were all hugely successful. 
But there was a calculated campaign to slot my film as the biggest flop though the collections proved otherwise. I told the television interviewer that I was pained at the way some vested interests wanted to make my film a flop. They should realise that this industry is feeding thousands of people and the success of any film is of paramount importance for the industry.
What are the major factors that went in favour of the film?
I think the film has been accepted in totality. I don't attribute any single factor for the success of the film. The whole unit worked as a team. Rathnavelu's camera work was simply mind blowing. The songs have melody and variety, and as you hear it again and again, you get addicted to them. I also feel that the locations chosen added some value to the film.
Ganesh and Anant sir's performances were outstanding. I had told earlier that Diganth and Neetu would be a revelation and their scenes are being enjoyed thoroughly by all.
We are happy with the way the graphics on the wild boar were appreciated. Harikrishna's background music is also a plus point. I think I have mentioned every aspect of the film!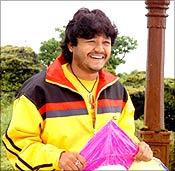 You have been criticised for bringing a technician from outside Karnataka when your cameraman S Krishna delivered such outstanding results in Mungaru Male'?
Krishna was very busy when I started Gaalipata'. It was my mistake because I had told him that I would start work a little early. But when things were not falling in place, I told Krishna to take up other assignments as I was not sure when I would start the film. Suddenly this offer came, and then he was busy with other films. But Rathnavelu sir has done wonders with his work.
Your next project?
I would not like to say anything now. I want to go to Dharmastala first and thank Lord Manjunatha for the success of Galipaata.  Then I want to tour some of the centres and see the reactions of the people.
After that, I will release my film Inthi Nanna Preethiya' directed by Soori who made such a wonderful debut in Duniya. 
I would like to spend some time with my family and think of writing script only after that. I will have to decide then whether I want to direct or just write scripts and hand over the directorial responsibilities to others.