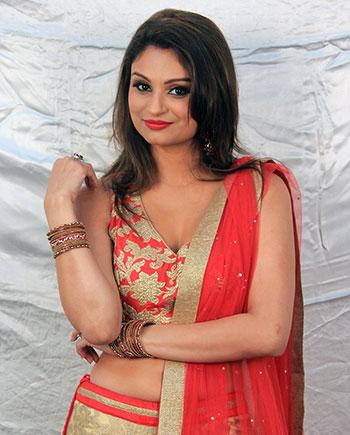 Former Bigg Boss contestant Rahul Mahajan's wife Dimpy has entered the latest season of the reality TV show.
"I have been an avid watcher of Bigg Boss," Dimpysaid before she left for the show.
"I have watched every season. When I got a call from them, I was really happy. To me, being on the show is like a dream come true."
Rahul Mahajan had been a part of the show's first season. And he seems to have loved the attention given to him.
"Whether he seeks publicity or publicity seeks him is debatable," Dimpy says, defending him. "There are many times when we don't want to be written about. Yet, we are hounded for news. Every marriage has its good and bad days. In our good days, it's okay when sought out by the media. But when it is a bad day, we want to be left alone. But as people who have chosen to be in the limelight, we cannot decide when we want to be written about, and when we do not."
Dimpy and Rahul met on the reality show Rahul Dulhaniya Le Jayega, where they fell in love and got married.
Since then, their marriage has been in the news now and then.
"Times have changed, and so have the dynamics of relationships," Dimpy says. "When my parents got married, they just saw each other and decided to spend the rest of their lives together. Earlier, couples got into relationships determined to make them work. Nowadays couples have the option of opting out when they want."
Dimpy sees herself as quite a reality-show buff. "I am more into reality than fiction," she says. "I won't be acting on Bigg Boss. I will be myself. Audiences will get to see only the real me."
Any advice from her husband when she decided to come into Bigg Boss?
"Yes, when Rahul got to know I was making a wild card entry in the show, he warned me to be careful. He said there would be no friends inside the Bigg Boss house. I intend to take this very seriously," she says.