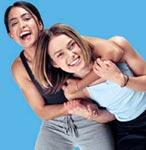 It is not just the line -- The Big, Fat Sensation Of the Year Is Now At Theatres Everywhere -- that you notice in the ad campaign for director Gurinder Chadha's Bend It Like Beckham, which recently expanded from 119 theatres to over 1,200 theatres.
The previous ads showed the two soccer buddies Keira Knightley and Parminder Nagra together. The new ad seen in publications such as Time Out magazine shows Knightley right above the title. The line, 'Keira Knightley from Pirates Of The Caribbean', appears next to her picture.
Pirates, which made Knightley an overnight star and is sailing past the $200 million benchmark in America, is a hit. 
For several weeks, Beckham, which stayed on the Top 10 box office chart in June, had played in about 550 theatres. The film has grossed $223,000 (its total gross is $26 million) in North America, with a per screen average of about $2,000. Ordinarily, within a few months after its release, the movie would have gone into video stores for even bigger business in a few months.
New: Debate: Did Ajay deserve the National award?
Also see:  Chori Chori is heartwarming
Hungama: A confusing comedy
3 Deewarein: Without compromise
It has completed 20 weeks and has played in smaller North American states, including Alaska and Alabama, as well as provinces like New Foundland and Alberta. When the film started drawing appreciative audiences in such tiny cities as Medicine Hat, Juneau, New Smyrna, Leavenworth and Fargo, Fox Searchlight thought of giving it an even a wider release.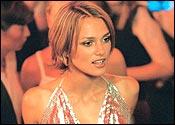 "Searchlight is making the unorthodox move of expanding its hit film this late into its release in an attempt to take advantage of changing market conditions," notes Gitesh Pandya of Boxofficeguru.com, which also publicised the film in the South Asian community.
"With so many big-budget summer films having no staying power and some like Hollywood Homicide flopping on the day of its release despite the presence of stars like Harrison Ford, Searchlight believes moviegoers will want something that is different, more character-driven and less reliant on special effects," he says.
"I made the film hoping it will be seen far and wide, not just in big cities," Chada had said while the movie was being launched in America. Though illegal videos of the film were widely available, she had made a fervent appeal to desis to enjoy it in the theatres. "It will show American distributors -- like it showed the British -- that a vibrant South Asian audience exists for films like mine."
The nearest any desi-themed film has come to Beckham's success is Mira Nair's Monsoon Wedding, which grossed $14 million in America and some $30 million worldwide. Beckham's worldwide gross is approaching $80 million.