Can you imagine any other actor playing the father abandoned by his children in Baghban, besides Amitabh Bachchan?
Do you know that one of the major reasons why Santosh Sivan's Asoka failed was that Shah Rukh Khan failed to shed his superstar image and get under the skin of Emperor Ashoka? Audiences saw Shah Rukh Khan, not Ashoka.

Indeed, the right cast is very important for any film to work, especially if it is based on real life characters.
That, among other factors, was why Richard Attenborough's Gandhi worked so well. Ben Kingsley made a fabulous Mahatma Gandhi. Roshan Seth as Jawaharlal Nehru was equally good. People could identify with the characters because Kingsley and Seth resembled the real people a great deal.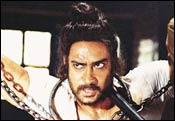 Among the important factors that work for a film are looks, especially when portraying a real life character. Rajkumar Santoshi went to great lengths to prove that he made Ajay Devgan 'look' like Bhagat Singh in his film, The Legend Of Bhagat Singh. He pulled out photographs of the Sikh martyr and compared it with Devgan in the film.
Guddu Dhanoa's 23 March 1931: Shaheed also saw a good portrayal of Bhagat Singh by Bobby Deol. But the other characters in Dhanoa's film, especially Chandrashekar Azad (played by Sunny Deol), did not fit. Sunny simply turned on his filmi Gadar act, and the film collapsed.
Also, big stars are not necessary to get the cast right. Paresh Rawal was a commendable choice for Ketan Mehta's
Sardar
in 1993, where he played the freedom fighter Sardar Vallabhbhai Patel.
Here is a look at actors scheduled to play real-life characters: Manisha Koirala will play Indira Gandhi in Nitin Keni's Indira Gandhi: A Tryst With Destiny. Some of the publicity pictures that show her as the former Indian Prime Minister show a remarkable similarity between the two. And that is half the battle won.
Another actor to fall in this character is Sachin Khedekar. Thanks to makeup, the actor seems tailormade for the role of Subhash Chandra Bose in Shyam Benegal's Netaji.
Aishwarya Rai will surely do justice to Mumtaz Mahal in Bharat Bala's IMAX film, Taj Mahal. It remains to be seen whether newcomer Sonya Jehan will play Mumtaz well in Akbar Khan's film, Taj Mahal: An Eternal Love Story.
Aamir Khan plays sepoy Mangal Pandey in Ketan Mehta's The Rising. With the actor's penchant for perfection, we could expect a forceful portrayal.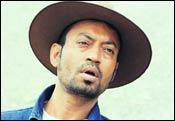 Mahesh Bhatt hopes to make a film on stamp scamster Abdul Karim Telgi. His choice, Irrfan, seems ideal for the role.
And then there is Salman Khan scheduled to do a Lord Rama in his production, Ram: The Legend. There are some doubts there as to whether he will be a good choice. And no, religion and his 'bad boy' reputation have nothing to do with it.
Here is a list of actors that I think would best portray some prominent figures.
Sachin Tendulkar: Aamir Khan
Veerappan: Makarand Deshpande
Gayatri Devi: Rekha
Harshad Mehta: Paresh Rawal
Do you have a list of your own? Write in!