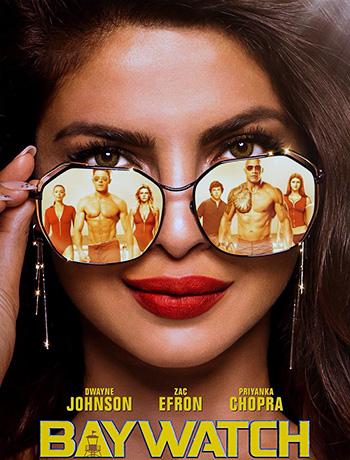 Only a miracle can save this ship from sinking unnoticed, unlamented at the Box Office for the film and its lead actors leave no stone unturned to let it sink at Emerald Bay, says Prasanna Zore.
Emerald Bay beach is an Eden of peace and calm and so long as Mitch Buchannon (Dwayne Johnson aka The Rock) and his over-sexualised lifeguards -- C J Parker (Kelly Rohrbach) and Stephanie Holden (Ilfenesh Hadera) -- are around, small children are safe surfing and swirling in its rough waters and mothers don't have to worry about their wards.
Just as you begin wondering how on earth (or ocean) can just three lifeguards -- whatsoever their filmy sweep -- make Emerald Bay a safe haven for swimmers, director Seth Gordon bobs up three rabbits -- Matt Brody (Zac Efron), Summer Quinn (Alexandra Daddario) and Ronnie Greenbaum (Jon Bass) -- from his hat and that sort of nips your thoughts in your head.
Just like every Eden has its share of slithering serpent and the forbidden apple, Baywatch has the venomous Victoria Leeds (desi girl Priyanka Chopra) who seduces the politicians, cops, bureaucrats and the two chaddi-buddies, with a view to emerge as a real estate tycoon.
The drug peddling, as you learn, is just an eyewash, the diva needs to gobble up and privatise the entire beach.
Naturally, the plot thickens and the beach begins to throw out dead bodies that tell a gory tale.
The ocean then has lot of secrets under its depths and rightly so the two chaddi-buddies -- so what if you are not cops, but just lifeguards -- dive deep to unravel them.
It is at this juncture you begin to lose interest in the film as the two chaddi-buddies, with their banter and camaraderie, go about busting the dangerous diva's water world, without facing any opposition from the enemy camp.
The camaraderie between Johnson and Efron (reminds one fleetingly, just fleetingly, of Mel Gibson and Danny Glover in the Lethal Weapon series), the chemistry between blue-eyed Efron and Daddario only make the proceedings a little easy to handle.
Priyanka Chopra as a seductive vamp goes overboard at times, but the diva that she is, she offers lot of pleasing optics to the tired eyes and mind.
Baywatch, then, as a film, has no real thrills to offer its viewers unless you get those goosebumps you got once when you saw a young David Hasselhoff and Pamela Anderson show themselves up when Baywatch has just about finished drowning itself and left you gasping for breath.
The only thing that allows you some breathing space, even as you feel drowned by the film, is the film's duration, which, at 116 minutes, is the second best thing about Baywatch!
Rediff Rating: