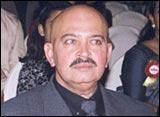 What do Rakesh Roshan and Jeetendra have in common, besides being actors and Punjabis?
Their fathers were born and based in Pakistan before migrating to India prior to the Partition in 1947.

To refresh memories of a bygone era and trace their ancestral roots, the two will soon take a trip to Pakistan. "We are leaving in the first week of February for Pakistan with a group of actors and directors to celebrate the Basant festival," confirms P D Mehra, writer-producer-director and Indian Chief Promoter of Pakistan India Performance of Art Forum.

Pakistan India Performance of Art Forum is a joint delegation of Indian and Pakistan producers and directors established 15 years ago to promote peace between the two countries. "The purpose of our trip is to promote peace. Those who want to extend their stay and trace their ancestors' roots are welcome. We also plan to meet the Pakistani Prime Minister, Zafarullah Jamali," adds Mehra.

| | |
| --- | --- |
| | More on Rediff: |
| | |



Bollywood's best dressed heroines

Watch

Maqbool. It is class!

India beckoned Matthew Modine



Among those slated to visit Pakistan are filmmaker Rakesh Roshan, actors Jeetendra, Ranjit, Prem Chopra and Parikshit Sahni and composer Bappi Lahiri.

"Many others may join but I will reveal the final list only before I get a written reply from them," says Mehra.

Interestingly, this move has come soon after Pooja Bhatt, Mahesh Bhatt and Urmila Matondkar visited Pakistan a few months ago. "We thought when everyone is talking peace with Pakistan, why should Bollywood be left behind?" says Mehra.
Born in Rawalpindi, Pakistan, Mehra migrated to India after the Partition and says he has travelled to the neighbouring country often. He adds he was welcomed with open arms by Pakistanis on every visit.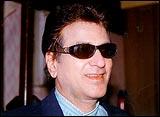 Basant is celebrated with enthusiasm in Pakistan as it indicates a good harvest and arrival of spring season. Kites are flown all over Pakistan in order to celebrate this season.

Asked about other issues that will be discussed in Pakistan, Mehra says, "Our main agenda will be to discuss possibilities to screen Hindi films in Pakistan [Hindi films have been banned from being screened in Pakistan]. We want to appeal to the Pakistani government that they should do something about video piracy of Hindi films as the DVDs and VCDs of Hindi films are openly sold in Pakistan, thus hurting the profits of Hindi film producers."