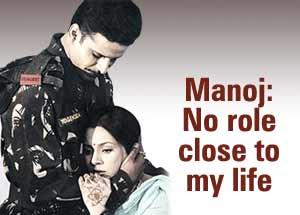 Manoj Bajpai says he wants to prove himself as a complete actor rather play only stereotyped roles.
"Variety of roles is very important. It throws new challenges which make an actor grow. Otherwise, he gets stagnant and lazy. I want to create new standards for myself rather than have people tell me I am a complete actor," says Bajpai.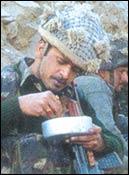 Bajpai, who plays Param Veer Chakra Yogendra Yadav in J P Dutta's LoC-Kargil, talks about his role in the film. "I have tried to speak the accent that people in Meerut and Delhi speak because Yadav is from Meerut," he says. "Though I have never met him, I hope he likes my role in the film."

Asked how difficult the role was for him, Bajpai says, "To play an armyman's role is difficult. This is more difficult because I am playing the role of a Param Veer Chakra awardee. While doing the shooting for the film, I realised that we cannot even imagine what kind of difficulties soldiers undergo in their daily life."

When asked to comment on how people will receive this film, Bajpai says, "This film is not about patriotism. It is about the people who went through the Kargil war and how they fought to win it. They never give up hope of recapturing despite the difficult situations they faced."
He makes special mention of the songs of the film: "The songs are meaningful and outstanding. They are as good as Border and Refugee. I cannot say which song is better than the other. But I love Koi jaata ho toh use na roko. It is outstanding." 

One of the unique aspects of filming LoC was the friendship that developed between the cast members. "If one battalion worked, the other rested. So we had a good time with each other. We played cricket, football and went shopping. At night, we used to sit and talk. Akshaye Khanna, Sanjay Dutt, Abhishek Bachchan and I have become good friends," he smiles.

Bajpai claims he will not be lost in the multi-starrer, which includes Ajay Devgan, Sanjay Dutt, Abhishek Bachchan, Akshaye Khanna, Sanjay Kapoor, Saif Ali Khan, Kareena Kapoor, Rani Mukerji, Raveena Tandon, Esha Deol, Namrata Shirodkar and many more. "J P Dutta told me to have faith in him. That was more than enough. Let me tell you, war films are rarely made in India. So I am happy to get a role in LoC."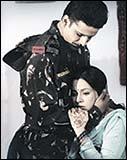 But the actor's most satisfying role so far has been in Dr Chandraprakash Dwivedi's Pinjar, co-starring Urmila Matondkar. The film, which released in October, was critically acclaimed for its performances and picturisation. "In Pinjar, I had to speak less and act through expressions. It was difficult. I did not have many dialogues. I put all my acting experience into playing that role."

Asked which role he identities with the most, he says, "I am very different compared to the roles I play. I have never played a role close to personal life. I am a normal person. If I have played Samar Pratap Singh in Shool, that does not mean I am like him. I believe in the existing system but yes, I do get upset when things don't work. But I am a believer in the system."

Bajpai is now working on Mehul Kumar's Jaago, Pankaj Parashar's Inteqam and Dharmesh Darshan's Bewafaa.
Click here for
More Features