C
ameron Bailey
, Film Programmer of the Toronto Film Festival for South Asia and Africa, was recently in Chennai to select films for one of the most prestigious film festivals in the world. He is one of 12 programmers who go around the world selecting films.
Last year, he selected Buddhadev Dasgupta's Kaalpurush, Shonali Bose's Amu, Ritu Sarin's Dreaming Lhasa and Ashim Alhuwalia's John and Jane -- a documentary on call centre workers. On his visit to India, one film Bailey was bowled over by was Selvarghavan's Pudupettai. He went on to say that Dhanush reminded him of the Al Pacino of the 1970s.
In an interview with rediff.com, Bailey spoke about the selection process, films he saw and, of course, why he liked Pudupettai. Excerpts:
Selva is tense about Pudupettai
Newspapers in Chennai all reported that you were bowled over by Pudupettai. What did you like about it?
There's a pure energy in the film that's exciting. I watched it without the benefit of subtitles, so what I was responding to were technical elements: camerawork, editing, music and Dhanush's performance. Each of these elements had a bold, even brash quality. There's a real passion for filmmaking in Pudupettai, and that's what I like to see in popular cinema.
Here, everyone felt the film had an overdose of blood and violence.
It's a crime movie, a genre film. Blood and violence come with that territory. In Hong Kong, John Woo made fight scenes into ballet. In the US, Sam Peckinpah made shoot-outs into art. I found the violence in the film more expressionistic than realistic.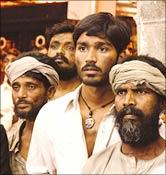 You said Dhanush reminded you of Al Pacino of the 1970s. Did you find Dhanush's performance that powerful?
Comparing Dhanush to an early Pacino may sound like a stretch, but watch Pacino in Dog Day Afternoon or Panic in Needle Park. He's wild, sometimes out of control, but he has an intensity that burns from within. It's that quality that draws audiences. Dhanush may or may not have had Pacino's technical training, but he has an emotional fire that can't be taught. I can see why young audiences in Tamil Nadu love him.
Now about your visit to India. How many films have you seen? What was your impression?
I saw over 30 films during my stay in India, and am still watching DVDs I was given along the way. Most of these were Hindi films, but I've also watched films in Tamil, Telugu, Malayalam, Marathi, Kannada and Bengali. Obviously, with that kind of range, the films will be very different from each other. I saw epic masala films costing crores, and student documentaries shot for almost no money at all. Either one has an equal chance of being selected for our festival, provided the quality is there.
What do you look for in a film while selecting it for the Toronto Film Festival?
I first look for what a film is trying to achieve, and then see how well it manages it. A popular film must give an audience all the thrills and emotion it expects. An art film must engage the mind and advance the form of cinema. If a film excels at what it has set out to, if it's one of the best of its kind, then that's a film I'm interested in, whether it's a mainstream action film or an existential drama.
How many films can you select from India, and have you decided on them?
There is no limit on the number, but typically it's between two and four films. This year, it will be more, due to the strength of what I've seen.
Is Pudupettai one of them?
Nothing has been announced yet, so I can't say.
Which language films impressed you the most?
There is no one language or region that has a monopoly on quality filmmaking, but I continue to be impressed by the grace and artistic ambition of South Indian films. Cheran, Girish Kasaravalli and TV Chandran have all made strong films this year.
Last year, you selected Kaalpurush, Amu, Dreaming Lhasa and John and Jane. They are offbeat in nature; not the kind of commercial films that are mass-produced here. Do you select only such offbeat films?
Often, what excites me most in cinema is audacity -- a striking new point of view, or a new approach to filmmaking. Audacity is the currency of international festival films but, to be honest, it is rare in India. The cinematic traditions are different. So, when I see a film that is audacious in its form, story, its politic or point of view, that is often what I will select.
Of late, we see that Western audiences are blown over by song and dance Bollywood films. Did you see any typical Bollywood films? What is your opinion of them?
I did see some of the coming Bollywood blockbusters. The song sequence is something Indian filmmakers do better than anyone else in the world, and that goes beyond the Hindi masala films. I'm glad the world has begun to appreciate the sophisticated craft of some of these films, as they have the craft of a great Hong Kong action film or a great Hollywood epic. Sometimes, the extravagant emotion and intense sincerity in these films hasn't met Western tastes, but there is no question of the skill that goes into them.
Did you get the feeling that it is difficult to choose films from India as we have so many languages and types of cinema?
Choosing films from India is a pleasure exactly because of the riot of languages, cultures and histories.
Which actor from India impressed you the most?
Right now, I am watching everything Nana Patekar does. He is world class. I'm also a fan of Rani Mukerji, Naseerudin Shah and Shabana Azmi. I'm sure I'm leaving out other favourites. I'm just getting to know Rajnikanth and Mohanlal, and I'm impressed with how well they command the screen.
Do you have any favourite Indian film?
Pather Panchali and Ashim Ahluwalia's John and Jane. Anand Patwardhan's documentaries and Lagaan. Last year, two of my favourite films were Kaadhal from Chennai and Perumazhakkalam from Kerala. As with any country, and especially with India, it's hard to choose just one favourite.