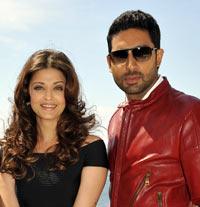 Beti B's finally got a name!

According to the latest reports in a leading English daily, Abhishek Bachchan and Aishwarya Rai Bachchan's little bundle of joy has been named Aaradhya Bachchan.

The Bachchan's had been fiercely protective of the newest member of the family ever since Aishwarya gave birth on November 16

last year.

Since they took over four months to think of a suitable name for the baby girl, fans and media christened her Beti B and the name has become quite popular.

The report further says that the official name was registered two days ago.