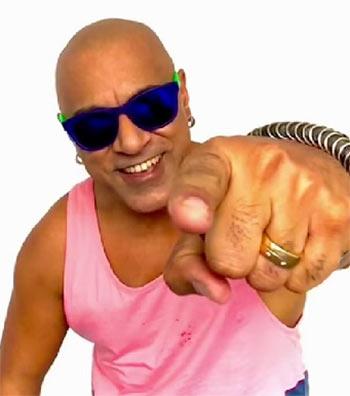 'I'm a rebel. I'm not easy.'
'Once a top actor wanted me to sing a song and a top music company was involved. They wanted changes in the song. I told them not to take pangas with me.'
India's original rapper Baba Sehgal makes it clear he won't mince words in this chat with Ronjita Kulkarni/Rediff.com
Twenty-five years after he burst on the scene, Baba Sehgal returns to our headphones with a wide variety of songs.
They are not about Thanda thanda pani any more, instead they are about Chicken fried rice and Aloo ka paratha!
Where has he been all this time?
Not too far away, he says.
The rapper, who started his career with Dilruba in 1990, says he has been busy working in the southern film industry.
"They call me 'Power Singer' there," he grins.
"I got an opportunity 20 years ago when I did a song for Chiranjeevi for Rikshavodu called Roop Tera Mastana. At most of my shows, the audiences demand Roop Tera Mastana. It's my bread-and-butter song," Sehgal says.
He has sung more than 100 Telugu songs, 40 Tamil songs and 20 Kannada songs and currently lives in Hyderabad.
Sehgal is also getting ready for an acting career down south.
"I play the main villain in Rudramadevi (starring Anushka Shetty, Allu Arjun and Rana Daggubatti)," he says. "Amrish Puri used to be a popular villain down south and they developed a fascination for bald villains."
We last saw Baba Sehgal on the big screen in 1998 and the movie was Miss 420, best known for its hit number Aaja Meri Gaadi Mein Baith Jaa.
***
'If Akshay Kumar could do it, so could I'
VIDEO: Baba Sehgal sings Pakdum Pakdai and a medley of his popular songs. Video: Afsar Dayatar
"It was very tough those days," Baba Sehgal recalls of his days as a struggler. "People did not support non-film music. DD Metro and MTV were the only channels that supported such music. The term 'music video' was also very new."
Lucknow-raised Sehgal, all of 18, came to Mumbai with the proverbial stars in his eyes, hoping to make a career in the music industry like his idol Kishore Kumar.
"There was a gym called Daljeet Gym where Akshay Kumar used to go. I would go there too and watch him. I thought if he could do it, so could I. I wasn't keen on acting; I was keen on singing."
"I started meeting Laxmikant-Pyarelal, Kalyanji-Anandji... They would say, 'We will get in tough with you.' I wondered how would they get in touch with me. I didn't have a phone number. I was staying in a PG (paying guest) accommodation," he says.
"I started rapping in order to survive."
"If I could write the lyrics and compose the music myself, and there was a company called Magnasound, why shouldn't I create something? I'm a DIY (Do It Yourself) artist," he says.
Baba Sehgal's first album was Dilruba in 1990, followed by Alibaba the next year.
"Thanda Thanda Pani was my last resort," he says, referring to his breakout album that released in 1992. The song opened up a genre that had not been explored before in the country.
He became so successful that he bought out the house he had lived in as a PG, besides other property.
"I didn't know who Vanilla Ice was," he says, referring to the American rapper whose Ice Ice Baby inspired his song. "I had heard the tune and liked it. The lyrics are taken from my life, when I had gone to the Centaur hotel (now the Tulip Star) in Mumbai.";
He breaks into a rap: "Maine 5 star hotel pehle baar gaya aur dekha paani se bhara swimming pool."
"A newspaper carried a report on the first page, saying Thanda Thanda Pani made waves in the music industry," he remembers.
But his problems didn't end.
There were no music videos those days and Baba Sehgal's photograph on the cassette cover was tiny. "People didn;t recognise me!" he exclaims.
When the music video trend began, Sehgal and his friend Ken Ghosh (who directed some of the most popular music videos at the time) decided to make a video for the song Dil Dhadke from the album.
"I didn't even see the video because I did not have a television set. One day I was standing at a paan shop when someone who had seen the video recognised me. That's when I thought Baba Sehgal had finally arrived!"
***
'It's been very difficult to survive'
VIDEO: Watch the Pakdum Pakdai song. Video: Kind Courtesy Baba Sehgal
Baba Sehgal has a song on almost every topic -- from Mere Paas Hai Mutual Fund to his latest songs, Pakdum Pakdai and Mujhe Wifi Chahiye.
"My topics just come to me. Mujhe Wifi Chaiye is a fun song about porn," he says. "A kid complains to his mother that she restricts him (on the computer), but he saw his father watching porn. Can you actually stop someone from watching porn? It's a sweet message to youngsters."
Baba Sehgal breaks into rap again: "Mujhe Wifi Chayihe, Thoda Hifi Chayihe."
Why don't we see him compose music for Bollywood?
"I'm a rebel. I'm not easy. I don't lick a**," he says. "No one will do anything for you, woh apne se upar nahin dekhne wale hai (no one looks beyond themselves). If I am doing a song, you have to take that song. You cannot replace it with any other song."
"Once a top actor wanted me to sing a song and a top music company was involved. They wanted changes in the song," he says. "I told them not to take pangas with me; they could not change the song at all. It's not that I'm throwing my weight around. It's simply not fair."
"People in Bollywood approach me with a lot of attitude and I don't like that. If you take my services, you can use my talent, but don't dictate terms. You cannot say, 'Ek gaana Britney Spears ki tarah gaa do ya Michael Jackson ke tarah gaa do (Sing like Britney Spears and Michael Jackson).' That's what started happening."
What does he think about Bollywood's current rappers?
"Honey Singh and Badshah are very talented. But to survive, they need content. Kiduya aa jaati hai banduke chal jaati hai kind of lyrics won't last. They are talented, but they haven't exploited rap well. They need influence and I can be that. They can learn from me."
"Songs have to have content," he continues. "Obscenities and vulgarity can make you popular overnight, but they are short-lived. I know a lot of abusive words. Everyone knows gaalis (abuse). People will love it only to an extent."
"It's been very difficult to survive for two decades. One has to be mentally and physically strong. I'm competing with 19, 20-year-old guys. If I'm sitting next to them, I shouldn't look decades old! I have reinvented myself. I tell people like Remo Fernandes and Anaida to come back. But life ke pange ho jaate hai (you face problems in life). Everybody goes through ups and downs," he says, uncharacteristically philosophical.
"As far as I am concerned, I'm glad I'm still giving interviews."