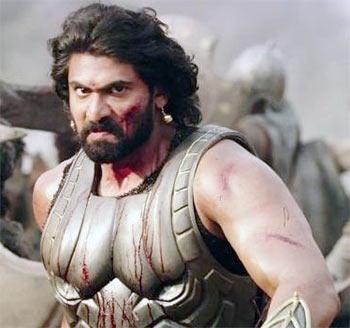 'There will not be another Baahubali in this country.'
Rana Daggubati gives us a sneak peek into the much-awaited sequel.
The second part of SS Rajamouli's magnum opus Baahubali is in its last leg of shooting.
While the film is likely to hit the screens only in April, Rediff.com contributor Rajul Hegde caught up with one of its principal actors Rana Daggubati on the sets of the film at Ramoji Film City in Hyderabad.
Rana spoke at length about his films and revealed why the world of Baahubali won't end after the second installment releases. Read on.
Since Baahubali was a huge success, how big will the second part be?
This is a pre-written script, we haven't changed or added anything. We have actually shot most of the second part with the first, so it's getting done quickly.
Obviously there is lot more excitement, which gives us more power to get things done well.
We have shot 60 per cent of the film in one go. We shot it on the big sets that we erected and had to break down.
Is there any pressure to do better than the first?
There is no pressure because we are not competing with anyone.
As a story, it's much better than the first one because there is more drama.
What you have been waiting for is going to come in this part (the reason why Katappa killed Baahubali).

Your character Bhallaladeva in Baahubali was mean. What more layers have you added in the second part?
He is going to be meaner and deadlier.
How important is it to be part of Hindi films like Baby and Yeh Jawaani Hai Deewani when you are doing a much bigger film like Baahubali?
Each film is respected on its own. There will not be another Baahubali in this country.
It has not been made for the last 40 years and it won't be made for another 50 years.
No filmmaker in Mumbai or India is going to make cinema on this scale. It's an opportunity you get once in a lifetime.
Each film is important for what it does. If I was not in Baby, you wouldn't have recognised me in Baahubali.
Everything is a stepping stone. All the films I have done in Mumbai have helped to promote this film and catapult it to a much bigger level. Each film takes you a step forward. Baahubali was the icing.
Have you been getting better film offers after Baahubali?
There have been many offers but this film takes up so much time and effort that I can't do too many things. I have a certain look which I can't do in other films.
Once I am done with this film, I will start figuring out future roles.
Are the action scenes in this film risky?
It is slightly risky. Prabhas and I have come out with a bunch of injuries. That's what you give to do films like this. At first the injuries were bigger; now we are more careful.
Action scenes in Baahubali have taken it to a different level.
Hollywood has recognised Baahubali. Four years ago, when we set out to do this war film, we had decided that we will not do anything to ape the West or Chinese films.
In India, we don't have a reference point for a war film after Mughal-e-Azam. So everything in this film is designed by us -- be it the mace or chariot, Indian weapons, even the choreography doesn't feel like Chinese or martial arts, it's very Indian.
The reason we are recognised is because of things like that. The war formations are picked from the Mahabharata and other Indian wars. That's why the action is very different. It's more of literature translated to war than basic action choreography.
There were reports that the amount of money spent on the war scenes doubled for the second part.

The only thing we have changed is that we have a bunch of new technicians because this is a bigger war than the first one.
The first time we were experimenting. Now we have gotten a bunch of expert technicians who have shot Game of Thrones and Troy, and the execution of war scenes becomes easier with people like that.
They have shot plenty of wars, they know how the army should move or stand. It was simpler when that execution team came.
What's the best compliment you have received after Baahubali?
There is an old writer, who used to work with my father. He called me and said that I reminded him of the popular old Telugu actor S V Ranga Rao. I thought that was the finest compliment I could ever get.
Will there be more films on Baahubali?
Before the film releases we will come out with the comic books, games, virtual reality of Baahubali, by December.
They are going to make many comic series. The story will end here but the Baahubali world will not.
What are your box office expectations from Baahubali 2?
When you make a film, it's not about the numbers. It's the excitement of the sets -- 800 art workers and 420 days of shooting is the high. Everything else is a bonus.
Films work or don't work, it's what you learnt in the process.
Today, I know how to ride a six-horse chariot, use weapons...I have learnt so many new things. We have been part of a cinema that is probably going to be remembered forever.
We go back to Mughal-e-Azam as a reference for a war film. Years from now, Baahubali will be the reference you will go back to. That is the real success of the film.
Classics are called classics because you revisit them to see what they have done correctly. That is the success of the film.
How is Ghazi shaping up?
I have just finished shooting for the film. I start dubbing next week hopefully. The film will mostly be ready by October. It is very high on CGI so it will take time to get everything perfect. The subject of Ghazi will appeal across languages.
You are a VFX supervisor-turned-actor/producer, involved in all aspects of film-making. Do you plan to direct a film soon?
I was a VFX supervisor for six years, then I became an actor/producer. The next six years I will be all of this and then maybe a director.
I am only 31. I have time on my side (smiles).
I have seen Jungle Book four times and totally adored the technology used. It was simply brilliant.
Have you seen the Marathi film Sairat?
I loved the film. There is a Tamil film called Kadal which is very similar to Sairat -- it's in the same space.
I have seen films like that before but the people who were watching for the first time were blown away. It was simple, outstanding and a beautiful film. A simple tale can hold you.
Would you like to try something on television?
I am looking at it seriously because that is a medium that I like very much. I have been talking to people in television. I still don't know what will eventually come out of it.