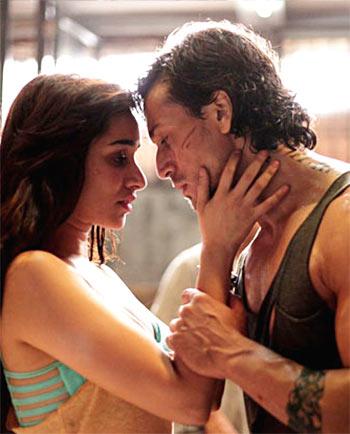 Tiger Shroff has got the goods of a solid action hero but it's time to step out of the show reel space and shine under an actual script and a skilled hand, feels Sukanya Verma.
You know how some video games play out an origins story before the player gets into a console-pounding, level-unlocking mode?
Now imagine a movie, a foolish, exhausting one, if you will, that does the same but the action only lasts for about 20 minutes while the preceding two hours are taken up in what led to it.
With its 1980s sensibilities -- back when malarkey passed off as masala, protagonists functioned without brains and too many pointless songs fought their way in -- Sabbir Khan's Baaghi: A Rebel For Love is as nonsensical as its title. The only purpose it serves is to showcase some more of Tiger Shroff's chiselled brawn and doozy flexibility in case his first film Heropanti didn't point it out enough.
It's the sort of mechanical drivel where tight jeans and salon hair, Kerala and Bangkok's respective green and grey landscapes take precedence over sense and story.
Where people fall in love at first sight after bumpy transport causes accidental embrace, where rain acts like a human-detecting Wi-Fi, martial arts training takes place in schools resembling exotic resorts, wearing a doctor's lab coat and mask can still get you unnoticed by hospital staff, the effect of chloroform lasts longer than a trip from India to Thailand and China-imported killing machines in tacky wigs double up as the bad guy's crazy henchmen.
Once again, director Sabbir Khan, the purveyor of moronic rationale as previously witnessed in Kambakkth Ishq and Heropanti, fashions a mindless action film scraping off Telugu flick Varsham and Indonesian action movie, The Raid: Redemption to tell his, hold your breath, modern-day Ramayana. 'Is Ramayana mein Ram marega,' announces the antagonist who knows no better.
His Ram is Ronny (Shroff), a slacker using his dead dad's reference to get into the sought after KRAMA, Kalaripayattu Royal Academy of Martial Arts run by Grandmaster Shifuji Shaurya Bharadwaj, a real-life Special Commando Trainer.
Ronny and his guru's The Karate Kid-style equation take frequent breaks to engage in monsoon-themed happenstances around Sia (Shraddha Kapoor aims for the nerves as the quintessential silly Hindi film heroine displaying short-lived bravado as consolation), a pretty lady who murmurs 'You know I love you na' to raindrops.
Sia, we are informed, is an actress, shooting for a project that appears to be forever under-production. Not sure if that movie ever saw the light of day.
Not sure (nor care) what happens to her greedy daddy either (Sunil Grover) or the Ya Ya-chanting kid modeled after the Hatya imp or Sanjay Mishra and Sumit Gulati's blind and can't drive cabbie duo. Hardly more than sloppily introduced props to provide contrived conflict or comic relief, they render Baaghi even more formless than it needs to be.
Now Ramayana because KRAMA guru's megalomaniac son Raghav (Sudheer Babu alternates between smug and scowl), running a multi-storied crime organisation on the strength of martial arts experts, holds Sia hostage.
Raghav lost his heart to her around the same time as Ronny. What perplexes me though is why does the man; otherwise commuting via private jets, take a modest train on this particular occasion? Even more idiotic is his resolve to kill the girl he killed his flesh and blood for because she doesn't love him, a fact he knew all along.
Nothing stands in the way of Bollywood logic, of course. And so nobody can rescue Sia from Raghav except Ronny and his bulging -- ever willing to pop out of his ripped shirt -- muscles.
Despite the build-up and background, the action itself is quite generic. I was hoping to see more than slow-motion shots of people falling or flying out. Even the thrill of seeing a light-footed leading man perform his own stunts is diluted when the camera gets busy documenting it from different angles neglectful of the delay it causes in a high-adrenalin chase.
Most of Baaghi unfolds in flashback showing Tiger Shroff's winning transformation from clumsy Po to bone-crunching machine. There's no doubting the young man's assured screen presence or dexterity as he swivels, spins, somersaults, springs, sprints, socks a jaw. The graceful balancing of his entire body weight on two fingers is particularly impressive.
He's got the goods of a solid action hero but it's time to step out of the show reel space and shine under an actual script and a skilled hand who can bring out the Tiger buried under Jackie's son and Hrithik's fan.
Rediff Rating: