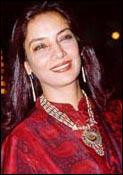 W
hether it is speaking at feminist political forums or working in Roland Joffe's
The City Of Joy
and John Schlesinger's
Madama Sousatzka
,
Shabana Azmi
has always been an international figure.
The actress, who turns 54 on September 18, continues to be as committed to her convictions as ever before.
Shabana, who has just returned from shooting a Hollywood film, shares her excitement with Subhash K Jha.
Tell us about your Hollywood film.
It is called
Waterborne
.
Water nahin to Waterborne hi sahi!
[
Shabana jokes about her incomplete film
Water
with Deepa Mehta, which has been shelved
]
I'm very charged about it. It's not a small, 'independent' off-mainstream Hollywood film. It's designed as a biggie. It is about a threat to the water system in Los Angeles.
So, is it a disaster film?
Not at all!
It's a hate-crime film. I play a Sikh woman who runs a convenience store in LA with her son [played by Ajay Naidu]. She's a pucca businesswoman -- something I never was in my prime as an actress (laughs).
When this water crisis occurs in LA, she immediately raises the price of bottled water. Her horrified son opposes her. But she argues, 'When you become a businessman, you'll know'. She happily sells water for $3 per gallon. She's also a bit of a racist. She cannot stand the fact that her son has an American girlfriend. She scolds him, 'Why go for an American when there're so many nice Punjabi girls around?'
I play my own age.
What I liked about Waterborne was its rough-and-tough mood. I play a self-made woman, who has come up from scratch. During a terrorist attack, I get injured. My meek son goes completely ballistic. And when he turns on his American girlfriend in rage and frustration, it is up to my character to make the reconciliatory gesture. Through the thriller format, Waterborne brings in the whole political scenario in America today.
So my character goes through several shades of change. I have always liked playing women who grow with the script.
It sounds like another post 9/11 action film.
No, I think it transcends 9/11 to address itself to the whole issue of cultural reconciliation.
Asians have to stop looking at themselves as victims in America. It's directed by Ben Rekhi, who is a half-American, half-Sikh NYU graduate. What I found refreshing about Ben is that he isn't making a film about an identity crisis. All second-generation NRIs tend to delve into that area.
Waterborne
is mainstream American politics,
yaar
! That's what makes it very important.
Did you have fun shooting it?
Oh, loads! The whole crew was very young and cosmopolitan, a veritable microcosm of how closely-knit the world has become. Within the same crew, you get people from all over the world -- Chinese, Polish, Indian, Hispanics... That, to me, is very interesting.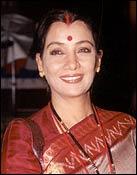 Because you like to absorb your surroundings?
Shyam Benegal calls me a sponge! (laughs).
The crew of Waterborne was far more improvisational and collaborative than formal studio-films in Hollywood. Coincidentally, there were lots of Bens on the sets.
I just skipped over on August 13, and finished my work in 15 days. I was offered the film in June. But I kept it under wraps because I am very superstitious about my projects. Now that it's wrapped up, I don't think anything can go wrong. Ab mera kaam to khatam ho chuka hai (laughs) [now, my work is done].
I hope Waterborne turns out to be more pleasant than Blake Edwards' Son Of The Pink Panther.
Why only that? What about my other international projects like Side Streets, Immaculate Conception, The City of Joy , Bengali Night and Madame Sousatzka? What was wrong with these?
Come on, some of these films like Bengali Nights and Side Streets weren't even released.
Bengali Nights
released in Paris and
Side Streets
got released all over America.
As for Son Of The Pink Panther, I did it only because it was only a three-day role. I got paid a fortune for it, as they really wanted me. I was flown over and dressed by Armani. But I ended up looking like Sridevi gone wrong in Roop Ki Rani Choron Ka Raja.
When I first met Blake Edwards, I was really irritated because he hadn't removed his sunglasses when he spoke to me. but he turned out to be so sweet. When I went to meet him, the entire 19th floor of the hotel was reserved for Blake and his wife Julie. They used to have a plane parked on the sets. If they had a half-day chutti [holiday], they flew off to the Alps for a brief vacation. You cannot get any more Hollywood than that.
And my co-star in Pink Panther was Roberto Benigni. I didn't know how big he was until we got off at Rome airport and all the screaming girls descended on him.
Anyway, kabhi-kabaar mujhe paise milte hain [sometimes, I get money]. Please don't grudge me one of those few instances.
Was Waterborne as pleasant?
I lived next to Hollywood Boulevard, and loved it. Right now since The 10 Commandments is being re-released, they have turned the whole façade of Hollywood Boulevard into a set from the film. You can't get any more Hollywood than that.
I also saw Mira Nair's Vanity Fair. It's a huge Hollywood film. She made me very proud.
Back home, your Morning Raga is due for release.
I can't tell you how happy I was when [singers] Anoop Jalota and Alka Yagnik told me they would have never been able to do some of the alaaps that I did. Now, that is what I call a compliment.
My mother saw the film thrice. She said she had become my fan once again, like she had after Ankur. I died!