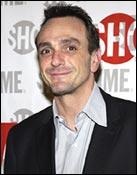 Hank Azaria may be on top of the world, with appreciation for all his mimicry driven cameos in films like Along Came Polly and The Birdcage, and the rumoured massive pay-raise he got for his tremendous vocal talents on The Simpsons, and his new Showtime TV series, Huff, but meeting God still makes him nervous.
On the rehearsal site for Spamalot, the Broadway musical version of classic cult comedy Monty Python And The Holy Grail, Hank Azaria prepares to play the roles -- that's right, plural, as all the Monty Python members characteristically took on multiple mantles in the 1975 film -- originated by John Cleese.
Suddenly, Cleese himself dropped by and Azaria totally flipped.
"He came by for an hour and he was very sweet and wished us luck. He's doing the voice of God for the show, and he recorded that," said Hank to The Chicago Sun-Times.
"We have big shoes to fill," adds the multi-talented actor, "a huge Monty Python geek as a teenager, and pretty much off book since then" – which means he's got the British troupe's routines all memorized. "We're two weeks into rehearsals and everything is going well. I just hope we can do it justice."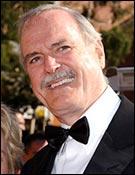 Spamalot, cowritten by Pythoner Eric Idle, opens in Chicago at Christmas time and on Broadway in February -- with Mike Nichols directing a group of talents including Tim Curry stepping into originally Graham Chapman's shoes as King Arthur, and David Hyde Pierce in the multiple roles played by Idle in the movie.
Azaria plans to stick with the show until June, then take five months to shoot the second season of his Showtime series Huff which launches Sunday.
With Azaria as a psychiatrist thrown into a midlife upheaval after a teenage patient commits suicide in his office, the edgy, critically-praised Huff aims to be thought-provoking and funny at once.
In the Huff billboard, Azaria appears with just a briefcase covering his -- to use a Monty Python term -- naughty bits. "It's kind of embarrassing, but at least they shot it while I was still in the shape I got into for Along Came Polly," notes Azaria, who's also a producer on the show. He's since gone down a couple notches on the physical perfection scale, thanks, he says, to working 16-hour days on the series all summer in "Sylmar, California -- which I believe is Spanish for 'Surface of the Sun.'"
Photographs: Getty Images