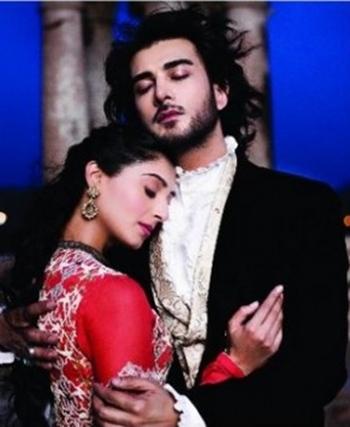 Muzaffar Ali's period drama Jaanisaar launched its first look and trailer at the Asia Fashion Week in London last week.

The movie marks the return of the maverick filmmaker to the silver screen for the first time in almost three decades, as well as the screen debut of stylist and designer Pernia Qureshi.

Left: Pernia Qureshi and Imran Abbas in Jaanisar
Ali meets me dressed in casual yet stylish pants and a polo-neck T-shirt setting off his trademark shaggy mane at his store, Kotwara, in Delhi's upscale DLF Emporio mall, and talks with an agility and passion that belies his 70 years.
"Jaanisaar is set in the period when we lost the first war of Independence in 1857, a time when the British created a subjugated nation. The film revolves around a love story in which the boy is westernised and the girl is deeply rooted in the ethos of Indian culture," he says about the plot of his film.
The period and the area where the drama plays out, Awadh, is familiar territory for the film maker: his landmark film, Umrao Jaan (1981), was set in Awadh of that time, as was his television serial Jaan-i-Alam.

He comes from the former princely state of Kotwara, which is located about 100 km northwest of Lucknow.
Ali is known for his landmark films such as Gaman (1978) and Umrao Jaan.

His last directorial venture was Zooni in 1989, with Dimple Kapadia and Vinod Khanna, though it never saw the light of the day.

Jaanisaar will therefore be eagerly awaited by Ali's fans and those with interests in period films and Awadh.
During these years, Ali was busy with several other ideas like craft, specifically his label, House of Kotwara, which he created with architect and designer wife Meera Ali, who has incidentally also produced the film and done its costume direction.

He founded the Jahan-e-Khusrau annual Sufi festival in 2001, and also lent his skills to projects on the small screen.
"All this while, I was developing an interesting script bank, and Jaanisaar has come out of that. I hammered out the story with my wife, and then it had a lot of visitors such as Javed Siddiqui and Shama Zaidi (fellow screen writers)," says Ali.
Muzaffar Ali extensively shot in Lucknow and Kotwara, Jaanisaar aims to chronicle the period after 1857, when "people who raised their voices against the colonial forces were systematically crushed; even Premchand's book of poetry, Soz-e-Watan, was burnt by the British," says Ali.
The film can be construed as "a hangover of 1857, but at the same time looking forward to 1947."

Ali himself plays small role in the film, of a revolutionary who has seen the war of 1857 and who has kept the fire of freedom alive among a handful of people.

Besides Qureshi, Jaanisaar also has Imran Abbas Naqvi, Dalip Tahil, Abid Yunus Khan and Luv Bhargava.
The music of the film has been composed by Ali and Shaqfat Ali Khan.

There are poems by Rahi Masoom Raza, Daagh Dehlvi and Wajid Ali Shah that have been rendered in the songs.

"I wanted to use Wajid Ali Shah's motif in the film because Awadh was his kingdom," says Ali.
Many may know Wajid Ali Shah as the debauch king who was deposed to Calcutta by the British, but there was creative genius in him as well.

In an interview to Business Standard a few years ago, Ali had called him a "symbol that is rare and valuable, which gave the first war of Independence in 1857 its emotional thrust" and "the most poignant character in Indian history who celebrates art and its sharp sense of secularism."
The singing team consists of Shreya Ghoshal, Sukhwinder Singh, Malini Awasthi, Shaqfat Ali and Abida Parveen who has sung a Sufi mood song towards the end of the film.

The choreography is by Kathak maestros Birju Maharaj and Kumudini Lakhia.
Qureshi, in a telephonic conversation, recalls how she was in awe during her training at their talent and humility.

Qureshi has been training as a classical dancer in Kathak and Kuchipudi since the age of three.

"Uncle Muzaffar had faith in me and that helped me a lot; my preparation for the role happened entirely through passionate conversations with him," she says.

"The kind of performance Qureshi has given as a dancer is a joy to watch, she's a better dancer than Rekha in Umrao Jaan," says Ali.
I attended a session on the language in Bollywood at the Jashn-e-Rekhta festival in Delhi earlier this year, where Ali chaired a discussion along with Nandita Das and Danish Hussain.


Image: Meera and Muzaffar Ali at a fashion show. Photograph: Courtesy PR Pundit
Many members of the audience rued that there are no film makers such as Ali anymore who understand and employ purity in their language, be it Urdu, Hindustani or even English.

"Language," says Ali, "is a very interesting dimension of Jaanisaar: it's got Urdu, Awadhi, Hindi and English."
Meera says the production budget of the film was around Rs 15 crore -- modest in this day and age.

Will it recover the money, after two big-budget period films bombed at the box office this year (Bombay Velvet and Detective Byomkesh Bakshy!)?
Ali isn't apprehensive.

"You can't apply the same yardstick to every film," he says.

The original edit was 160 minutes, but he has brought it down to exactly 2 hours, to better the film's chances at the box office.

Clearly, Ali is taking no chances.
Jaanisaar is slated for release on August 21.