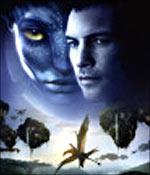 With a handful of movies appealing to a variety of tastes, Hollywood had a record-breaking Christmas weekend led by James Cameron's sci-fi fable Avatar, which grossed an awesome $200 million plus worldwide, taking its 10-day total to about $615 million.
The film, believed to be the most expensive one (reportedly costing $400 million), is expected to break even before the year ends and garner more than $1 billion worldwide in less than two months. If it does, it will beat 2009's biggest hit so far, Harry Potter: The Half-Blood Prince, which ended its run with $930 million.
Distributor Fox said the film finished at the top spot in 107 of the 108 territories on the weekend. It was pushed into the second place in India by the Hindi film, 3 Idiots.

Avatar, which has received mostly glowing reviews, could fetch the maximum number of Oscar nominations. Apart from the best film, best director and best screenplay nominations, it could get nominations for its technical achievements too.
'A dozen years later, James Cameron has proven his point: He is king of the world,' wrote The Hollywood Reporter, referring to a line in the Oscar acceptance speech that James Cameron made the year Titanic swept the Oscars. 'As commander-in-chief of an army of visual-effects technicians, creature designers, motion-capture mavens, stunt performers, dancers, actors and music and sound magicians, he brings science-fiction movies into the 21st century with the jaw-dropping wonder that is Avatar. And he did it almost from scratch.'
Sherlock Holmes has done excellent business outside America in three days, their distributors Warner Brothers and Fox respectively said.
Inspired by Arthur Conan Doyle's famous detective, the film stars Robert Downey Jr as Holmes and Jude Law as his assistant Dr Watson. It made nearly $100 million worldwide in three days, with much more to come in the next few weeks. For Guy Ritchie, the director of small budget British films like Snatch and Revolver, the $90 million crime adventure was his most ambitious film as yet.
'And Sherlock Holmes handed Ritchie, once known mainly as Mr Madonna, his first real hit; the director's five previous features have taken in a total of about $40 million at the North American box office,' wrote the movie analyst Richard Corliss. 'He achieved success both by turning Holmes from a contemplative sort into an action hero, and by filling the role with Robert Downey Jr, who has proved his action-film bona fides as the star of Iron Man.'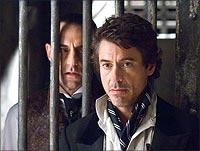 Just a decade ago, Downey Jr, one of the most versatile actors in Hollywood, was fighting a serious drug problem. Today, he has become one of the most bankable stars famous for his discipline and dedication to cinema.
'Add in Iron Man, Tropic Thunder, and this May's Iron Man 2, and Downey will end up scoring four $100 million plus blockbusters (including three over $200M) in a two-year span pulling off an amazing Hollywood comeback,' notes box office analyst Gitesh Pandya.
It was also a week that proved once again that Streep could command the box office in her early 60s (with the help of her co-stars Steve Martin and Alec Baldwin).
Her film It's Complicated is a comedy about a divorced woman (Streep), who gets drawn to her ex (Baldwin) while thinking of a long-term relationship with another beau (Martin). It was directed by writer Nancy Meyers, whose hits include What Women Want and Something's Gotta Give. Her films don't open with a bang but they stay busy for many weeks, with small declines in passing weeks.
While It's Complicated, which grossed $27 million in America, is expected to have a long run at the box office appealing especially to older women, the Sandra Bullock starrer The Blind Side also had a strong week. The film, which cost about $35 million and which is one of the biggest unexpected hits of the year, could reach the $200 million mark in a week.
Among the smaller films that gained in the holiday week is the George Clooney-starring corporate downsize drama Up In The Air, whose theatre count increased from about 100 to 1,895. It ended with a total of $24.5 million. Even without Oscar nominations, the film could end up with a profitable $50 million gross in North America alone.
There were some box office turkeys as well. The musical, Nine, featuring six Oscar winning actors, was directed by Rob Marshall (of Chicago fame) tanked as it expanded from a few hundred theatres to over 1,400. It made just about $5.5 million over the weekend.
The film, centering on an egocentric Italian movie director (Oscar winner Daniel Day-Lewis) and the women in his life (Oscar winners Judi Dench, Sophia Loren, Marion Cottilard, Penelope Cruz and Nicole Kidman) received some of the nastiest reviews of the season. The performances were generally well reviewed, though some reviewers complained Day-Lewis just cannot take a proper note.
The film is based on a hugely successful Broadway musical of the same name which was inspired by the legendary Federico Fellini's autobiographical movie masterpiece 8 1/2.
'Nine is one of those films that couldn't look better on paper -- so many Oscar, Tony and Grammy winners involved that the production should have literally glittered with all that gold,' wrote Betty Sharkey in Los Angeles Times. 'But in the end, nothing adds up. Perhaps 'Zero' would have been a better name.'
Then there was The Lovely Bones, based on a popular novel, that has been showing in half a dozen theatres for over three weeks. The film, directed by Peter Jackson (of The Lord of the Rings fame), was harshly criticised when it premiered in London a few weeks ago. Critics said that the complex Alice Sebold bestseller that dealt with a brutal rape, murder, and retribution, was lost in translation to a movie.
A 14-year-old girl, who is savagely murdered in 1973, tells her story as she watches for years from 'the blue horizon between heaven and earth' as her pals, her family and her killer carry on.
Distributor Paramount will take a stab at releasing the film wide in the next few weeks. The $100 million movie has to make at least $250 million worldwide in ticket and ancillary sales to recoup its production and marketing costs. If it doesn't open up vigorously, it could become one of the biggest duds of 2009.
There was also bad news for the critically acclaimed and popular Disney animation adventure The Princess and the Frog. With the arrival of Alvin and the Chipmunks: The Squeakquel, its box office took a severe beating. It will be struggling to reach the $100 million mark in North America. In the long run, when ancillary income is factored in, it could become quite profitable but it is far from the hit that Disney had expected.