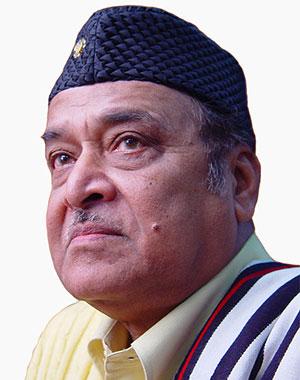 Even as Assam remembered its favourite son, the late Bhupen Hazarika, on his third death anniversary, the state government again demanded the Bharat Ratna for the the late filmmaker-musician-singer.
As he paid tribute to Hazarika at his cremation ground at Jalukbari in Guwahati, Chief Minister Tarun Gogoi said his government had reiterated its long-standing demand with the central government.
Admitting to the delay in starting the construction of the Bhupen Hazarika Memorial Ground at Jalukbari, Gogoi called upon the people of Assam to contribute generously.
"Bhupen Hazarika was the pride of Assam. The people can contribute at least 20 per cent of the fund required for construction of Bhupen Hazarika samadhisthal," Gogoi said.
Earlier, the Assam government had announced that it would allocate Rs 10 crore for the purpose.
Gogoi's attempt to seek public contribution has evoked a sharp reaction from the BJP, which termed Gogoi's comment 'unfortunate'. The opposition party also critcised the state government's failure to build the memorial ground during the last three years.
The rural development department plans for the memorial include an open stage and a park. The construction will be carried out under the Mahatma Gandhi National Rural Employment Guarantee Act. Gogoi laid the ceremonial foundation for the project on November 5.
All Assam Student Union adviser Dr Samujjal Bhattacharrya called upon the government to begin construction of the memorial site so that it is completed by the legend's next death anniversary.
"The Bhupen Hazarika memorial site should be so magnificent that it should attract his fans from all over the globe," he said.