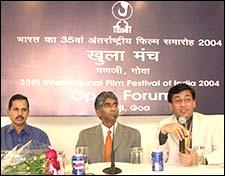 Ever wondered why few Indian films get nominated by the Oscars, and worse, never win?
Hollywood filmmaker Ashok Amritraj tries to offer an explanation. "Indian films will fail at the Oscars unless they make the western juries understand the Indian psyche," he says.
The 35th International Film Festival of India is honouring the sportsman-turned-filmmaker by screening five of his films, including Garry Marhsall's Raising Helen, Kevin Bray's Walking Tall, Brad Silberling's Moonlight Mile, Barry Levinson's Bandits and Adam Shankman's Bringing Down The House.
Amritraj also stated that lack of finance is a major hurdle for the Indian films to secure Oscar nominations.
"The western audience cannot accept Indian cinema, where a girl suddenly starts singing and dancing while the next scene would see her in a different mood altogether," quipped Amritraj.
In order to overcome the financial hurdles faced by creative Indian filmmakers, Amritraj asks them to start off with small budget films and then step into bid budget ventures.
Rather than grumbling over the fact that the West is not respectfully looking at Indian cinema, he feels India should simply look East.
He also pointed out that Hollywood is currently remaking the ideas of Japanese and Korean films. India has also started giving world-class themes, he adds.