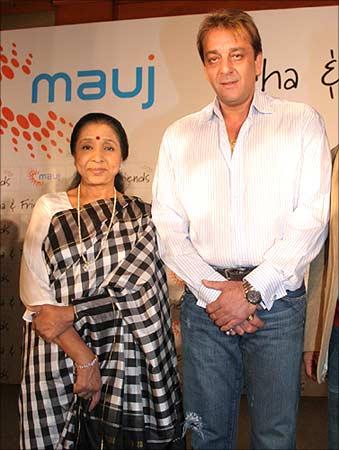 When Sanjay Dutt's secretary informed him about Asha
ji
's phone call
,
the actor thought it was from yesteryear actress Asha Parekh.
"I thought Asha Parekhji wanted me to talk about an actor association's problem because I am a member of that," Dutt said. "But when my secretary clarified that it was Asha Bhosle, I wondered why she wanted to talk to me. I felt humbled by her call because I'm a great fan of her voice."
The actor was shocked when the veteran singer asked him to sing in her latest album Asha & Friends, composed by Shamir Tandon.
"I loved Sanjay Dutt's voice in the Munnabhai movies," Asha explained. "He has a bass voice, which is important for male singers. That's why I suggested his name and he reluctantly accepted the offer."
"I hoped to record separately but my wish was not granted. Luckily, everything went smoothly," Dutt added.
S Ramachandran, a former journalist with NDTV, has directed the album.
The song Aap Ke Dil Mein Thodi Si Jagah Chahiye is one of the four songs in the album.
The other three songs feature Urmila Matondkar, Australian cricketer Brett Lee and Zee Li'l Champs winners Diwakar, Sanchita and Sameer.
"These children have come from God," Bhosle said. "They have a great future. Brett Lee sang well too. He wrote his own English lyrics."
The album is produced by Mauj, a mobile portal, and will be released in December.
By January 2007, four new songs will be added to the album.
Text: Syed Firdaus Ashraf | Photograph: Pradeep Bandekar