It has been like introducing an Indian version of Elvis to a whole new generation," says David Harrington of the Grammy-winning band Kronos Quartet as he is getting ready to present Asha Bhosle at New York's fabled Carnegie Hall on Saturday.
Asha will be singing songs from the album You've Stolen My Heart: Songs From RD Burman's Bollywood that she recorded for Kronos last year. The album was nominated for a Grammy and has received raves from the likes of Village Voice.
Though a handful of Indian masters, including Ravi Shankar and Vilayat Khan, have performed at Carnegie Hall, ever in demand by some of the classiest singers and composers from across the globe, this is the first time a Bollywood singer is performing.
"We are not just highlighting Asha, but also Burman," says Harrington, adding that he has been devoted to Burman's compositions for over a decade. "I consider him to be one of the most successful and melodic composers of the 20th century anywhere across the globe."
Watching Bhosle, who will be accompanied by tabla maestro Zakir Husein and pipa (Chinese lute) virtuoso Wu Man, (apart from Kronos) live, could surprise many people, Harrington feels. "People refuse to believe when I tell them she is in her 70s," he says. Some of his friends thought she was in her 30s.
The album consists of re-imagined Burman gems such as Chura liya and Dum maro Dum, as well as relatively obscure ones like Rishteh bante hain. The Burman classic Mehbooba, Mehbooba gets an instrumental version. Harrington says he is aware that Burman "borrowed" part of the tune. "But just listen to what he did to the song, by way of orchestrating it and singing it in his unique voice."
Burman's intricate compositions became even richer and more intricate as interpreted by Asha, he adds. And she has given the songs new life, he continues. "Asha's voice has thickened and deepened over the years and now resembles viola more than violin," wrote Village Voice, reviewing the album. "One imagines Bhosle, who provided the singing voice of countless actresses who've remained forever young while she ages, approaching this classic material -- think deeply poetic Cole Porter meets deeply eclectic Bernard Herrmann -- with an inevitably contemplative spirit."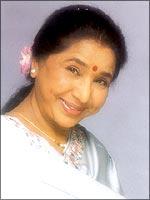 Harrington has been playing songs from the album at his home for friends and family. "I seldom play our album at home," he says. "But I make an exception because of the great class of music Asha and Burman produced together."
For Asha, the Carnegie Hall concert will be the fulfilment of a long desire. Over two decades ago, soon after her historic performance at Madison Square Garden, she told a reporter that some day she would love to perform at Carnegie.
The concert has created quite a buzz. The New York Times ran a piece on Asha in its Sunday edition.
Asha is also expected to dance on stage. "When you are as old as I am," she had told a reporter two years ago, "I can get away with anything." She chuckled as she added: "It is these young men who seem to be reluctant to dance but once I start, they have to join me. I have never been self-conscious, and as I keep growing older, my enthusiasm and energy only grows."
The Times reported Harrington, who is couple of decades younger than Asha, has promised to dance with her. Even if he backs down, Asha would do her dancing act. More important, as she told The Times, at any event "inside, I am dancing."