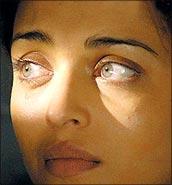 Jagmohan Mundhra, the director of the Aishwarya Rai-starrer Provoked which will release worldwide on September 1, is confident that the story will touch a chord with audiences everywhere.
The film based on a true story of an Asian woman battered by her British-born Indian husband.
Mundhra, who was in Mumbai for a day, said, "Provoked is an important story that needs to be told. The case helped changed British law for battered women and it will appeal to a lot of people as they will relate to the subject."
Ash plays the role of Kiranjit Ahluwalia who kills her husband because she could not take his torture any more. Kiranjit had an early arranged marriage as her parents had died when she was very young. She had two children with Deepak Ahluwalia who were subjected to violence in their ten years of marriage. In frustration Kiranjit finally set Deepak afire when he was sleeping.
"So far I have got an excellent response for the film in Cannes. I am hopeful that Indian audiences too will love the film," said Mundhra.
Asked how larger European and American audiences will relate with Aishwarya Rai playing a battered woman, Mundhra said, "I am sure they will be able to relate to her character. She has emoted very well in the film. I feel when people all over the world can relate to the boxer Mohammad Ali, a black American, then Americans and worldwide audiences too will be able to relate to Aishwarya Rai in Provoked."
Speaking about his next film Sonia Gandhi, Mundhra said he was happy that Italian actress Monica Belluci was ready to act in the film.
"I was following Belluci's agent for six months and I am happy that she has finally agreed to do the film," said Mundhra.
The film is based on a biography on Sonia Gandhi written by journalist Rashid Kidwai. The film covers 40 years of the Congress president's life from 1964 to 2004.
"I have not yet decided who will play the role of Rajiv Gandhi or Indira Gandhi in the film. That will take some time and we will begin shooting somewhere in October and finish the film by December," said Mundhra. The film is likely to be shot in London, Italy and New Delhi.
"Belluci will not speak in Hindi in the film. I am only restricting myself to English in the film," said Mundhra.
Ask why he zeroed down on Belluci, Mundhra said, "The reason being she is an Italian and a very well-known actress. Moreover, her body stature is also like Sonia Gandhi."
Also see: