In the lives of Indians, especially those who love Bollywood films, there are many images of Amitabh Bachchan.
I will always remember the early Bachchan -- the quiet, sensitive doctor in Hrishikesh Mukherjee's Anand or the brooding, tragic loner in the same director's Mili.
I also remember the cocky and angry Bachchan of Yash Chopra's Deewar, who is reduced to nothing, when he hears the classic dialogue -- Mere Paas Maa Hai, spoken by the honest cop brother played by Shashi Kapoor.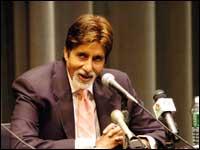 I took all of these images of Bachchan with me, when I set out to meet India's biggest star for an interview at New York's Walter Reade Theater and to watch him in a conversation at a sold out special event organised by the Film Society of Lincoln Center at the 1,100 seat Alice Tully Hall. Bachchan's visit to New York coincided with the first US retrospective of his films organised by the Society.
What I witnessed were two other and very different Amitabh Bachchans -- a polite, but mostly listless and disinterested Bachchan at the interview, who despite the façade he had put on, was clearly suffering journalists and would rather have been some place else (the Film Society had arranged for the actor to speak to several mainstream and ethnic media outlets); and at the Alice Tully Hall, a very charming Bachchan who appeared more and more energised and invigorated as the audience -- nearly all of them his South Asian fans, behaved in an unruly, shameful, and almost hysterical manner, showering their adulations on him.
I arrived at the Walter Reade Theater a couple of minutes late to find the idol of teenage years standing by a food table, spreading cream cheese and strawberry jelly on a bagel. He wore an oversized brown buttoned-down sweater -- although it was a sunny spring day in New York City, and baggy pants that were a few inches too long and sweeping the floor.
His trimmed and white goatee was a contrast to his dark skin tone, and his tired facial features reflected 62 years of a well-lived life. His hair -- there will always be a debate on whether that is his real hair -- in different shades of brown highlighted streaks.
I told Bachchan about two young second-generation friends -- a Fulbright fellow and the other a leading South Asian musician on New York's club scene, both begged me to bring them along for the interview. So how did he explain the huge impact he has had on the lives of Indians across the globe?
"I have worked in some films that have had a fair amount of success and obviously cinema being a medium which is greatly admired and leaves people in awe, you get certain kind of recognition that cinema demands," he said in a pat response.
"I am very fortunate that people still want to work with me," he added when told that maybe his impact may have to do with the longevity of his career.
He was equally non-responsive when asked to talk about his life, the initial struggles, the huge successes of the 1970s and the 1980s, the freak accident on set of Coolie, his brief political career, the failure of his films and financial troubles in the 1990s and the recent second wave as an actor ("Well, yeah okay, if you want to put it that way," he said with a rare smile.)
"These things are…," he said without completing the sentence. "You live from moment to moment and move on. What is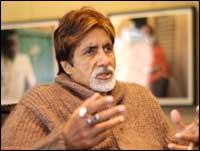 past is past. You look ahead." And yet, his fingers were loaded with large rings, with various colourful stones -- all recommended by an astrologer for him to make it through life, he earlier told another journalist.
Bachchan seemed satisfied with the films selected for the retrospective, given the fact that prints of older Bollywood films are in a poor condition. But if he had a choice he may have added a few more films by Prakash Mehra, Manmohan Desai and Yash Chopra. The festival did not include Bachchan's classics like Deewar, Kabhi Kabhie, Silsala, Muqaddar Ka Sikandar, Sholay, Sharabi and Lawaris.
When asked about the state of old film prints in India, Bachchan showed a rare moment of interest in the conversation. "I think there is some kind of complacency, perhaps not having the vision to look to the future, desire for preservation, for keeping record," he said.
"I think it is a general malaise in the country -- apart from the cinema, even in other fields, historical events, performances. You get so impressed by seeing documentaries on the History Channel and you are amazed at the kind of material that exists. They (filmmakers in the West) have a desire for preservation. I thing we should develop that as well."
He seemed equally focused when he talked about how Bollywood is perceived in the US.
"Bollywood films are made for a diverse country with different languages, cultures, castes and creeds," he said. "To produce a product that can be liked by all of them is a very tough task. And I think that Hindi cinema has been able to envelope all of these and come out with shining colours and it is a feat that needs to be acknowledged. So I would look at those aspects rather than to be criticised or to be cynically looked at as spoofs or whatever else they (Western audiences) may describe it as."
"The fact is that the Bollywood films are made for Indians. In a democratic set-up it is the people that choose who will play the politics of your nation and decide what your culture will be, what kind of movies they want to see and so you have to respect the masses. They have been respecting our cinema for a long time and I say thank you."
I asked him to comment on The New York Times piece that stated that a huge global star of Bachchan's stature is virtually unknown in the mainstream US market. "That's true for any Hollywood actor in India as well," he said. But Hollywood films are now dubbed into Indian languages and shown in theatres across the country. To that he responded: "We are liberal enough to allow them to do so. We expect similar reciprocity."
And what did he make of the success of crossover films by Gurinder Chadha and Mira Nair? "Yeah, but they didn't do well in India."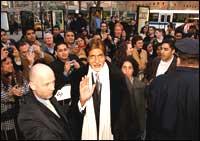 The interview ended shortly thereafter, but Bachchan came alive in the evening at the Alice Tully Hall event, hosted by Richard Peña, the program director of the FSLC. His limo was mobbed as he stepped towards the auditorium with his wife Jaya and son Abhishek. Digital cameras clicked, women shrieked and straight grown men ran up to hug the superstar, as he smiled and signed autographs and NYPD personnel looked on.
Inside the theatre despite an announcement, cell phones rang and people were seen video taping the entire event. The audience was impatient with the world premiere screening of Ram Madhvani's brilliantly made documentary on Bachchan. People talked loudly among themselves, each time Madhvani's three writer-commentators -- Salman Rushdie, Suketu Mehta and Shashi Tharoor appeared on the screen. They had paid $60 each to see their star and not to listen to these talking heads intellectualise the Bachchan phenomenon.
But there was hushed silence when Bachchan was on screen and the audience sang and whistled along with clips of the star's songs -- especially Rang Barse from Silsala and My Name is Anthony Gonsalves from Amar, Akbar, Anthony.
The actor was lot more candid with Peña and in Madhvani's documentary. But none of that mattered and nothing could match the near chaos and commotion that broke out in the auditorium when Peña opened up the question and answer session to the audience. Men waved both their arms, jumped up on their seats to be noticed, while women screamed even louder. Often two people would ask questions simultaneously. And the questions ranged from "Can I give you a hug?" "Who is your favourite Indian actress?" (Bachchan answered that two times, first mentioning Aishwarya Rai and later his wife Jaya -- both times winning the total approval of the audience) "What do you do on weekends?" "Can I give you a script to read?" (Bachchan said yes and the audience clapped) and "Would you appear in a documentary I am making on Bollywood?" (he said yes again and audience was equally thrilled).
At one point, bowing to the public's request, Bachchan asked his son Abhishek to join him on stage. The younger Bachchan eventually placed himself on the side of his father's armchair. The audience loved this small gesture and more cameras began to click.
The event could have gone on for a lot while longer. Bachchan was enjoying himself and he even joked about it with Peña that they could stay there for the entire night. But eventually Peña closed the session. The hall emptied out with an animated and highly satisfied audience.
One last piece of note or rather a confession. At the end of the 20-minute one-on-one interview, I too behaved like a fan. I pulled out my hard cover copy of Khalid Mohammed's large sized book To Be Or Not To Be Amitabh Bachchan -- Jaya's gift to her husband on his 60th birthday. The superstar autographed the book -- "To Aseem, With Love, Amitabh Bachchan."
Photographs: Paresh Gandhi