If you loved Hrithik Roshan's bare-chested look in Dhoom:2, Aishwarya Rai's stunning outfits, Abhishek's cool attire and Bipasha's fab bikini, you must thank stylist Anahita Shroff Adajania.
It is this young costume designer who, along with producer Aditya Chopra, worked on the look of each star.
Anahita says the brief was simple. "We just had to make everyone look super-hot!" she exclaims. "And it wasn't too difficult because I had the best of talent. Everyone worked really hard to get in shape."
As if as an afterthought, she adds, "It was tough in phases. One was challenged throughout. It is a lot of pressure because you want the dancers to look as contemporary and good as the stars. I worked very closely with Adi [Chopra]. I conceptualised the outfits with him. But there is flexibility with the actors. They totally trusted my team of three and me. Like, I needed Hrithik to be in super-shape. And he delivered that. He made sure his body looked beautiful. Bipasha's body is to die for in that bikini."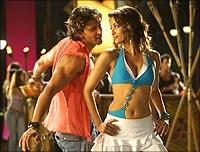 But while Dhoom:2 has given her a lot of fame, she has been used to it for a while now. Anahita's first hit was the foot-tapping song It's the Time to Disco in Karan Johar's production, Kal Ho Naa Ho.
That was followed by the music video Right Here Right Now in the film Bluffmaster. "I call the song hip-hop Kama Sutra," Anahita laughs. "It's our interpretation of hip hop, especially in Abhishek's shocking pink shirt, brown leather trench coat, fur collar and hat. Plus, he's got these Kama Sutra girls near him. It was so cool! Priyanka [Chopra] was like an old-world crooner – with a mic and long lashes."
One of Anahita's favourites is the look of the dancers in Rock N Roll Soniye from Karan Johar's Kabhi Alvida Naa Kehna. "We had fun with the metallic Marilyn Monroes and the showgirls. We went to where transvestites get their clothes made [in the US], and picked up outfits from there," she says.
The stylist loved working with Johar, with whom, incidentally, she started her film career.
"Karan and I knew each other from our college days. We were not from the same college, but we would take part in college fashion shows. He was the head choreographer, the ultimate style consultant," Anahita laughs. "When he was assisting Adi in Dilwale Dulhaniya Le Jayenge, he asked me to cast Kajol's friends in the film, who go on the Eurorail trip with her. I couldn't get one of them, so Adi asked me to step in. So you see me in a bit role in DDLJ!"
Anahita admits that she did not know much about Bollywood in those days, and was even "anti-Hindi films."
But before she started styling for films, she had – and still has – a successful career in fashion magazines.
Lounging in her tastefully decorated home in the hip Mumbai suburb of Bandra, Anahita goes back to her early days. "I first worked with ad man Mahesh Mathai, where I learnt a lot. One of the most important things I learned was that I didn't want to be a filmmaker because I didn't enjoy the process at all," she says.
After that, she took a year off and travelled the world. "Travelling is what I consider my education," she smiles. "I went to London, New York... I would observe people and see how they dress."
When she returned, she got a job with fashion magazine Elle. "I've always been into magazines," she explains. "I used to spend all my pocket money on magazines like Vogue and Seventeen."
She worked with them for four years, leaving as a fashion editor. Her primary reason for quitting was because she wanted to earn "real money."
That's when film work started trickling in. She spaced out her assignments with French magazine Le Official, where she is still working.

Besides Bluffmaster and KANK, Anahita has also designed the look for John Abraham and Vivek Oberoi in Kaal, Sushmita Sen in Zindaggi Rocks and of course her husband Homi Adajania's directorial debut, Being Cyrus.
"I love realism, and there was a very strong dose of that in Being Cyrus. Besides, being a Parsi, I could relate to the film. Dimple [Kapadia] was very professional, even agreed to put on weight for the role. She agreed to wear frocks too. All my life, I have mocked people who wore frocks. And here, I had to dress this gorgeous diva in a frock!"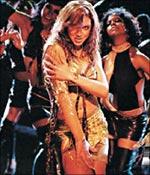 She adds, "I've known Boman [Irani] since I was a kid. There are some characters who wear white every day of their lives. My father and his friends dressed like that. I wanted Boman's character to have a bit of a time warp. That's why the side burns, plaid pants, broad belt... Saif's character was slightly modelled on Homi and Saif as he is not in front of people. He's a t-shirt-jeans kind of guy."
Anahita is also responsible for giving Esha Deol the ultra-hot gold look in the hit song Dhoom Machale, from Dhoom. "She and the dancers look so good," she says.
"John [Abraham] really stood out in Dhoom -- his rugged jeans, leather jacket biker look… We gave him a dirty grungy look; we didn't want him to look like a chocolate boy. Abhishek had a black and white character in Dhoom. His glasses there was Adi's idea. It added an interesting element to his character. He has the same character in Dhoom:2. Only here, he's leaner and cooler."