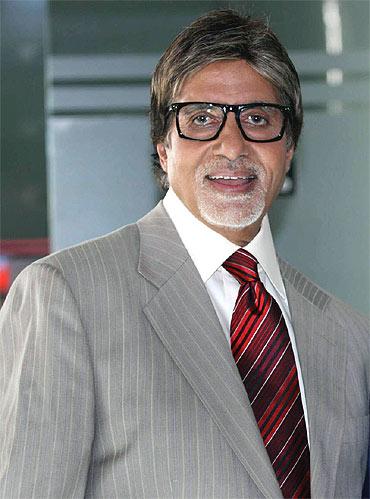 'People keep asking me where I get so much energy from. But I'm just having fun because people are still offering me good work,' Amitabh Bachchan tells us.
Amitabh Bachchan, who celebrates his 73rd birthday on Sunday, returns to television with Aaj Ki Raat Hai Zindagi. An adaptation of the British show, Tonight's the Night, it revolves around those who have accomplished something extraordinary in life.
It will premiere on Star Plus on October 18.
The Big B tells us more. Rediff.com contributor Rajul Hegde listens in.
At 73, you are doing both television and films.
People keep asking me where I get so much energy from. But I'm just having fun because people are still offering me good work. As long as my body supports me, I will keep entertaining people.
Do you enjoy working on television?
I am part of a creative field. I take all mediums as a challenge, be it TV, film or stage.
At this stage of my career, I am inspired by critics. I read all the comments and reactions, even if people say 'Bakwas performance thi'. Critics notice things that we don't. It's a vision that we don't have. I accept their views.
What prompted you to do this show?
I got an invitation from the channel to do this show and I liked it. The whole premise was that everyday we face a lot of negativity. Newspapers and TV channels (show) a lot of negative news. Perhaps we overlook the fact there are some nice things also.
There are many people who are involved in work that the people of the nation are unaware of. So it's a wonderful idea to pick them and provide a platform to them to introduce themselves and their work to the rest of the world. And if it moves you to perhaps emulate them or do something similar, it would bring a lot of change amongst all of us.
The industry has come forward to help the drought-affected farmers of Maharashtra. Do you also plan to do something for them?
I don't talk about it. I don't feel comfortable talking the work I do.
But since you have asked, I will tell you.
I have been working for the farmers since the past eight-nine years. I read about some farmers committing suicide because they couldn't pay Rs 5,000. I wanted to help them.
I worked through an institution and we collected about 50 farmers with their outstandings. I paid back their money.
About four-five years ago, in Vidarbha, there was a similar situation like the one now. I saved 100 families. I don't feel comfortable saying this but if someone asks what have I done, then I would say this: the film industry has always come forward to help whenever there is a need during times of national distress. Even back in the 1960's, we would go out on the streets, and perform to collect money for good causes. We have played celebrity matches to raise money for causes, and these still happens.
We are not villains; there is a heart in the industry.
Watch: Amitabh Bachchan talks about his new show. Video: Afsar Dayatar
Do you want a biopic made on your life?
I don't think a film should be made on me. I don't think I am capable of that. It will be a flop. If someone wants to make a documentary on my father, I am okay with that. But I don't think personally I would make a film on him.