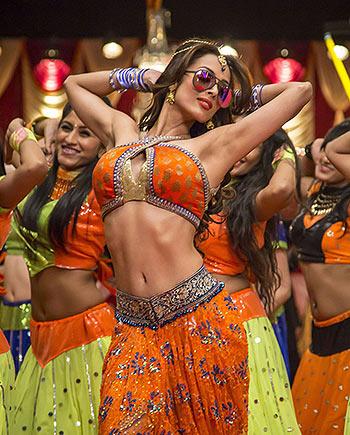 'I don't know how long Malaika will continue to do these popular songs, as I feel she has had her run.'
Arbaaz Khan talks about his gorgeous wife Malaika Khan Arora, and living under the shadow of his superstar brother Salman Khan.
A quaint little lane in Bandra (in suburban Mumbai) leads you to Arbaaz Khan's production office. The modestly-furnished office has posters of his brother Salman Khan's movies.
Dressed casually in a shirt and jeans, Arbaaz looks tired. Ask him about it and he says, "Apart from the promotions of Dolly Ki Doli, I still have to finish the sound mixing and some little things before we finalise the prints."
His new production Dolly Ki Doli stars Sonam Kapoor, and is set to release on January 23.
In this conversation with Sonil Dedhia/ Rediff.com, Arbaaz discusses his journey from being a mediocre actor to a successful producer.
This is the first time you are producing a film that does not star Salman.
The expectations are less from Dolly Ki Doli, as it doesn't star Salman.
I don't think people expect too much from this film.
I think they are saying, 'Iss time film main Salman nahi hain toh ab dekhte hain Arbaaz kya karta hai' (This time Salman is not in the film so let's see what Arbaaz can do).
How important is the success of this film for you?
It's extremely important because it will help me and my production house to grow and make movies without being dependent on big stars.
I think the audience will be pleasantly surprised to see what I have attempted with Dolly Ki Doli. I am confident that this movie will be accepted.
What do you look for in a film you decide to produce?
Characterisation is more important to me than the script. A decent story and extraordinary characters can do wonders for a film, but you cannot do it the other way around.
I could compromise on a story but not on the characters.
Not many producers would opt for a female-oriented film, which is directed by a first-time director. More so, when you have given two huge blockbuster films earlier (the Dabangg movies).
Dolly Ki Doli excited me because it has unique characters. Though it is a smaller film and without a big star, it is still a mainstream film.
Was Sonam Kapoor your first choice for the lead role? And wouldn't it have been more feasible to take established actors for the three guys (Rajkummar Rao, Pukit Samrat and Varun Sharma)?
I consider Sonam an established actress. She was among my first choices.
The three guys in the film are getting married so I had to look for guys who are at a marriageable age and at the same time, can complete Sonam.
Trust me, we have met with our wish list.
Did you think of getting Salman to do a cameo in the film, which might give the film a boost?
I think these days, people realise it is a gimmick when superstars play cameos in a film. These cameos don't help the film in any way.
I would love to have Salman in all my films. But even if he's doing a cameo, that one scene should be a landmark one.
There was a possibility for him to do a cameo in Dolly Ki Doli, which finally Saif (Ali Khan) did. Salman didn't do the cameo because he is working with Sonam in Prem Ratan Dhan Payo and the novelty of seeing them together would have been wasted had I cast him in my film.
I cannot use Salman frivolously in my films.
Your father Salim Khan once told me that he was concerned about your career before you became a producer with Dabangg. Did he ever talk to you about it?
I made my debut as an actor (in Daraar) in 1996, in a negative role, which was appreciated by the critics and the audience. But you don't get such roles every day.
The transition to lead roles did not work out either. I had earlier assisted Mahesh Bhatt with Naam (1986) and Jurm (1990) and I wanted to be a filmmaker, but acting happened instead.
Ten years into my acting career, and 40 odd films later, I realised things are not working as they should have for me. I had the option of riding on a dead horse and continuing my acting career, or doing something different.
To be frank, my career as an actor was not even taking care of my lifestyle. Doing two odd films a year wasn't making me financially secure.
Image: Arbaaz Khan, Sonam Kapoor, Rajkummar Rao and director Abhishek Dogra (standing) on the sets of Dolly Ki Doli
Is that why you decided to turn producer?
I always knew I had to do something substantial. My first film as a producer (Dabangg) released in 2010 and it happened by chance.
Abhinav (Kashyap), the director of the film, had come to narrate my role to me and I asked him who was producing the film.
He said he had taken it to a number of people but they all wanted to know the cast. I requested him to let me produce the film.
I give my father credit as he was very happy and encouraged me when I told him about producing a film.
Salman was very supportive too and agreed to do Dabangg after a brief narration. And my career as a producer started.
Are you a better producer than an actor?
Yes, I have no qualms saying that I am a better producer than actor.
As an actor I got work, but it never propelled me to stardom. As a producer, I could take charge of myself and my career.
Dabangg was my baby from the time I selected the script. Being a producer got me fame, respect and money, which I desired as an actor.
But you never know, I might act in a film that really clicks and people will start noticing me.
I know that I am not a great actor, but I am definitely not a bad actor.
Is there always pressure on you to deliver because you are the son of a successful scriptwriter and the brother of a successful actor?
Yes, there is the pressure of living under the shadow of a successful father and a superstar brother. But that has never influenced or affected my career in any way.
Did Salman's growing popularity affect your career? Did his success make you envious?
Not necessarily. Salman was miles ahead of me. He was an established star by the time I made my debut.
We never looked at each other as competitors. His success never affected me nor did it make me envious. Everyone in the family, including me, is proud of him.
I did not work as an actor, because I didn't get the right roles at the right time. And I probably didn't have it in me to be a successful actor.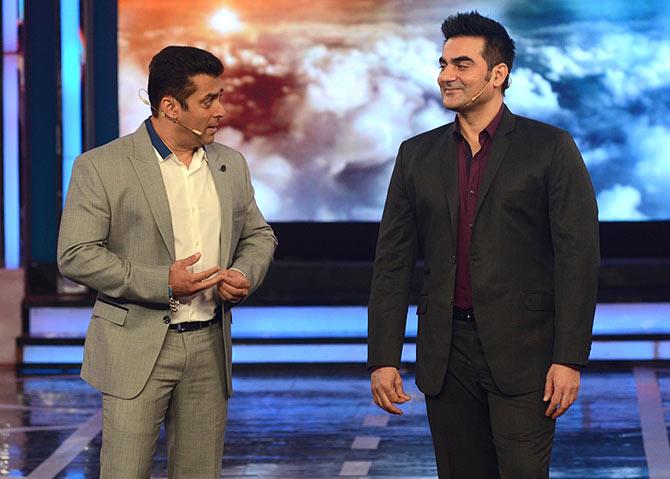 Image: Salman and Arbaaz Khan on Bigg Boss 8
Who are you most close to? Who can you confide in at any time?
My father is someone I can share any problem with. He will always give me a patient hearing. The greatest thing about him is that he will never judge you. He has always been supportive of things that we have done.
Your wife Malaika Arora Khan is often called an 'item girl'. Does that bother you?
The industry has given this term, but I would call them entertaining songs or popular songs.
Today, mainstream actresses like Priyanka (Chopra), Katrina (Kaif) or Bebo (Kareena Kapoor) do the same thing, but strangely, they are not called 'item girls'. So it is unfair to call Malaika an item girl.
Malaika does a very special part or rather a special appearance during one of the most important aspects of the film.
She contributes to a chartbuster song by her performance. She has always taken a particular song to soaring heights with her dancing skills and good looks.
Malaika has done an entertaining song in Dolly Ki Doli. Did you cast her because she is your wife?
I cast her because she is the best person for the song, not because she is my wife.
Even if she wasn't my wife, she would have been my first choice.
If there is a chartbuster song, I am sure Malaika will be one of the choices for any filmmaker.
Has she ever told you that she wants to become an actress?
No, she has never been keen on becoming an actress. She loves dancing and whenever a good song comes her way and she finds it interesting, she does it.
I don't know how long she will continue to do these popular songs as I feel she has had her run.
She has said that she will do them only if they are different from what she has done previously.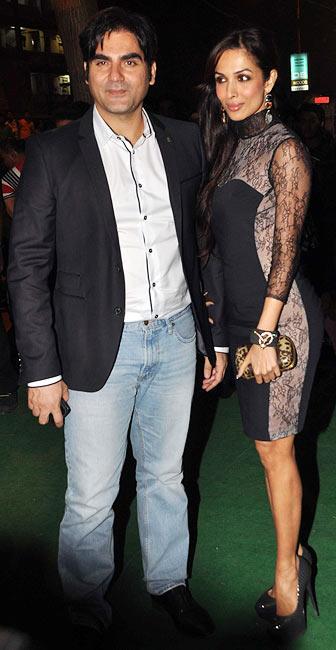 Image: Arbaaz and Malaika Arora Khan
What do you like the most about her?
She is very focused about whatever she does. She plays many roles -- of a mother, wife, and a professional -- and does all of them beautifully. This is what I appreciate about her.
I have known her since she was 18, so it's been a long, beautiful journey with her.
Have you started working on Dabangg 3?
No, not yet. But very soon we'll be ideating. Dabangg 3 is definitely on the cards.
You will be acting in Abbas-Mustan's film, which also has Kapil Sharma in it. Tell us something about it.
It's an interesting film. I am working with Abbas-Mustan after 20 years. I signed Darrar in 1994 so I am very excited about working with them.
I play a deaf don. It's a hilarious character. It is different from what I have done so far.
Kapil is also a great actor, who is known for his comic timing. It's really fun to work with him.