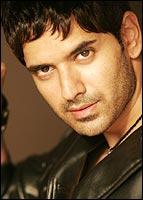 Now three movies old, Anuuj Saawhney was once part of a long list of Bollywood strugglers. Today, he is a known name, thanks mainly to the kissing controversy generated by his movie Chingaari, directed by Kalpana Lajme.
On the day of the movie's release, Saawhney spoke to Patcy N. Towards the end of the interview, he urged that the interview be kept absolutely uncontroversial, saying, "I can't afford any more war…"
How did you get this role?
Kalpana Lajme had seen my film Nayee Padosan and wanted to work with me. I have always been an admirer of her films. A common friend introduced us and Kalpanaji told me she would call the day she had a role. At the time, she had already cast someone for Chingaari. She heard about me doing Naina with Urmila and called offering the role of a protagonist. I agreed immediately, but she was insistent that I read the script before deciding. After listening to the first page, I told her I would work with her as she was directing and Venus was producing the film. Later, I found out that Sushmita was to be my co-star. What else does one need?
What was your reaction when you found out about the gorgeous former Miss Universe?
During narration, I wasn't told about Sushmita being my co-star. When I found out, my first reaction was a mixture of happiness and excited. The next day, when I woke up, I was nervous. I was working with Mithun Chakraborty, a veteran of the industry, and Sushmita who is a superstar. I went to Kalpanaji and told her I was nervous. She told me it was the reaction she had expected from a good actor. It meant I was keen on doing well and had taken it on as a challenge. She also said that the only solution was hard work and perseverance.
So, how did you work towards it?
For the next three months, we worked on Chandan Mishra, my character, and made sure we had it right. For the look, I tanned myself for three months. I changed my hairstyle, diction and the way I walk. I read the entire script many times. I would video shoot scenes and show it to Kalpanaji. She would tell me about the changes she wanted.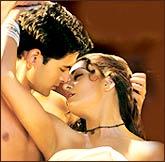 You were not the first choice. Did that make any difference?
In fact, it was an honour that such a prestigious role had come to me. Many big actors were approached. So, it wasn't a problem at all. After all, I am a newcomer. I am very clear about what I do. I choose Naina because it was better than the previous three films I had done. Kalpanaji says Chingaari is like my debut film because it is big banner movie with bigger stars and a better director.
What is your role in the movie like?
I play a postman who is the only educated person in the village. He is very self-righteous and extremely clear-hearted. He is emotional and connects and empathizes with whatever is happening around him. He reads letters for the prostitutes because they don't know how to read and write. And that's when he finds out that everyone there has a story. He starts getting close to them and takes it upon himself to be a crusader. He helps change the village of Rangpur.
What was working with Sushmita and Mithun like?
Sushmita is a great co-star to work with. She is an even greater friend. She never made me feel like a newcomer. She would ask for my comments and suggestions. She worked very hard with me on the scenes. Our chemistry off screen is what people will see on screen.
Mithunda was a complete godfather. He taught me a lot and took me under his wing. He gave me acting tips, told me about the dos and don'ts of acting. I am still in touch with him. I speak to him almost once a week.
What about working under a female director?
Kalpanaji is a very hard taskmaster. She knows exactly what she wants and will not compromise. But, at the same time, she is very flexible.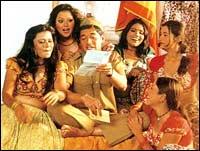 Were there any interesting happenings on the sets?
There are so many. We were like a family. Mithunda would cook for the entire unit. We would all shoot late and sleep at around 3 or 4 am. Mithunda would be up at 7 am and cook fish, chicken and vegetables that he would then serve himself to the entire unit. He was a darling on the set.
My first shot was after four days of the shooting, as Mithunda and Sushmita's scenes were shot earlier. When I saw their performance, I was nervous. They were just doing a brilliant job. Sushmita knew this. So, on the day of my shooting, she drove down 25 kilometres and turned up with Randeep (Hooda), her mother and sister at 2 am. She clapped for me and appreciated my work.
What was the controversy all about?
Somebody from the media called and asked me for quote. They then misinterpreted the quote and created a scoop to sell their paper. I don't want to talk about what I said and what they printed, but it was hurtful for me as well as a great friend like Sushmita. There are few genuine people in the industry and I am seriously possessive about those whom I like and who are close to me. If I were in Sushmita's position, I would be hurt as well. I don't need any more controversies. I am too young in this industry. Now, I am very careful.
Did you clarify your situation with Sushmita?
I was in London. I have just returned 2 days ago and haven't had a chance to talk to her. I don't know if she is still upset with me as I have not spoken to her.
Do you think Chingaari is going to make a difference to your career in a big way?
I give 100 per cent to every film. I know for a fact that Chingaari is brilliant. I am not at all nervous. It is a film Bollywood will be looking forward to and will speak of in the same league as Black. It is that sensitive a film. It will do well for me. I have been very sincere with my performance. Full marks to Kalpanaji, Sushmita and Mithunda.
How did you enter the film industry?
I always wanted to be an actor, but I also believed education was extremely important. So, after a B.Com from Delhi, I went to America for an MBA in International Corporate Finance and Marketing. I came back to Delhi and did three years of theatre, studied martial arts and dance, then came to Mumbai.
I started with ad films. I did about 26 before doing around 6 music videos. One was for Pankaj Udhas' album directed by Pradeep Sarakar and my co-star was Vidya Balan. After that, I went to a few production houses and gave them my profile. Within a week, I got Nayee Padosan, my first movie. During the shooting, I got Fun2shh. But because it flopped, I had a lull in my career for six months. Then, Naina came along.
Your educational background and profession don't match each other…
It's simple. In case things don't work out here, I should have something to fall back on. Not too many people make it big. I am here to achieve something, but if I can't make it here, I will go somewhere else. There are so many people here. It is not very easy. Education gave me confidence to approach people and market myself as a brand.
What are your films in hand at the moment?
I have just completed a film called Tom, Dick and Harry – a comedy about three physically handicapped people. It is not at all based on the Marathi play All The Best. The characters are same, but the story is completely different. It stars Dino Morrea, Jimmy Shergill and myself, with Celina Jaitley playing the love interest and Gulshan Grover as the villain.