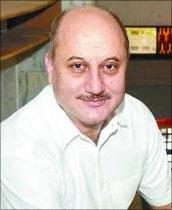 While Amitabh Bachchan is shooting for his first Hollywood project The Great Gatsby in Australia, veteran actor Anupam Kher announced this morning that he will be sharing screen space with Hollywood legend Robert De Niro in his next film.

"Dream finally coming true," Kher tweeted. "Will be acting with Robert De Niro in David O Russell's (The Fighter)'The Silver Linings Playbook' next week."

Russel's The Silver Linings Playbook is based on Matthew Quick's book of the same name, and tells the story of a former teacher who moves back with his mother and tries to reconcile with his ex-wife after having spent four years in a mental institution.

Kher claimed he hadn't read the book yet, as it is not available in India.

"At this moment, I am under contract so I won't be able to talk much about it," Kher says excitedly. "It is like a dream come true. It's a mainstream Hollywood film and I am looking forward to shoot with Robert De Niro who all of us have idolised." 

The cast also includes Jennifer Lawrence, Bradley Cooper, Jacki Weaver, Chris Tucker and Julia Stiles.

Kher, who has never met any of his co-stars from the film before, recounts an incident that occured during the recent Toronto Film Festival. "I saw him (De Niro) in his car and I tried running behind him. Unfortunately, the car was faster than me," he laughs.
The National award-winning actor reveals that he had auditioned for the role last month, "My agent in London had set up the audition for me. I did my first audition in Rajasthan; the second audition was in Toronto. Everything happened via Skype and I had to send my tapes. I received a confirmation just 10 days ago."
Kher will leave for Philadelphia tonight, and start shooting for the film after two days. The shoot will last for five weeks. It is scheduled to release in 2013.

The actor has earlier featured in English films like Bend It Like Beckham, Bride and Prejudice and Mistress of Spices.