''I don't think 'oh, I have done 534 films' or 'I have 40 years of experience behind me.'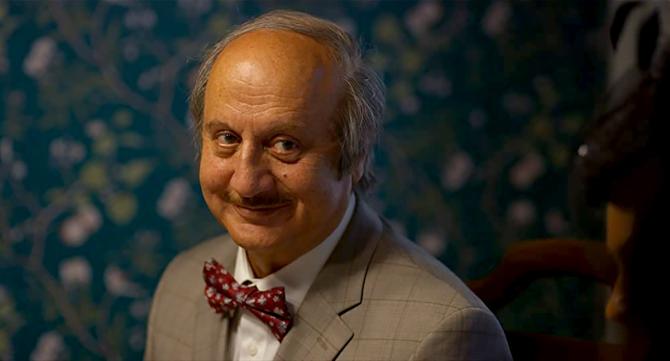 On the heels of three back-to-back hits like The Kashmir Files, Uunchai, and Karthikeya 2, Anupam Kher takes on a smaller film that he really believes in.
Shiv Shastri Balboa is so close to him that he even produces it.
Kher believes the film industry has changed "in a big way" and this is the time to do more challenging work.
"People have gone through a certain change after the pandemic. They have watched a lot of new stuff on OTT. The mindset of the audience has changed. Now they don't want fake things. Even if it's a larger-than-life film, they want to feel something," Kher tells Mayur Sanap/Rediff.com.
What is it like to lead a mainstream Hindi film in your 60s?
It is a great feeling; there is a sense of achievement.
See, I always believe in this line: 'Kuch bhi ho sakta hain (anything can happen).' It is also the title of my play.
I think it is our own fears that stop us from trying out various things in life.
There's a famous line by Osho, which says, 'If you try, you risk failure. If you don't, you ensure it.'
So take risks and back it up with your hard work.
Do you think the film industry is changing for senior actors?
Oh, yes, in a big way.
People have gone through a certain change after the COVID-19 pandemic. They have watched a lot of new stuff on OTT.
The mindset of the audience has changed.
Now they don't want fake things.
Even if it's a larger-than-life film, they want to feel something.
All three films of mine -- The Kashmir Files, Uunchai, and Karthikeya 2 -- were successful because they were not your regular Bollywood stories. They were content-based films.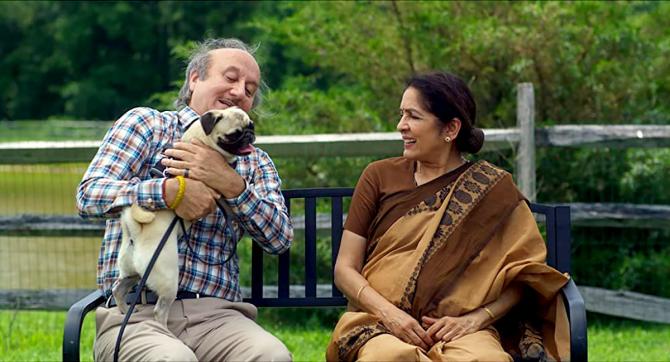 The tagline of Shiv Shastri Balboa reads 'The Hero Within.' What's the definition of hero for you?
A hero is someone who goes beyond his limits.
We all think we are capable of only this much, whether it's in our choice of job or relationships or any other aspect of our life.
The ordinariness of life makes us think that way, but everybody has hero within them and we can achieve the things we desire with our hard work. We just have to let go of our fears.
And that's what my character Shiv Shastri is all about.
He is this ordinary man who runs a boxing club in Madhya Pradesh. He travels to Ohio in the USA to meet his only son.
There, he meets Neena's character and gets into situations that push him to find the hero within.
There is a line in the film's trailer, which says: 'Retire job se hua hu, life se nahi.' That pretty much sums up the essence of this film, right?
Yes. There is another beautiful line: 'Girna theek hai, par gir ke phir uthna hain.'
My father went through retirement depression for three years. He was just 58 and was suddenly made to feel worthless.
It happens to so many amongst us.
That should not be the case.
Ours is a slice-of-life film that talks about this with a lot of cheekiness.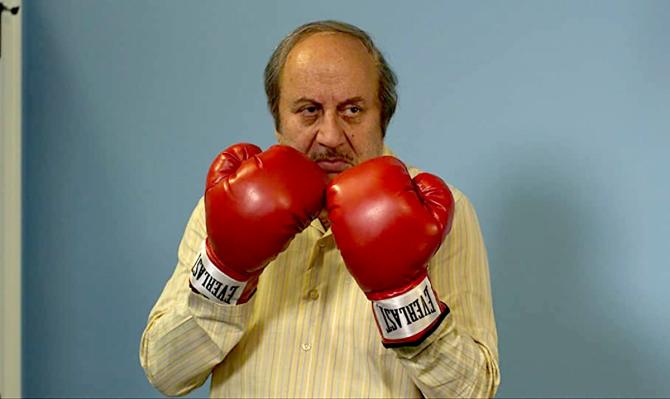 Your character is a fan of Rocky Balboa. Whose fan are you in real life?
It has changed from time to time.
But yes, I am still a fan of Sunil Gavaskar. I also admire M S Dhoni.
I used to watch a lot of Dara Singh films. I loved his films.
My grandfather was a great role model for me.
I also loved the philosophy of Rocky Balboa. The music of Chariots of Fire really inspires me.
I find inspiration in common people too.
I find inspiration in someone like you, who have been waiting for the last three hours and yet managed to have a smile.
Inspiration is everywhere, you just have to look for it.
But to feel inspired, you need to be humble.
I don't think 'Oh, I have done 534 films' or 'I have 40 years of experience behind me.'
I do not carry the burden of Anupam Kher on my shoulders. It's too tiring and boring.
You can fly light when you don't have that burden.
What has been the most valuable lesson for you in this industry?
Do not take yourself too seriously.
We are here to do our jobs and not to change the history of Indian cinema.
It's as simple as that.
There were great people before you and there will be great ones after you.
People should remember you as a person.
Ultimately, all that matters is how many lives you touched and how many people felt good about themselves because of you.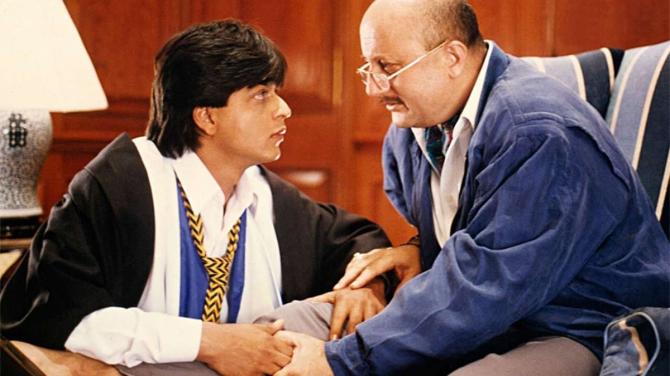 You once said that the likes of Aditya Chopra and Karan Johar have stopped offering you roles. What changed?
No, I did not say they stopped offering me films. I just said I am no more in their films.
I was abroad for three years. As an artist, you have to reinvent yourself.
I don't necessarily need to be in everyone's films.
I did The Kashmir Files, Uunchai... but there will be times when, maybe, I wouldn't want to do those kinds of films.
Does that mean you have distanced yourself from YRF/Dharma cinema?
No, no, no! I would give my left arm to be a part of their films.
That's what I said I don't take myself seriously.
I have done some really idiotic things in films, and I am an educated actor, a drama school gold medallist.
That's the thing about acting: You have to do most ridiculous thing convincingly.
But now, as actor I like to challenge myself.
For example, my character of Shiv Shastri could have been a really ordinary man, but I suggested few inputs to make it challenging for myself.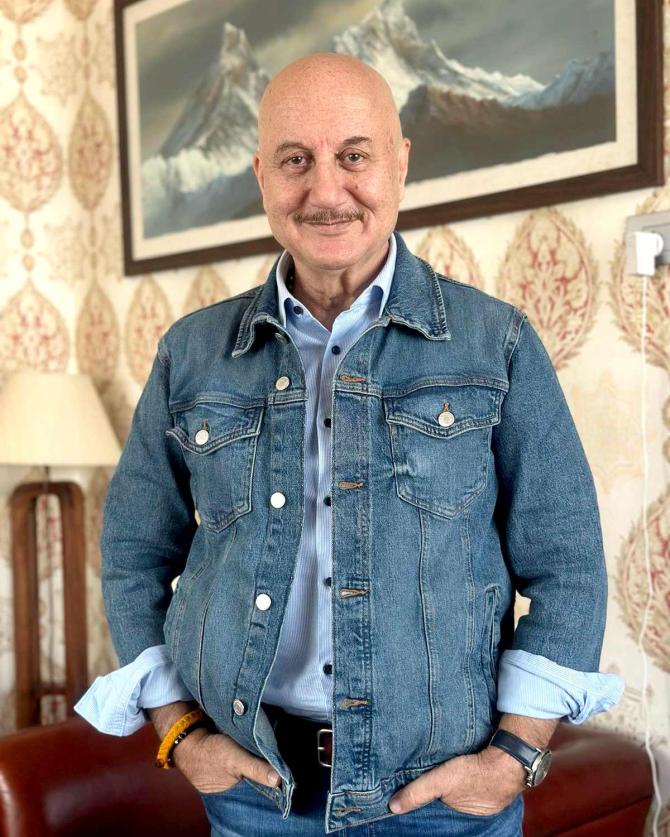 As per Wikipedia, you have about 10 films in the pipeline for 2023. That's a lot compared to any youngster working in the industry today. How do you describe this phase of your career?
I feel very lucky to be able to do so much work.
But yes, I have worked very hard to get here.
I think sometimes you make your presence felt with your absence.
So when I was back, three of my films became big hits and people started thinking 'Oh, we should take him.'
The three years that I spent recently in the US was a great learning experience.
I worked with some really great talents over there.
I also run this acting school, so in the back of my mind, I always have this thought that I should be the role model for my students.
It sort of keeps me on the edge.
My project line-up is looking really good and I am doing unbelievable roles in some of them across the genres, which is the best thing an actor can ask for.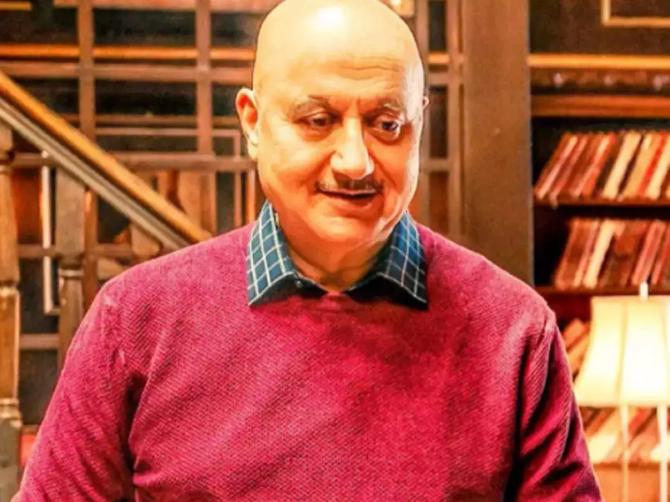 You were a part of the Telugu blockbuster Karthikeya 2. You were also seen in Nayanthara's Connect. Are we going to see you in more regional films in the future?
Oh, absolutely. It is a great time.
I am doing another Telugu film titled Tiger Nageswara Rao (headlined by Ravi Teja). I recently signed this interesting Kannada film with Shiva Rajkumar.
After Connect, there's one more Tamil film for me.
We know that you champion the philosophy of 'Kuch Bhi Ho Sakta Hai.' What have been those moments recently in your life that reinforced your belief in the saying?
It happens all the time.
Last year, three of my films went on to become big blockbusters.
In Trial By Fire (the Netflix series), I have only two-three scenes, but my work was talked about.
Besides this, I am in talks with interesting projects abroad.
If it works out well, it will be on another level of kuch bhi ho sakta hain.
You are an executive producer on Shiv Shastri Balboa. What prompted that?
I thought the story needed my backing more than just as an actor.
We did not have enough budget, so I used my goodwill to build a support system for the film.
But this can only happen when the project is actually good.
The next film I am producing is called Signature. It is a remake of Gajendra Ahire's Marathi film Anumati. I am very proud of that film, kamaal ki film bani hain.
My company is slowly getting into producing films, Web shows, and documentaries.
We just finished a documentary about a 16-year-old girl who was born without arms. She wants to become a teacher. My foundation provided her medical assistance and we have documented the entire journey.
I am in a comfortable zone where I don't have to impress people.
I have worked very hard during various phases of my career.
People have praised me immensely. I know I am good at my work and if someone says otherwise, I am not bothered.