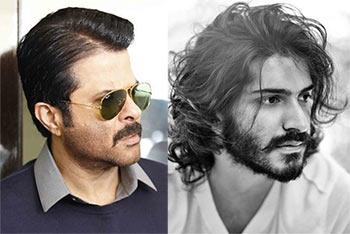 Anil Kapoor's son Harshvardhan is all set to make his debut in Rakeysh Omprakash Mehra's Mirzya, and does not conform to the 'rules' of personal or professional conduct.
In fact, his father says Harshvardhan is unlike anyone in their family.
"I can't figure out my son," Kapoor says. "He is neither like my wife Sunita nor like me. Harsh is his own person, and he moves to his own will. I don't advise him. He advises me."
The father and son have different attitudes to their careers.
"He surrenders completely to the character that he takes on. First, Mirzya and now, Bhavesh Joshi. When he was doing Mirzya, he could think of nothing else. Now he's fully into his second film. Luckily, he had brilliant directors in both -- Rakeysh Omprakash Mehra and Vikramaditya Motwane -- to guide him."
Anil says he had a different attitude to his career.
"I did several things at the same time," he says. "I worked in a number of films simultaneously. I began 'multi-tasking' long before the term was invented. I am still doing it. My son asks me to slow down, take it easy. But I find it important to keep working constantly."
Anil feels as a star-kid, Harshvardhan has to work harder to prove himself.
"My daughter Sonam and now my son Harsh have to prove themselves much more than aspirants from outside the industry. Actors from within the film industry are judged more harshly. Sonam made a dream debut in Sanjay Leela Bhansali's Saawariya but she has been recognised as a skilled actress only now in Neerja. I hope Harshvardhan gets quicker acceptance. Even if he doesn't, he is in no hurry. Harsh is a student of cinema, constantly learning, exploring. He comes to the camera well-prepared. I learnt acting on the sets."
As a protective parent, Anil is always around for all his three children. "But Harsh, being the youngest, has the entire family looking out for him."