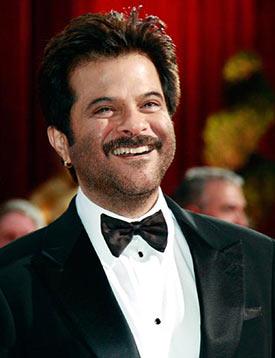 'For 30 years I did nothing but work. The entire focus of my attention was I, me and myself. I have shifted my attention to my children.'
Anil Kapoor speaks.
Anil Kapoor is a happy man. His children are well placed in the movie industry, and he's doing some interesting work. Plus, he's basking in Khoobsurat's post-release reactions.
"I have not received so much praise in my entire career," he claims.
At the same time, he's peeved with Yash Raj Films. He tells Subhash K Jha why.
I believe you are not happy with Yash Raj Films' decision to release their film Daawat-e-Ishq at the same time as your film Khoobsurat.

No, I am not happy at all.
We had planned Khoobsurat as a solo release. Unfortunately, Aditya Chopra decided to come out on the same Friday with Daawat-e-Ishq.
I had no choice but to accept the situation.
Daawat-e-Ishq's release was postponed many times. Did you try to speak to them?
Yes, I spoke to Adi. I tried to dissuade him from releasing the film on the same day as us. I told him ours was a smaller film.
But he had his own ideas and wouldn't budge. So I said, let it be.
Ultimately, it's the content that matters. Looking at the response to Khoobsurat, I am very, very happy.
When do you start shooting for the next season of your TV serial 24?
In December, after I finish the last schedule of my film Welcome Back in October. I'll take a month's break and then start shooting for 24.
Are you happy with the way things are progressing for your children?
I couldn't ask for more. My son (Harshvardhan) has started shooting for his film and my daughter Sonam has been accepted in a big way.
My other daughter Rhea has established herself as a good producer.
Khoobsurat (produced by Rhea, starring Sonam) has made me a very proud father. When I saw the first cut, I knew it was going to work.
You're now planning another film with Disney?
Yes. It's actually a film that we were supposed to do with Disney before Khoobsurat -- a remake of Mark Waters' Freaky Friday.
It's a fantastic mother-daughter subject, which we would have done earlier, but we could not get the right casting.
You mean Madhuri Dixit had turned down the mother's role?
Many actresses didn't want to do the role. I couldn't believe it when so many actresses I approached did not see the thought and vision behind the subject.
The time was not right for a subject like that. Now is the time for Freaky Friday. It's a role-reversal mother-daughter film.
Except for your wife, your entire family is in the movie business.
Before me and my brother Boney, our father (producer Surinder Kapoor) spent his entire life in the movie business. Now my children and Boney's son are part of the film industry.
It's a great feeling. Sonam is an established actress, who has proved that she can carry a film on her shoulders. Rhea made Khoobsurat on a basic budget of Rs 12 crore, plus taxes.
The scale on which Rhea and director Shashanka Ghosh have made the film makes it look much larger than the budget suggests.
I am very proud of Khoobsurat. I have not received so much praise in my entire career.
What was the reaction to the film from within the industry?
Everyone, including Rekha and Farhan Akhtar, loved the film.
Vidya Balan was ecstatic about it. She told me she was looking for faults, but couldn't find any. She spoke to me for 20 minutes about the film.
I asked her jokingly if she was praising the film because her husband was its producer. But she is not the kind to praise something unnecessarily.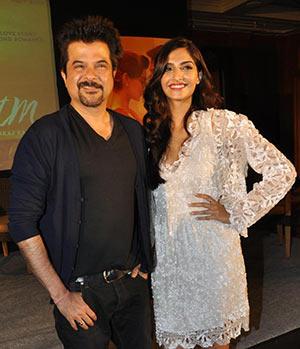 Have you allowed your acting career to take a backseat for the sake of your children's careers?
This has been the case for the past 10 years. For a decade now they've been my first priority.
I see them as the future of the film industry.
For 30 years, I did nothing but work. The entire focus of my attention was I, me and myself. I have shifted my attention to my children.
During the past one year, the only time we saw you on screen was in the television series 24.
I have always been picky about my assignments. Right now, I'm doing only two films, Anees Bazmi's Welcome Back and Zoya Akhtar's Dil Dhadkane Do.
Anees, because I've done many films with him, and Zoya for just the opposite reason -- I've never worked with her.
I have lots of things to say about Zoya which I'll do when the release approaches.
Why the secrecy?
It's always preferable to keep a film's publicity as low-key as possible.
We didn't release a single picture of Fawad Khan while we shot for Khoobsurat.
When I was producing Gandhi My Father, I kept the publicity as subdued as possible. It always helps when you open up your project's USPs close to the time of the release.
Sanjay Leela Bhansali did that with Saawariya. When I went to meet Christopher Nolan for Inception, he didn't reveal anything about the plot.
Any international film on the anvil?
I've had two-three tempting offers but I had to pass them up because of Zoya's film.
Now I've let it be known to my agent that I will be available for one international project.
But it has to be better and bigger than the three international films I've done so far.
Ram Lakhan is being remade. Do you approve?
Why should I approve or disapprove? It's behind me. I read somewhere that I was miffed about the remake. I have no opinion on it.
What is being done with it is of no concern to me. Whether it is Woh 7 Din, Eeeshwar, Mr India or any of my acclaimed films, I never look back.
Who do you think should play your role in Ram Lakhan? Your nephew Arjun Kapoor?
Why only Arjun? It can be any of the young energetic actors.
Ram Lakhan was not a difficult film to do. Anyone can do it.
Which among your films was the toughest to do?
Nayak. The director Shankar made me run around on bus tops and in the slush almost without clothes. And the thought of a common man becoming the chief minister for a day is vivid to this day.
You are so passionate about your work. Don't you ever feel like slowing down?
No, never. I like to be searching for new challenges all the time. That's what makes life worth living.