It is being said about Ram Gopal Varma's latest release
Nishabd
that Amitabh Bachchan's performance in the film has surpassed his work in Sanjay Leela Bhansali's
Black
. Despite the critical acclaim, the film is not getting its due from either the movie fraternity or the media.
In a freewheeling interview, Amitabh Bachchan speaks out -- on criticism, camps and controversies. Read on:

Let me start with the protests in cities like Jalandhar and Varanasi concerning the film. It is being said that in recent times, the film industry has matured in terms of subjects. Don't you feel these protests basically underline the conservative mindset of the masses? Does this reflect their hollowness?

No, this can't be termed as hollow. I feel it is the moral right of the individuals of this country to express their feelings within the framework of the Constitution and law and order. We accept their opinion.
It is a known fact that some will accept things while others won't. I am open to both their criticism and praise in equal measure. I am basically an artist and this film is an element for me and the director. We have served it to the nation and it is their discretion whether they like it or not.

If we were to talk about newspaper and television reviews of Nishabd, there is a clear message that it has not been accepted despite it being a revolutionary film in terms of treatment and story. Don't you feel there is a group who are bent upon destroying things?

I don't believe in such things. I will never buy this statement that there are groups who deliberately sabotage things. We are Indians and are proud of our fellow citizens. Why will any one indulge in such negative activity?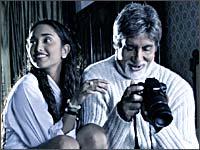 Just a day after the film's release, one newspaper spoke about the attendance figures for Nishabd in various cinema halls in Mumbai. This seems like a vendetta aimed at you.

I feel they have the right to print and publish anything. But again, if things undergo a metamorphosis in a few days or months then their own stuff gets challenged. And this has happened several times. Recently, when Guru released, something similar was said.

Most of them had written off the film but the fact remains that after three months -- that is if you really want to know -- the film has collected more than Rs 85 crores in this country.

The collections of Guru is better than those of Don and Kabhi Alvida Naa Kehna.

Guru has amply proved its merit and this was proved later on despite all the brickbats from the media. So you never know when the media is proved wrong.

Whenever any film of yours hits the cinema halls, don't you feel you are targeted?

I don't believe this. Why would people target me? I hardly have anything. What damage will they do to me? My job is to act in films and we ought to know that we cannot always be successful. We are prone to errors only because we are human beings.

A few days ago I was watching an interview with Ram Gopal Varma about Nishabd on a television news channel. After the anchor asked him some questions, his standard reply was that we have made a film and handed it over to the people -- it is their discretion

whether they accept or reject it.

This was quite unlike Karan Johar who despite getting initial flak for KANK went all out with his stars to defend the film. Why is RGV not doing the same because both the films started debates?

Ram Gopal Varma needs to defend his film from what?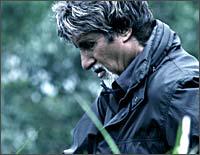 He has been saying I have made a film and now it is up to the audience to accept or reject it, rather than persuade them to come to theatres to see his product.

This should be the norm. We have made a certain product and now the ball is in the audience's court. What will we get by defending a film? We have made a film; why do we need to defend it?
If we were to defend it, we should have never made that product. A thought came to our mind and Ram Gopal Varma took it further. It was he who determined what clothes I should wear in the film, what I should say, and what expressions are to be emoted.
Based on these parameters, we succeeded in making a product and now we have it thrown it to the people. Now, it is for the masses to tell us whether they liked the product or not. Some liked it while some did not and we respect their views.

Are there camps in the film industry?

I don't think so. I have been asked this question several times. We are all educated and bright people with elements of humanity. And trust me on this -- the humanity, which is prevalent in the industry, you wont find it anywhere.
Ours is a nationally integrated industry and we are proud of it.
You need to know when people criticise Nishabd , they also say that such things should not be permitted in society. But why don't you discuss these things? We avoid showing riots on celluloid but all said and done, riots do happen. Then, why don't you blame society?
Why don't you advertise the fact that the film industry has maintained a distance from such things and they should be applauded for it?

So camps don't exist in the industry.

No.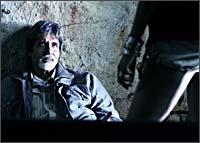 Do you think your performance in Nishabd is better than your performance in Black? People have been saying this.

Now when people are saying this, I can't afford to argue with them. In fact, they are saying good things and are not booing me. Even if they were to abuse me, who am I to argue with them?
If people believe my performance, I am thankful to them. Even Abhishek said something similar. I accept it.

It is being said that you and Vinod Khanna will soon be seen in a film made by your friend S Ramanathan. How true is it?

Yes, even I read something similar in the newspapers. But I have not received any news as such; no such proposal has been forwarded to me.

Are you open to acting with Vinod Khanna in a film?

If the role and the filmmaker suit me, why not?

Any update on the Abhishek-Aishwarya wedding plan?

How can I update you when there are no any fixed dates?

Any final words on Nishabd?

I believe Nishabd is a good film. I believe it is different. I also believe that this film was never expected from Ram Gopal Varma as he has been synonymous with the gangster genre of films. By this film, he has not made anyone unhappy.
I got an opportunity to portray a difficult character. Some journalists have praised my performance. I got phone calls, messages and letters about my performance. I thank everyone and wish that in the future too, I will keep doing such roles.