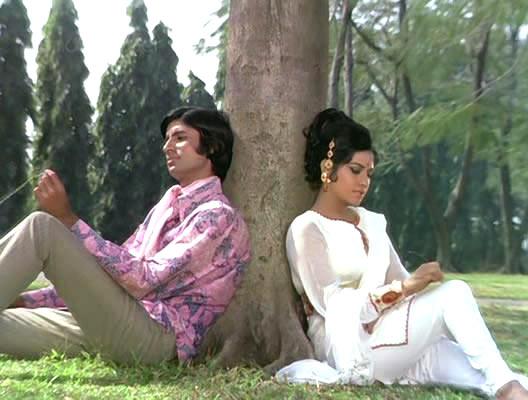 As part of our celebrations of Amitabh Bachchan's 70th birthday on October 11, we speak to Aruna Irani, who worked with him in numerous films.
Amitabh Bachchan is very articulate and methodical in his acting and that hasn't changed in the 40 years I have known him.
Our first film together was
Bombay To Goa
(1972). He was a superb actor but a very bad dancer.
We were shooting the song
Dekha Na Hai Re
and I remember we had to cancel the shoot on the first day because Amitabh could not do the steps.
Choreographer P L Raj then kept a special rehearsal session for him.
The next day when he came on the sets, he was too nervous and offended, as the shoot had been canceled because of him. We cheered him up and ultimately, he danced well. Ultimately, the song became a superhit.
I was also new and nervous and he would help me. Today, he is such a good dancer that even if he does a couple of gestures with his hand, it becomes a rage and everyone copies it.

He has come such a long way in his career. Everyone struggles in any industry but he is one of those who have seen the worst days.

I remember an incident when Amitabh had come to meet Mehmood and filmmaker Kundan Kumar at Raj Kamal studios, where I was shooting for a film.
I was watching them from a distance. Later, I learnt that Kundan Kumar had come to take a consent letter from Amitabh stating that the actor was quitting the film out of his own will because no one was ready to buy the movie with Amitabh in the lead. Kundan Kumar had already shot five reels. It was such a tough decision but Amitabh left the film without making any noise. All these things made him what he is today.

The vengeance in him to prove himself as an actor has taken him to great heights.
The best part about him is that no matter how old or new you are (in showbiz), he will always give his co-stars their own space and help them out.
In spite of being so successful, he is very humble. I have seen him helping a lot of people, in cash and kind. He is one of those few people who believe in giving without expecting any returns.
He is the kohinoor of Indian cinema.