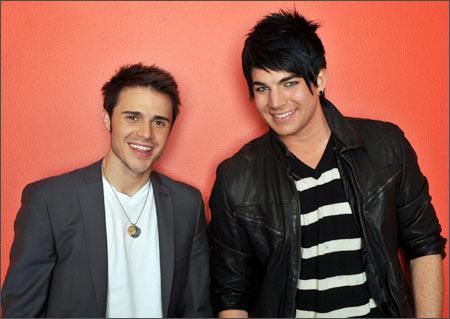 The eighth season of the all-American show, American Idol, came to an end last night with a shocker. Adam Lambert, the immensely popular and heavily praised singer lost out to Kris Allen in a finale that was supposed to be a no-contest.
Blogs, social networking and news wires sites are exploding with a furious debate over the significance of this result. It is common knowledge that the charismatic Lambert is gay. In the run up to the finale, Lambert had raked up not only the popular votes with his obvious talent and electrifying stage presence, but had also garnered considerable support for his sexual leanings.
"America voted for Obama did't it? So what's wrong with Lambert? America has and will vote for change" was the common refrain on twitter and facebook. Pro-Lambert viewers argued passionately about Lambert's voice, saying: "It is talent that counts."
While it is not to say that the guitar-toting dark horse Kris Allen is not gifted, at the end Lambert's loss will and has raised a serious question about how America views homosexuality. Especially on a family show that is widely watched among children and young adults.
Consider the facts. Lambert, a singer-actor from Los Angeles, California, was seen as a mix of some of rock and roll's most gifted bad boys. Some of his most popular videos on youtube show him belt out over-the-top, raunchy numbers complete with sensuous dancers. Pictures of him kissing a man had been circulated and discussed by conservative commentators. Lambert's dark makeup and flamboyant outfits had most of the judges swooning, earning him the nickname of 'Glambert'. Well, then there was the voice as well. Throughout the show the judges would exclaim, "How do you hit those notes?!" Lambert's falsetto was as much popular as his searing, dramatic acts.
Compare him with the low-key Kris Allen, an acoustic guitar-strumming, reticent Arkansas student. All of 23 years old, Allen is newly-wed with lovely young wife waiting for him back home, is devoutly Christian and has a clean cut image that defines the wholesome American way of life. Allen has always been the underdog, never really getting a standing ovation, but impressing the judges with his unique take on popular numbers. Allen is anything but the star Lambert is. He is more of a boy-next-door with a nice voice and a flair for giving his spin on even Michael Jackson songs. In fact, Allen was taken aback when host Ryan Seacrest announced the results. "It feels good, but Adam deserves this," Allen said to Seacrest. "I don't even know what to feel right now, this is crazy."
In a season marred by sagging TRPs (though it still remain America's top-rated show) and growing viewer disinterest, American Idol could perhaps gain from such a twist in the tale. It's biggest threat this time has been sister show across the seas Britain's Got Talent where a frumpy 48-year-old Susan Boyle is whipping up mass hysteria with the sheer power of her voice. A debate has been raging there too and commentators are arguing whether we are reading too much into Boyle's dramatic rise, and the significance of a 'old' woman and a spinster at that, catching the fancy of a youth and beauty obsessed world. But we shall leave that debate for another day.
For now, all those still basking in the after glow of "America, Change We can," are quietly flipping channels, nodding their heads in disbelief, wondering what exactly went wrong. Did America vote for the underdog? Or did it vote for No-Change?
In the picture: Kris Allen and Adam Lambert.
Text: Chandrima Pal