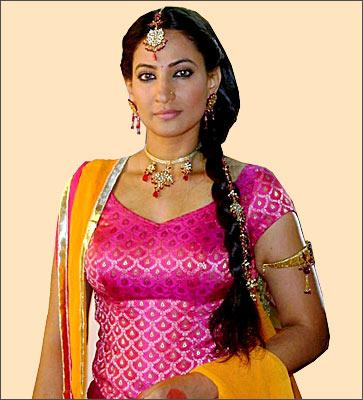 Rakshanda Khan entered our homes and hearts with her spicy characters like Tanya in Kyunki Saas Bhi Kabhi Bahu Thi and Mallika in Jassi Jaissi Koi Nahin.
Now, the actress will be seen in a different avatar in Ekta Kapoor's Kahaani Hamaaray Mahaabhaarat Ki.
She talks to Rajul Hegde about her character Amba in the mythological show.
What made you take up Mahabharat?
I got a chance to act in a mythological show, which doesn't come one's way often. I am doing a cameo for three episodes.
I liked the character of Amba because it has tremendous potential. Mahabharat started because of two women, Draupadi and Amba.
Amba wanted to marry Bhishma after King Shalva and King Vichitravirya rejected her proposal, but due to his oath to remain a bachelor throughout his life, he couldn't marry Amba. So she held him responsible for her plight and wished to take vengeance by killing him.
You have a glamorous image. Why take up a mythological show now?
As an actor, we should try different kinds of roles. Doing a mythological will add to my portfolio and help me mature as an actor.
Tell us about the costumes in the show.
Grand is the only word I can use to describe everything. Balaji Telefilms has not shot any of its shows on such a grand scale on television before.
The boys are looking really hot and stunning in Manish Malhotra's desgined costumes. He has given the characters of Mahabharat a modern look, keeping traditions in mind. I have really not worked with many women on this show, but their costumes are also awesome.
Were you offered Amba, or did you choose to play her?
The creative team had thought of one or two other characters too but Ekta Kapoor felt this role suited me better. I liked the character of Amba because she is a strong woman. It's worth doing this role.
What kind of homework did you do for this character?
I have not read the Mahabharat. But as a kid, I religiously watched it on television. Ronit Roy [who plays Bhishma] is a walky talky Mahabharat. He is well versed with the all characters and the stories behind it. If I had any doubts, I would go to him and ask him to describe why I had to give a particular expression. He would always explain. Also, there were creative heads and directors around to help us if we had any queries. 
How was your experience?
It has been wonderful. I have worked with Ronit in Kyunki but in his show, I got to see a different side of him.  He is so dedicated that he goes home and rehearses his scene before he comes next day for the shoot. Yesterday, I got to see an extensive war scene between Ronit and the others, and the kind of effort they have put in is amazing.    
You are also hosting a reality show Kabhi Kabhii Pyaar Kabhi Kabhii Yaar.
Yes, I am hosting a reality show for the first time. Here, the actor participants has to dance with his real and reel life partners. I am having a blast shooting for this. My track in Kyunki Saas Bhi Kabhi Bahu Thi ended three or four months ago, and I could not spend time with my friends.
Now, I am spending a lot of time with Hiten Tejwani and Gauri Pradhan [who are a part of Kabhi Kabhii Pyaar Kabhi Kabhii Yaar] and I am having fun. After Kyunki, I was just travelling to different countries, which I enjoyed too.
Will we see you in Kyunki again?
Not right now. But they told me that they will bring me back after some time. I have no clue when and how I will be shown again.