Director brothers Abbas and Mustan Burmawalla are back with what they love most -- thrillers! Their new film, Race, starring Saif Ali Khan, Akshay Khanna, Anil Kapoor, Bipasha Basu, Katrina Kaif and Seema Reddy, looks like a slick suspense film about two brothers trying to outsmart each other.
With the film releasing on March 21, Abbas-Mustan tell Syed Firdaus Ashraf and Nithya Ramani more about their film.
How did you get the idea of Race?
As always, we wanted to make either a thriller or a murder mystery. But this time, we wanted to add glamour, action and more item numbers. What we wanted most was a twist in the tale. The more twists a story has, the more interesting it becomes.
We also thought of having a multi-starrer film. The story was small earlier; we had been working on it since early 2006. Initially, the story ended at the interval. The basic story is the rift between two brothers and the race to compete, outsmart and outwit each other -- the race of life towards success where one falls prey to greed.
What is Anil Kapoor's role in the film?
Anil Kapoor plays a detective, who solves the murder mystery. We wanted to add a pinch of humour to the thriller. We knew Anil would be perfect for a role that requires him to be serious as well as humorous. The same is true for Sameera Reddy, who plays his personal assistant, Mini.
Anil's character is like Pankaj Kapoor in Karamchand, who always munched carrots. Anil -- who is named Robert D'Costa, RD in short -- munches on fruits throughout interrogations and always asks the number of questions proportional to the number of fruitlets he has. For example, if he is having an orange, he will ask the same number of questions as the number of orange slices in the fruit.
Bipasha Basu plays a ramp model in Cape Town. Katrina Kaif plays personal secretary to Akshaye Khanna.
Making Saif, Bipasha, Katrina look super sexy!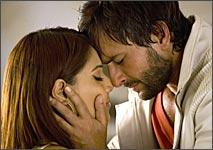 Why was Sameera taken in place of Mallika Sherawat?
The film was delayed by three-four months. When we started shooting, Mallika was busy and did not have dates to give us. So we chose Sameera. 
We had also planned to take Fardeen Khan in place of Akshaye, but again, Fardeen was busy shooting for Heyy Babyy and could not give us time.
There were a lot of rumours circulating about Saif Ali Khan and Bipasha being a couple during the shoot.
There was no impact of the rumour on them. They are professionals and know how to deal with such rumours. They were very comfortable to shoot for the hot and steamy scenes, as this was a part of the script right from the start. The scene was required, that's why we added it. We do not generally have so-called obscene scenes in our films.
The same was with Aitraaz, where the story demanded some steamy scenes.
Are you planning to make any other thriller, since that is your forte?
It is not true that we have directed only suspense thrillers. We have also directed a love story like Chori Chori Chupke Chupke and Aitraaz, which was a social issue-based film.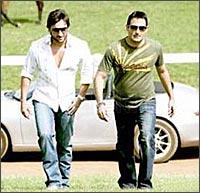 But why do you do mostly thrillers?
We believe that a story should have a bit of everything, only then will the viewers cling on to their seats and sit through the end of the film. Once the story is predictable, the essence of the film is gone. We want to avoid that. But even in our thrillers, we add romance, glamour, action and item songs.
It has been a long time since you worked with Shah Rukh Khan. Why is that?
There is no specific reason for not working with Shah Rukh Khan. We just did not get the right story to give him. We will definitely work with him once we get the right of story that demands Shah Rukh's acting. Stories should be liked by the stars too, as they are the ones who are going to act. 
In the case of Race, Saif and Katrina have never done a story like this in their career, that's why we approached them.
Your previous films, Naqaab and 36 China Town, did not do well. What do you think went wrong?
No, 36 China Town did well. The music was sold out and the film was considered to be one of Shahid Kapoor's best performances before Jab We Met.
In the case of Naqaab, we thought about the story in just three-four months when Race was delayed. It did quite well.
Like most directors, do you plan to turn producers as well?
We are producers already. We have certain stories in hand, which we will produce soon. Some of them are by (Marathi film, Dombivili Fast, director) Nishikant Kamat and (James director) Rohit Jugraj.
We first experimented in the South Indian film industry, and produced a film called Evano Oruvan, starring R Madhavan. That was the Tamil version of Dombivli Fast.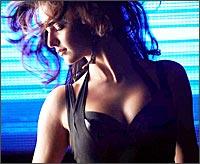 Will you produce thrillers as well?
No. Jugraj's film would be based on a new concept. We will make a love story called Life Partner too.
Will your direction take a backseat then?
No, we will do it simultaneously. We are currently working on three scripts, which we will direct. One of them stars Akshay Kumar. The script is not complete yet.
There are reports that you plan to make sequels of Baazigar and Khiladi. Is it true?
No, we're not planning sequels. We are planning to make a Part 2 of Baazigar and Khiladi. These films have made a remarkable impression on the viewers and if a sequel or remake was made, people will compare it with the original.
The only film we could have a sequel of would be Badshah, as the story ends in a way that it can be continued. But this will be done only with Shah Rukh, no one else.
Your film, Mr Fraud, seems to have been stalled.
Mr Fraud is 60 percent complete. We were unable to complete it because of date issues with the cast. Sanjay Dutt was unable to give time for Mr Fraud, as he was caught up with his case. Since then, we have not been able to get the other stars -- Ajay Devgan and Bipasha. We will finish it with some changes, as the story was thought of in 2005.
Why has foreign locations been an integral part of your films?
Foreign locations help our stories, as they are fictitious and unreal. They give the element of unreality. Also, it is very difficult to shoot in India due to reasons like crowds and permission problems. In case of foreign locations, we do not face hassles as they do not charge us much and there aren't much crowds.