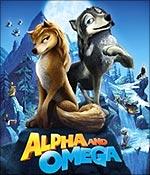 Most major critics slammed it for its bland visuals and a dull, predictable plot, calling Alpha and Omega a run in 2010's animated litter. But the film, whose key animation was done at Crest Animated Studio in Mumbai has found a place in the just announced 15 films Oscar eligibility list (in the animation section).

It is the first animated film made in India to be on the Oscar list. A K (Max) Madhavan and Seemha Ramanna of Crest served as the executive producers of the film which also marked the first time that a globally released 3D animated film was completed by an Indian based production studio -- with a satellite office in Los Angeles.

'The energy that Crest India has is amazing,' Ben Gluck, the co-director of the film said in the publicity brochure for the movie. 'We really had to work together as a team, and it was very much a collaborative process.'

While most animated features take at least three years to complete, Crest, with its large stable of 'highly trained animators,' was able to complete Alpha and Omega in less than 15 months, he pointed out.

Besides, the film cost just about $20 million while a Hollywood animation movie costs $90 million (Despicable Me) to $150 million (Megamind).

Produced with Lionsgate, a major independent Hollywood studio which also distributed the film worldwide, Alpha and Omega is the first of the three film collaboration between Lionsgate and Crest.

A romantic road movie with two wolves, the 3-D animation was voiced by the young and old Hollywood: Justin Long, Danny Glover, Christina Ricci and Dennis Hopper who died soon after the film's completion. It is dedicated to him.

Three films from the 15-film would be shortlisted by the end of the year for the Oscar selection.

The list includes such popular films as DreamWorks' How To Train Your Dragon (about $495 million worldwide);. Megamind (with over $100 million in 10 days and growing), and Shrek Forever After, $740 million; Universals' Despicable Me, $515 million, and Disney-Pixar's Toy Story 3, an awesome $1 billion.

There are quite as few commercial and critical duds on the list including Cats & Dogs: The Revenge of Kitty Galore.
Some of the other nominees including Disney's Tangled are yet to be released.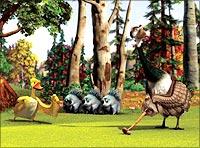 Now in the 9th week in America and fading fast, Alpha and Omega has grossed $24.8 million. Abroad, where it is to open in many countries, it has grossed about $20 million. Not spectacular numbers but when the final figure including the income from ancillary sales (cable TV, DVD and Blu-ray, TV rights) would come in, the film's combine gross could exceed $180 million  With a reported production cost of about $20 million and some $50 million on publicity, it could make a small profit.

Most reviews for Alpha and Omega were on the negative side.

'His tale just chases its tail,' declared The Washington Post.

'Alpha and Omega, an unambitious 3-D animation about a couple of young wolves in love, isn't so much howlingly bad as it is howlingly boring,' The Post wrote. 'It's "The Call of the Mild" -- no bark, no bite. The littlest children in your house may find something to titter at from time to time, but based on the reaction of a young screening audience, it won't be often.'

The influential trade publication Variety was a little less annoyed with the film compared to many other publications.
An odd-couple romance/road movie featuring two wolves stranded in Idaho, it wrote, 'the film lags when it ventures beyond breezy repartee and pratfalls, and the animation quality is certainly below the bar set by 3D-based competitors, though its target demo is unlikely to mind. Returns should be modest ... though DVD traffic ought to prove more robust.'
The 83rd Academy Awards nominations will be announced on January 25 and the ceremony will take place on February 27 at the Kodak Theater.