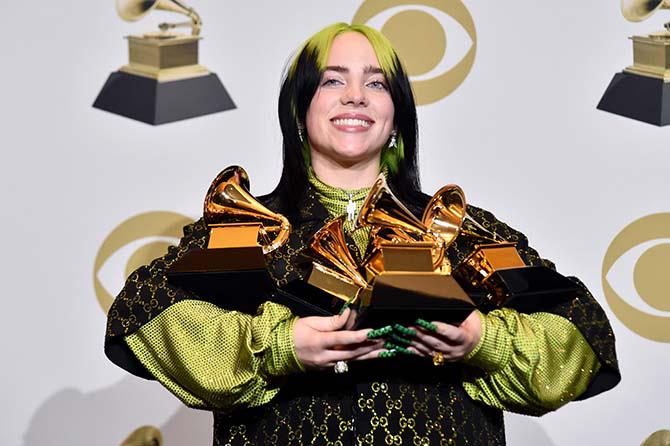 Billie Ellish had a history-making night at the 62nd Grammy awards, as she swept the four biggest prizes: Best New Artiste, Record of the Year, Album of the Year and Song of the Year.
At 18, she became the youngest solo performer to win the Album of the Year trophy for When We All Fall Asleep Where Do We Go, breaking Taylor Swift's record, who won the award at age 20 for Fearless.
She also became the first artiste in 39 years to take home the four major awards. Soft rock staple Christopher Cross was the last artiste to do so, in 1981.
In the Album of the Year category, Ellish was nominated alongside Bon Iver (I, I), Lana Del Rey (Norman F***ing Rockwell), Ariana Grande (Thank U, Next), H.E.R. (I Used to Know Her), Lil Nas X (7), Lizzo (Cuz I Love You) and Vampire Weekend (Father of the Bride).
'Can I just say that I think Ariana deserves this?' she said after accepting the award.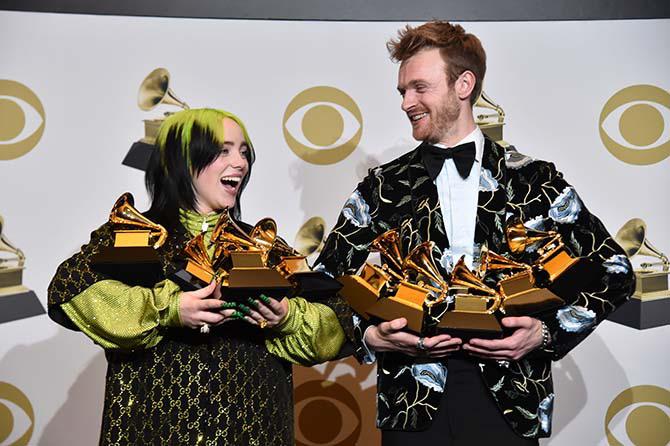 Ellish won Record of the Year and Song of the Year for Bad Guy and was accompanied on stage by her brother Finneas O'Connell, who co-wrote the chartbuster with her.
'This is my first Grammy. I never thought this would happen in my whole life. I grew up watching them and this is my brother Finneas and he's my best friend. I feel like I joke around a lot and I never take anything seriously at these kind of things but I genuinely want to say I'm so grateful and I'm so honored to be here amongst all of you,' she said.
Ellish made her Grammy performance debut with a musical act on Ocean Eyes.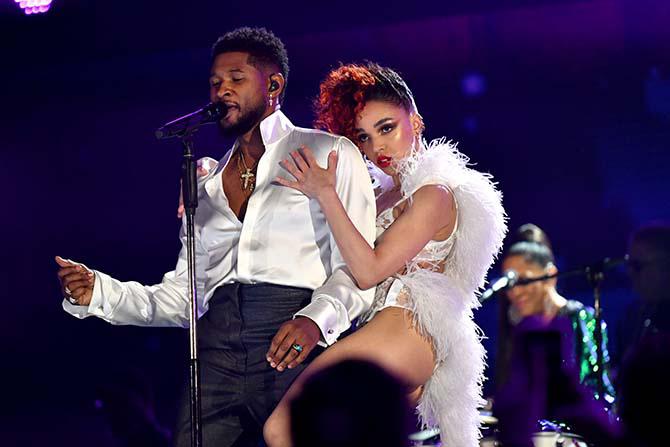 Usher led the tributes to music icon Prince, as part of the Recording Academy's homage to the late singer-songwriter.
According to Grammys official website, the performance was in anticipation of the Recording Academy's upcoming Prince tribute special Let's Go Crazy: The GRAMMY Salute to Prince, which will take place on January 28, and will be broadcast at a later date.
Usher kicked off the three-song performance with a soulful rendition of Prince's Little Red Corvette. He was accompanied by master drummer and Prince's former protege, Sheila E.
They went on to perform other two of the singer's hits When Doves Cry and Kiss, which won the Grammy for Best R&B Performance by a duo or group with vocals in 1987.
Grammy-nominated singer and dancer FKA twigs joined Usher on stage as she performed a pole dance during When Doves Cry.
The tribute to Prince received a mixed response from fans.
While some praised Usher's singing and FKA twigs' dance moves, others criticised the performance, complaining that twigs was reduced to a side act.
Sheila said backstage that twigs 'didn't want to sing'.
'First she wanted to and then she didn't want to when we ran through it because she didn't have a pack and ears, so she couldn't hear, and would rather have danced, which is what we asked her as well, and she chose not to,' the musician said.
But twigs had a different take on the issue: 'Of course I wanted to sing at the Grammys. I wasn't asked this time but hopefully in the future. Nonetheless what an honour. Congratulations to all winners.'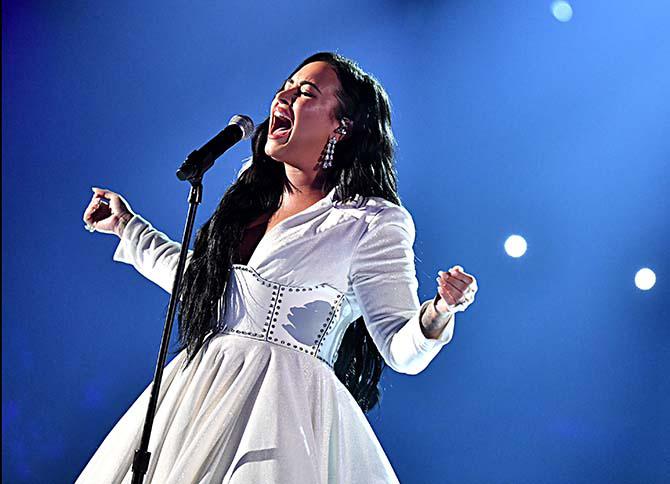 Demi Lovato made a rousing return to the music scene with her first live performance since her highly-publicised drug overdose and hospitalisation last July.
The 27-year-old singer, who debuted her new song Anyone received a standing ovation from the audience.
The singer was introduced on stage by Little Women director Greta Gerwig and accompanied by a pianist on stage.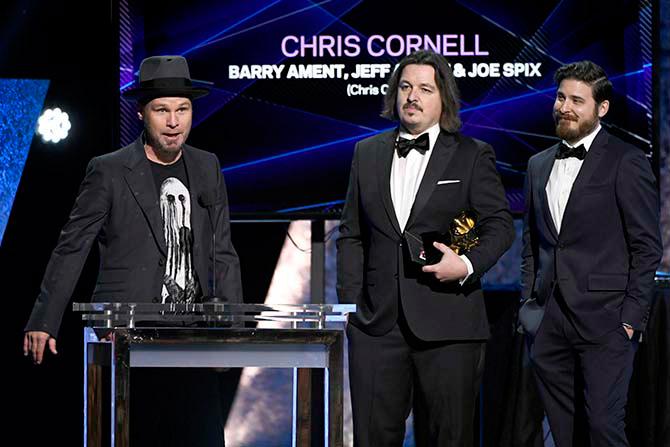 Rock icon Chris Cornell has won a posthumous Grammy award for Best Recording package.
Released in November 2018, the boxed set included 15 classics and two unreleased songs, including a cover of Sinead O' Conner's Nothing compares to u.
The album also had artwork by Jeff Ament, Barry Ament, and creative director Joe Spix, who accepted the award and shared it with Cornell's widow as well as Jeff Fura, senior director of product development.
'It was super emotional because we first got the call only five or six weeks after he passed. It felt too soon at that point to be thinking about that. It took us a few months to come up with some images, and it was particularly hard to have conversations with Vicky, his wife. More than anything, I wish he were here accepting this award with us,' Ament told Variety after accepting the award.
This was Cornell's second posthumous Grammy win.
Last year, he won the Best Rock Performance award for When bad does good.
His daughter Toni and son Christopher had received the trophy on his behalf.
Cornell died May 18, 2017 in Detroit.
Rapper-activist Nipsey Hussle posthumously received his first Grammy award, taking the Best Rap Performance trophy for Racks in the Middle, featuring Roddy Ricch & Hit-Boy.
Members of Nipsey's family accepted the Grammy on his behalf.
'I wanted to thank all of you for showing all the love that I have felt for him all of his life, and will always live in my heart. So thank you, thank you, thank you,' his grandmother said.
Hussle, whose real name was Ermias Asghedom, was fatally shot in Los Angeles on March 31, 2019. He was 33.
Hussle was also honoured by his collaborates DJ Khaled, John Legend, Meek Mill Pay, Kirk Franklin, Ricch and YG with a tribute.
Meek and Roddy Ricch started the performance with a new song, followed by a spirited rendition of Higher by DJ Khaled, Kirk Franklin, YG and John Legend on the piano.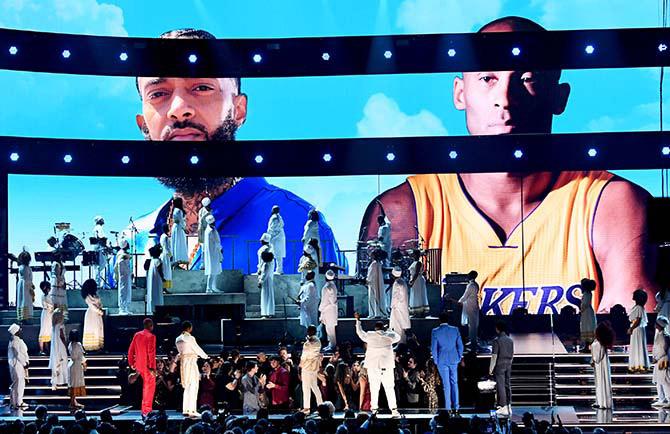 At the end of the tribute, a graphic of both Hussle and NBA legend Kobe Bryant was projected on the stage and DJ Khaled took the mic to remember the basketball star, who died in a helicopter crash just hours before the ceremony. The crash also claimed the life of Bryant's 13-year-old daughter Gianna and seven others.
'Rest in peace Nipsey Hussle. Rest in peace Kobe Bryant,' DJ Khaled said as photographs of the entertainers appeared onscreen.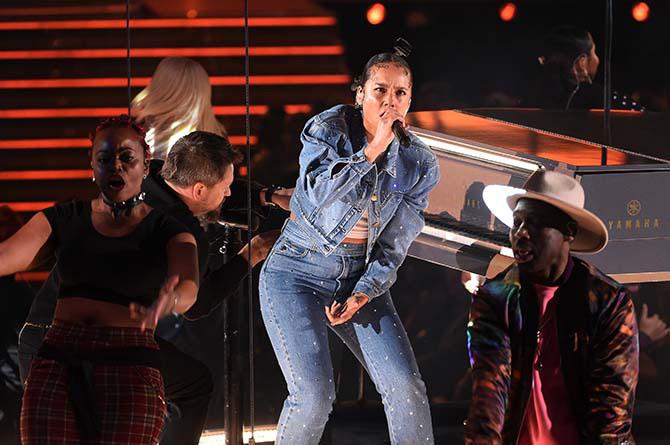 The show -- taking place in Los Angeles at the Staples Center, Bryant's stomping ground -- kicked off with a touching a cappella performance of It's So Hard to Say Goodbye to Yesterday by Alicia Keys and Boyz II Men.
'Here we are together on music's biggest night celebrating the artists that do it best, but to be honest with you we are all feeling crazy sadness right now,' Keys said as she entered the stage, adding that 'Los Angeles, America and the worldwide world lost a hero.'
She said the audience was 'heartbroken in the house that Kobe Bryant built.'
'Right now Kobe and his daughter Gianna... are in our spirits, they're in our hearts, they're in prayers, they're in this building,' she added. 'Take a moment and hold them inside of you and share our strength and our support with their families.'
Lizzo performed the songs Truth Hurts and Cuz I Love You, saying: 'Tonight is for Kobe.'
She won the Best Pop Solo Performance for Truth Hurts.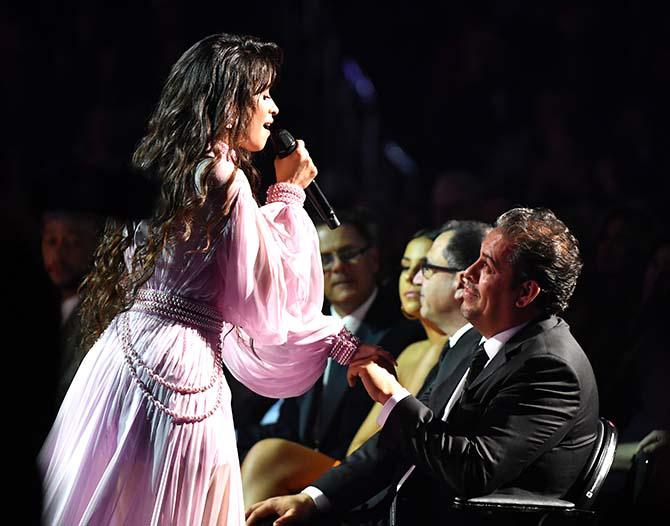 Camila Cabello's performance of First Man -- a song dedicated to her father -- induced tears.
She walked off the stage to her dad's seat to finish singing him the song in front of him, while he teared up.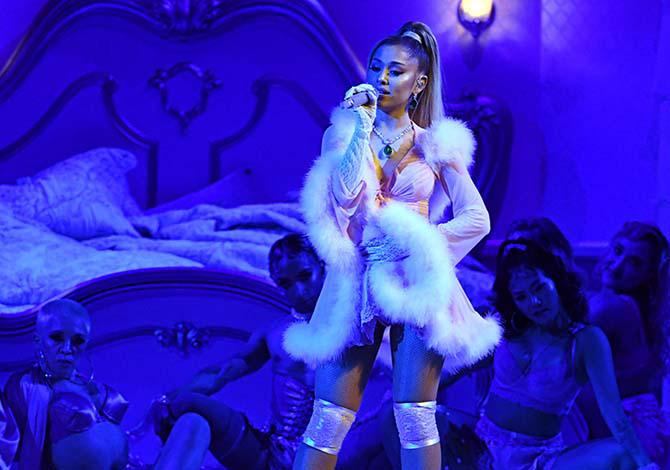 Ariana Grande had lengthy performance -- probably to make up for the drama that surrounded her axed performance last year.
Former US First Lady Michelle Obama was honoured with the Best Spoken Word Album of the Year award for her bestselling memoir Becoming.
She beat the Beastie Boys, Erik Alexandrakis' I.V. Catatonia, John Waters' Mr. Know It All, and Sekou Andrews' Sekou Andrews & The String Theory albums in the category.
Becoming follows Obama's life growing up on the South Side of Chicago through her years as first lady of the United States.
She is not the only Grammy winner in the family, as her husband, former US President Barack Obama has won two Grammy awards in the same category for his memoirs Dreams from My Father (2006) and The Audacity of Hope (2008).
Obama is also the the second first lady to win a Grammy.
Former Secretary of State Hillary Clinton took home a Grammy in the same category for her book, It Takes a Village, in 1997, while husband Bill Clinton was president.